Class of 2023: Charess Thompson
Charess Thompson transferred to McDaniel filled with excitement and determination. An Accounting and Business Administration major, she has all 150 credits she needs to sit for the Certified Public Accountant (CPA) Exam — though graduate school is still on the books. Mentorship from Accounting Professor Kerry Duvall and taking part in Interviewing Day helped Charess find internships and land a full-time accounting job before graduation.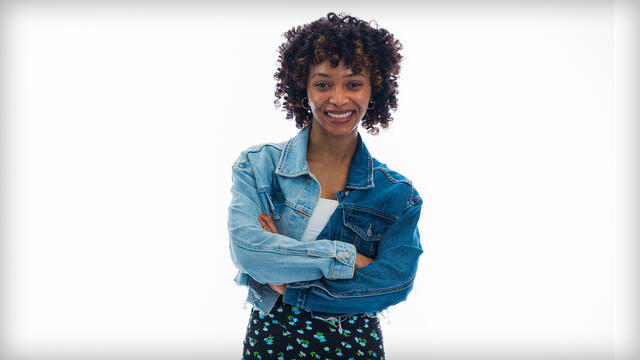 Charess Thompson is an Accounting and Business Administration major from Baltimore.
When I took my first step on the Hill, I was: I was really nervous, but excited with this new journey. I had already made my mark in community college, and now I was in a new area with practically strangers surrounding me, but I was really excited for the opportunities McDaniel had to offer.
The me who will ring the Old Main bell on Commencement Day is: Ready for the real world outside of college, when before I had no idea what it would entail. I already had two years of college experience and was ready for internships when I got to McDaniel, but I met professors and received help from the Center for Experience and Opportunity (CEO) that truly helped me be prepared to study hard and work.
Real world experiences: I was very happy to be a part of Interviewing Day, and I was able to meet and interview with accounting firms to get internships. What was amazing was that those who interviewed me were alumni of McDaniel, and it was nice relaying experiences of the college and our classes. With the help from the CEO, I was confident in my interviewing skills and in my resume and was able to get two internship offers. That helped me gain the confidence to apply on my own and get another offer that I always dreamed for.
My aha moment: How much I could actually handle. I always tried to find the easy thing out of a lot of stuff, but with classes, then my responsibilities as a peer mentor, and then interning, it really challenged me, and I was surprised at my organization skills. I now have planners for everything, and I know I can handle a lot more things than I think I can.
Footprints I'm leaving on the Hill: I want to be remembered as the student who put her best foot forward. I always looked to the future and on how the lessons I am learning now will affect my future. I did not want to struggle with the "real world" after graduation. I wanted to know exactly all the responsibilities I will have and be prepared and ready for them.
Faculty or staff member who most influenced who I have become: Honestly, there are two. One staff member is Erin Benevento '15. When I first transferred to McDaniel, she was the first person I spoke with while I was a peer mentor, and she has helped me become comfortable and more confident as a student and a leader. Professor Kerry Duvall was the first professor I spoke with after I transferred. She was the only professor who was interested in my time at community college, my experiences, and helped me advance in knowledge. With her help I was able to be a part of Interviewing Day and get internship offers that led to a full-time offer.
Best class ever: Though I loved all of my Accounting courses, my favorite were my American Sign Language courses. I didn't minor in ASL, but I enjoy the culture and loved the professor who taught them, and I will continue to learn and look for courses to increase my knowledge.
Took me totally by surprise: Honestly, how nice and welcoming everyone was when I came on campus. I was a little scared because I am a transfer student and many students have already made their friends and cliques, and I did not know if I could make any friends of my own, but I made a lot of good connections with my fellow classmates, and it helped me enjoy college.
My favorite spot on campus: Hoover Library was always my favorite spot. I remember when my mother and I did a campus tour and when we passed the library she said, "That's where you'll be spending all your time, right?" And she was right. There are many places to study and places you could hang out and work with friends. I felt the most comfortable there and loved the atmosphere.
Most mind-boggling idea I learned at McDaniel: When I transferred to McDaniel, I was majoring only in Accounting, but I was surprised how easy it was for me to add Business Administration as another major. Also, because I need 150 credits to sit for the CPA exam, I thought I needed to also get my master's, but with the help of my professors I am able to graduate McDaniel with the 150 credits needed … But I also plan on getting my master's too!
My capstone title: Business Strategy and Policy.
What it's about in plain talk: In this course, we evaluated different companies and businesses and evaluated the overall industry evolution. We learned the building blocks of sustaining competitive advantage and how to formulate and assess business strategies. Our final project was to choose a company and create a competitive strategy analysis based on the skills we learned.
Tell us a little about your activities, including sports, during your years at McDaniel: I was a transfer peer mentor, I was in the Yearbook Club, and in the Investment Club. I was also on the dean's list for fall 2022.
What's next: I will be working full time as an assurance/audit associate at BDO and will be working toward passing all my exams to become a certified public accountant.
If you received financial aid, what did that mean for you and your family? Receiving scholarships and grants from McDaniel has helped my family and I greatly. Gaining my degree without the stress and anxiety of high-cost loans helped me focus more on my studying and work during my entire time at McDaniel.
How will you stay connected to McDaniel? I have made many close friends with people my age, older, and even younger. Not only through the alumni network, I know I will continually contact and meet up with my fellow and future alumni.
Majors: Accounting and Business Administration
Class of 2023
"I was very happy to be a part of Interviewing Day, and I was able to meet and interview with accounting firms to get internships. What was amazing was that those who interviewed me were alumni of McDaniel, and it was nice relaying experiences of the college and our classes."