Class of 2023: Keishan Dempsey
Keishan Dempsey's time at McDaniel was defined by thinking — and being — outside of preconceived boxes. Studying abroad with Leadership Across Cultures, founding Haus of Excellence, and even serving as vice president of the Student Government Association expanded horizons for Keishan and for fellow and future Green Terrors.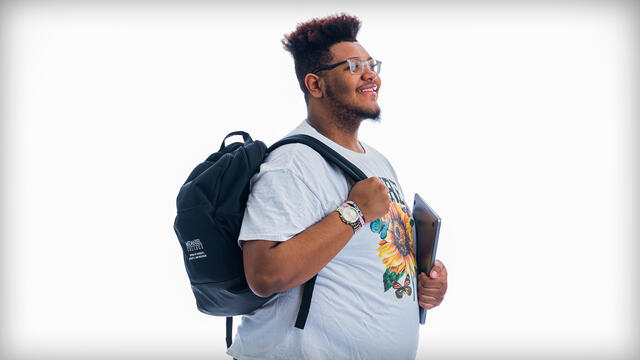 Keishan Dempsey is a Psychology major from Baltimore.
When I took my first step on the Hill, I was: I was nervous, I was not accustomed to the area, especially the surrounding Westminster community. But while I might have been nervous, I was also excited.
The me who will ring the Old Main bell on Commencement Day is: An understander, a leader, a communicator, a person that stood and fought for a better campus life for students, a friend, a mentor, and lastly a normal person.
Real world experiences: My favorite experience that I had would have to be the Leadership Across Cultures study abroad trip to Budapest, Prague, Vienna, and Bratislava. I was able to experience a diverse array of cultures and try new foods. The trip also helped me to further understand myself and others. It was a moment of group- and self-reflection that I believe was needed.
My aha moment: An aha moment for me on the Hill would be realizing that I am more than my minorities. I don't have to keep myself in a box just because I'm Black or a male or queer. I can do what I want to do, and I don't have to be concealed.
Footprints I'm leaving on the Hill: Here on the Hill, I want to be known as a source and a strong community member. Here on campus, I have founded Haus of Excellence, our gender and sexuality alliance. I also just want to be known as a helper.
Faculty or staff member who most influenced who I have become: The staff member that has influenced me the most is Amanda Gelber. She taught me how to be strong in the face of adversity, to fight for the change I want, and she gave me the space to be myself and to be mentally and emotionally and physically free.
Best class ever: This is a hard question, because I have a favorite class within my major and one outside of it. Inside my major, my favorite class will always be Abnormal Psych. I have always been interested in disorders and the phenomena that surrounds them. However, outside of my major, it would have to be The Philosophy of Black Lives Matter. This class just truly understood me, and I understood it. I was able to live in my Blackness and discuss historical topics without judgment. Dr. Mensah was a beacon and she made class fun and interactive.
Took me totally by surprise: Becoming Student Government Association (SGA) vice president, because it was not something I specifically went for, but once I got the position, I fell right into it and it was just like I was meant for the role.
My favorite spot on campus: My favorite spot on campus is the Office of Student Engagement (OSE). Even though I work there, it does not feel like work — the area feels like home. We are a tight-knit community in the office, and I love it.
Most mind-boggling idea I learned at McDaniel: The expansion of the diversity on campus and the formation of equal student life. It taught me drive and determination.
My capstone title: "How the mental stressors and trauma surrounding poverty affect adolescents in later life."
What it's about in plain talk: My capstone is on how the effects of poverty can shape the lives of adolescents, creating different mental frameworks and impacts that can lead to their suffering, and how to help them so that they can be great.
Tell us a little about your activities, including sports, during your years at McDaniel: On campus I have done a lot. I have been a resident assistant and peer mentor, I am an EDGE Experience mentor, I am the head of the Leadership Committee in OSE, I am vice president of SGA, I was a McDaniel Local leader, I am a student chair on the McDaniel Holistic Wellness Committee, and last, but certainly not least, I am a proud founding member of the Lambda Zeta Colony of Kappa Alpha Psi Fraternity Inc. at McDaniel College.
What's next: To be completely honest, I don't know — I want to do so many things after I leave McDaniel. I want to be a life coach/motivational speaker who uses therapy techniques to conduct proper flows of mental coping and healing. But I also want to be an interior designer, so I can't wait to see what life holds.
If you received financial aid, what did that mean for you and your family? Receiving financial aid truly helped my family. Not having to worry about funding for my education allowed me to further pursue myself as an individual.
How will you stay connected to McDaniel? McDaniel has done so much for me that I won't mind coming back to help, support, and to be a pivotal alum.
Major: Psychology
Class of 2023
"McDaniel has done so much for me that I won't mind coming back to help, support, and to be a pivotal alum."