Class of 2023: Nick Razze
Whether he was running on the track or student teaching in the classroom, Kinesiology major and Education minor Nick Razze's goal was to make a positive impact. Inspired by educators in his family, he knew wanted to follow in their footsteps in college. The techniques and classroom strategies he learned in his favorite course, Methods in Physical Education, taught by Linda Kephart, will stay with him as he pursues a career as a teacher and coach.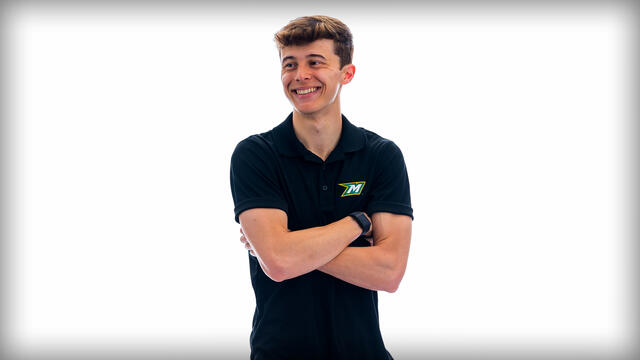 Nick Razze is a Kinesiology major with a minor in Education from Pitman, New Jersey.
I took my first step on the Hill, I was: Ambitious, but uncertain of what I wanted to do with my career.
The me who will ring the Old Main bell on Commencement Day is: Grateful for the opportunities the Hill has provided and excited for what the next chapter of my life will bring.
Real world experiences: I have had the opportunity to intern with the Carroll County Public School system ranging from grades K-12. During my time I have observed and worked with great mentor teachers, many of whom are McDaniel alumni! Their guidance and support have taught and prepared me for my future career endeavors.
My aha moment: I learned I wanted to become a teacher and coach when I saw the impact educators in my family, along with professors and coaches here at McDaniel, have made on their students and athletes.
Footprints I'm leaving on the Hill: My footprints can be found in many different places throughout the Hill. Whether in the classroom, out on the track, or around campus, I hope that I was able to have a positive impact and inspire others to become the greatest versions of themselves.
Faculty or staff member who most influenced who I have become: Professor Linda Kephart '75 — I have had numerous courses where I have been able to learn from her teachings and experiences. Her spirit, dedication, and service are aspects that have influenced me into becoming an effective leader.
Best class ever: Methods in Physical Education with Professor Kephart was one of my favorites. This culminating class allowed me to take everything I have learned in prior or concurrent courses and apply it directly to my field. These strategies and techniques showed me the proper ways of effectively managing a classroom.
Took me totally by surprise: How fast my time here on the Hill is coming to an end. Make sure to take advantage of the opportunities presented and cherish every moment.
My favorite spot on campus: Kenneth R. Gill Stadium — over the past four years, the track has brought me peace and success, but has taught me the importance of perseverance, discipline, and sacrifice. These principles, along with countless memories made, are things that I will carry with me for the rest of my life.
Most mind-boggling idea I learned at McDaniel: How I could still accomplish all my goals at such a small school. McDaniel provided me a healthy balance with the ability to network for my career, compete in collegiate athletics, and maintain a social life. My coach taught me that no matter the circumstances, believers are achievers.
My capstone title: "Exploring how caffeine can affect physical performance in track and field athletes."
What it's about in plain talk: Caffeine is one of the most popular stimulants in the world that affects an individual's mental and physical performance. My partner and I researched studies that discussed both the positive and negative effects of caffeine usage. Based on our findings, it can be concluded that caffeine is a safe aid when consumed in appropriate dosages.
Tell us a little about your activities, including sports, during your years at McDaniel: During my time here at McDaniel, I have been fortunate enough to continue my athletic career with the men's cross country and track and field teams. I have also been a brother of Phi Delta Theta and member of the Kinesiology Club. All of these groups have allowed me to create lifelong memories and friendships.
What's next: I plan on returning to the Hill in the fall to student teach and receive my teaching certification or transfer as a graduate student to obtain a master's degree with certification while continuing my athletic career.
If you received financial aid, what did that mean for you and your family? Receiving the Alumni Legacy Scholarship along with other financial aid meant a lot to me and my family. Having a twin attend McDaniel simultaneously seemed like a lot, but through the generosity of the school and donors, it made college affordable and a reality.
Do you have a family member who also went to college on the Hill? What does that family legacy mean to you? My father, Michael Razze '93, and twin brother, Anthony Razze, also Class of 2023, have attended college on the Hill. Green Terror blood runs through our family. It is a legacy that has bonded and showed us the value of what a Western Maryland or McDaniel College education can bring.
How will you stay connected to McDaniel? I plan on continuing to connect with those I have met here and hopefully be able to give back in different ways that support the opportunities, for future students, that I was able to experience.
Major: Kinesiology
Minor: Education
Class of 2023
"I learned I wanted to become a teacher and coach when I saw the impact educators in my family, along with professors and coaches here at McDaniel, have made on their students and athletes."