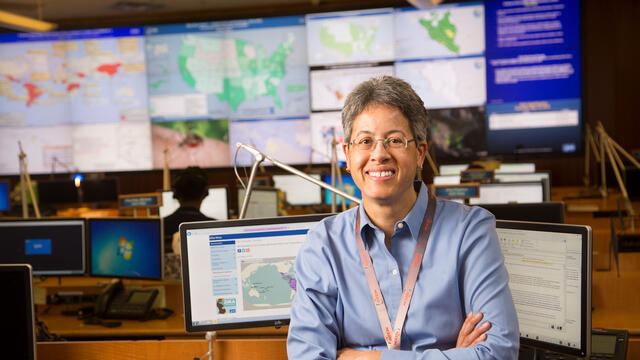 When the World Health Organization declared the Ebola outbreak a Public Health Emergency of International Concern in 2014, worries about a possible global pandemic bordered on hysteria, and public officials in the U.S. debated radical safety measures, from compelling travelers from West Africa to don tracking devices upon entering the United States to prohibiting travel in or out of the affected region.
Dr. Nicki Pesik '86, head of the Global Migration Task Force at the Centers for Disease Control and Prevention (CDC) in Atlanta, strongly advocated against border closures and other extreme responses that stemmed more from fear than science. This was a public health issue, and the agency was well positioned to put effective screening, education and follow-up systems in place to protect our communities while limiting the impact to the traveling public.
For the first time in U.S history, the CDC conducted entry screenings for people returning to the U.S. from Ebola-affected countries. "We had about seven days to initiate screening in the five airports around the country with incoming flights from those areas," says Pesik, whose team was also tasked with providing technical expertise to help affected countries enhance their exit screening policies and procedures. Screening was only one part of the solution.
"Our feeling was that just taking a temperature at an airport was not going to mitigate the public health risk of an individual potentially exposed from becoming sick after they arrived in the U.S. We worked to educate every person so that they understood they might be at risk and what to do and who to call if they got sick," Pesik says. "Most importantly, we wanted our state public health authorities to know when they had travelers arriving in their state who had been in affected countries, and we wanted to ensure they had a way to contact those travelers to follow up with them and make sure they weren't getting sick."
Thanks in large part to the efforts of the CDC —whose Emergency Operations Center was at its highest-ever level of operation with several thousand CDC personnel deployed to West Africa — the epidemic was contained and ultimately stopped.
"I spent a couple thousand hours dealing with Ebola. It was the most challenging public health experience I've ever head, but it was among the most rewarding," says Pesik, whose official job title, when not in major response mode, is senior advisor for global health security at the CDC's Center for Emerging and Zoonotic Infectious Diseases. More recently, she has worked as the senior CDC official for Zika virus response in Atlanta and Puerto Rico.
Pesik graduated summa cum laude from McDaniel with a degree in Biology and was a five-time Academic All American athlete in softball and volleyball. She earned magna cum laude honors from University of Maryland School of Medicine and completed her residency at the University of Cincinnati Department of Emergency Medicine. Prior to joining the CDC, she was an assistant professor at Emory University School of Medicine's Department of Emergency Medicine, where she taught in the Domestic Preparedness Program.
Career: Senior advisor for global health security, CDC
Class: 1986
Major: Biology