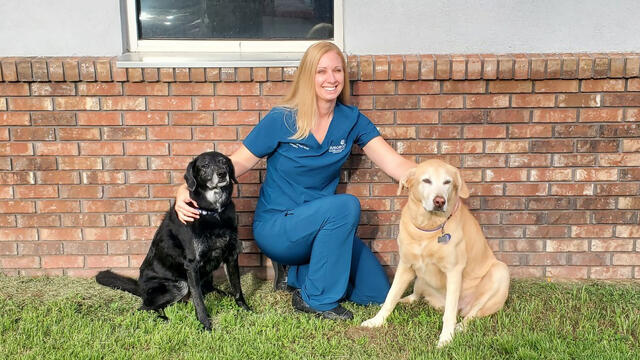 Dr. Theresa Hess '07 can't remember a time in her life that she didn't want to be a veterinarian. As a 10-year-old growing up in New Jersey, she volunteered at a wildlife refuge and throughout high school and college breaks worked as a veterinary assistant.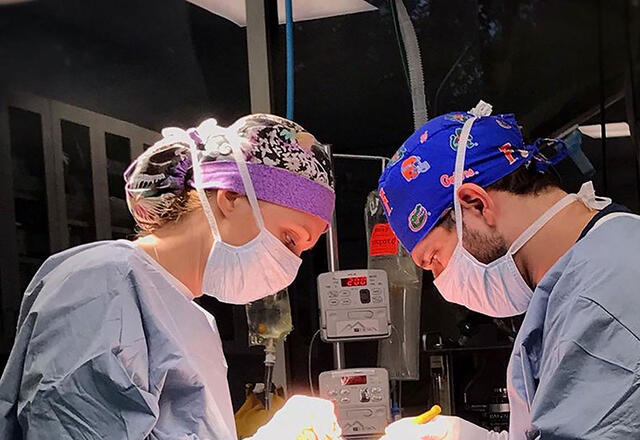 "This is my calling," says Hess, a small-animal surgeon with Blue Pearl Pet Hospital in Gainesville, Fla. "They talk about Dr. Doolittle, having connections to animals — it's the same thing. I always wanted to be a vet."
Hess chose McDaniel so she could pursue both her passion for basketball and her dream of becoming a vet. She double majored in Biology and Biochemistry and competed for the Green Terror, coached by Becky Martin '80, M.S. '81, all four years. A standout player, Hess helped the team win two Centennial Conference championships and make three NCAA tournament appearances, going as far as the Sweet 16 round.
"We were competitive academically and athletically — and we had a lot of fun," Hess says, adding that she returned to McDaniel for the alumni game in January of 2019, when the college dedicated the new basketball court to Coach Martin. "And, we had the third highest GPA in the country one of my years."
In classroom and court alike, Hess excelled. She was awarded the Mary Ward Lewis Prize as most outstanding female senior in 2007. Hess served as a peer mentor for three years and was classroom assistant in Biology Professor Emeritus Bill Long's First Year Seminars.
"Theresa had the skills to lead on the basketball court, which will tell you that she had the ability to analyze a problem quickly, the confidence to act on that analysis without second-guessing herself, the ability to work in a group harmoniously and the unselfish attitude to put the group's success above her own statistics," says Long, who attended just about every one of Hess' home games. "Those characteristics transferred well to the academic arena over here in Eaton Hall.'
"I like to come up with creative ways of doing things, but I like to know, at the end of the day, that I've solved a problem." - Dr. Theresa Hess '07
The same skills and determination would push her success at the University of Illinois, College of Veterinary Medicine, and spark her decision to go the extra miles to become a surgeon. She completed a private-practice internship at Oradell Animal Hospital, widely regarded as one of the best in the country, and then took on a surgical training internship in Las Vegas, where she stayed for three more years to immerse in a surgical residency in small-animal surgery.
In Las Vegas, Hess operated on many exotic animals —several lions, a camel and a fox, not to mention the capybaras, or nocturnal gliding possum. Her main surgical areas include soft tissue, orthopedic, and abdominal surgery, and her special interests are oncologic surgery, reconstructive surgery, thoracic and abdominal surgery, wound management, and regenerative medicine.
"People go through a lot of emotions when their pet is sick. And like a young child, they can't speak to us," she says. "I like to be their go between."
Still using critical thinking skills honed on the Hill, Hess likes to think out of the box about each case she treats.
"I like to come up with creative ways of doing things, but I like to know, at the end of the day, that I've solved a problem," she says.
Career: Veterinary Surgeon
Class: 2007
Majors: Biology and Biochemistry