Jason Swartz '18
Originally from Pennsylvania, Environmental Studies alum Jason Swartz '18 learned about the wide-reaching ecological impact of the Chesapeake Bay during his time on the Hill. In his career as a watershed outreach specialist, his liberal arts degree helps him go with the flow, and he has been able to excel in all aspects of environmental education and problem solving.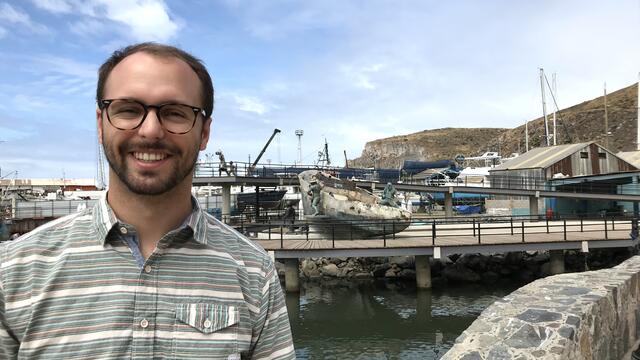 Growing up in Pennsylvania, Jason Swartz '18 has lived in the Chesapeake Bay watershed his whole life — he just didn't really know much about it. "You don't think about what's downstream of you," Swartz says.
However, once he enrolled at McDaniel College in Maryland as an Environmental Studies major, he became more aware of the issues affecting the Chesapeake Bay that stemmed from as far north as New York. After graduation, he returned to Pennsylvania and began working for the Western Pennsylvania Conservancy as a riparian forest buffer technician, putting everything he'd learned about the Chesapeake Bay into practice.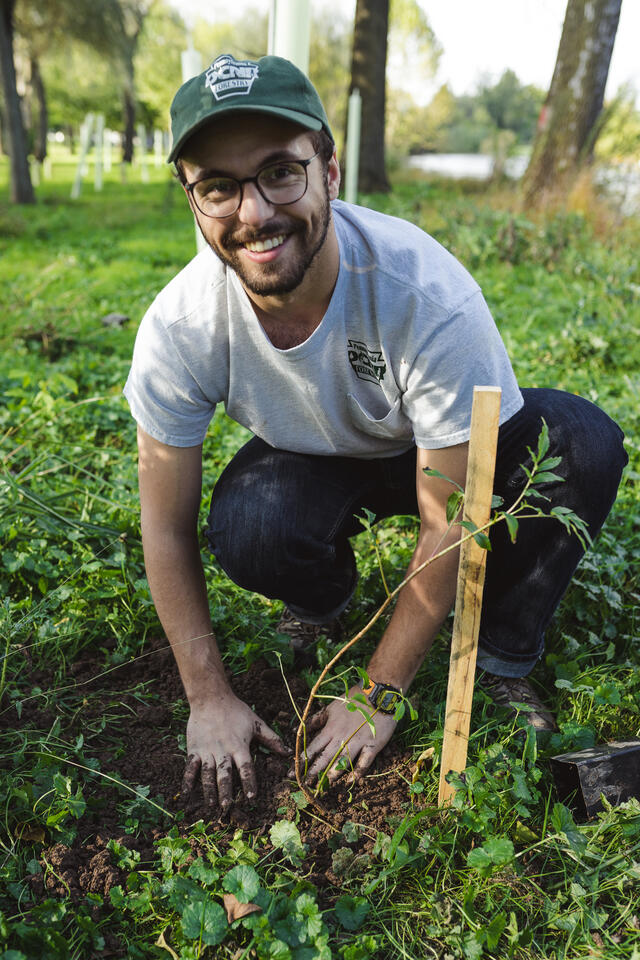 "I was working with landowners — mostly farmers but also some municipalities in Pennsylvania — doing reforestation projects along streams to prevent pollution from running off into the Susquehanna River and polluting the Chesapeake Bay downstream," Swartz says. "Our team started growing and there was momentum for tree planting, so my role shifted to a regional specialist position. I began to help conservation districts and nonprofits who wanted to start tree planting."
As the watershed forestry regional specialist, Swartz would help watershed specialists develop planting plans, write contracts to get third-party companies to implement them, and manage volunteers to do smaller planting jobs. As his interests expanded, he pursued a new role in the same section. In February 2020, Swartz became the program manager for urban and community forestry, also known as TreeVitalize in Pennsylvania. Swartz enjoyed connecting with partners that worked in Philadelphia, Pittsburgh, and the smaller cities and townships across the state on all things urban forestry.
In August 2021, Swartz made a switch back over to the Chesapeake Bay watershed work that he loves. He now serves as the Susquehanna River watershed outreach specialist, based out of the Pennsylvania Sea Grant College Program at Penn State. Swartz is enjoying connecting with communities, landowners, and conservation partners on water quality, climate, and other watershed-related issues in south-central PA. His own experiences not being too familiar with the Chesapeake Bay are helping him figure out how to increase awareness and encourage positive environmental actions.
Swartz can tie a lot of this back to his first Environmental Studies class at McDaniel, which was Environmental Problem Solving. "That's what I'm doing now: I'm helping to solve environmental problems in the Susquehanna River watershed and the Chesapeake Bay," he says. "Working with the people on the ground who this directly affects and figuring out how to help them make it work and then building my program to support them goes back to my first classes on the Hill."
Swartz says that the way he works in the field is likely different from the way colleagues who didn't get a liberal arts education may work. Many of them are classically trained foresters or resource managers, who attended big schools with a specific, set curriculum that was heavily based in the sciences. But McDaniel's liberal arts curriculum has given Swartz a more holistic view of what he's working on.
"It's not just forestry and green spaces; it's plants and people and culture," he says. "I'm even remembering my first year seminar class with Dr. Linda Semu, which was about race. Over the past year or two, we have been focusing our efforts on equity and environmental justice. I definitely pull in ideas from that and even my French minor, specifically thinking about colonialism, when I work."
"You have to find the thing that's going to stick with whoever you're talking with, what connects with them. A lot of times, you have to think of a more local problem rather than the bigger picture. But still, I always keep the bigger picture – save the Bay – in mind."
That's part of why Swartz decided to enroll in graduate school, pursuing a double master's degree at Slippery Rock University. When he's finished his programs, Swartz will have an M.S. in Park and Resource Management as well as a Master of Education, which will get him a step closer to his ultimate goal.
"I really like learning, so I see myself on a path to eventually go for a professorship or a combination of research, teaching, and extension," he says. "I'm excited to figure out the interplay between these things because conservation issues are people issues, too."
Career: Susquehanna River Watershed Outreach Specialist
Class: 2018
Major: Environmental Studies
Minor: French