Jessica Watson '05
With a determination not to let her career pin her down, Jessica Watson '05 pursued creativity on a global scale when she took her own design firm on the road around the U.S., and later, the world.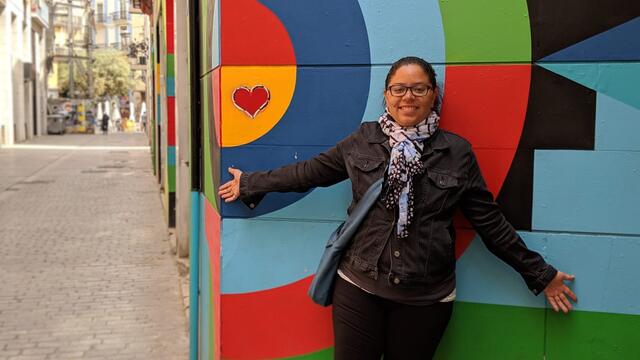 In the years since she walked across McDaniel's Commencement stage with a major in Communication and minors in Business Administration and Art, Jessica Watson '05 has redefined the concept of working remotely. Watson has taken her marketing firm, Points North Studio, on the road and worked from 35 states and 10 countries.
Before her radical change of scenery, she'd been recognized with a Spirited Woman Rising Award for her successes in business and community service, was a manager for B'More Creatives, a networking group for women, and conceived and hosted "A Day in the Life," the city's first-of-its-kind design conference. She had everything she thought she was striving for, including a funky cooperative work space she had co-founded in Federal Hill and two interns, but she felt stifled.
"I was spending long days working at the computer and I was physically stuck. I thought for sure I'd be traveling more and have a greater sense of freedom, but instead I was scared to leave my business alone for a week because who knew what fires might erupt," she recalls. "I had to get back to the passion I'd felt when I started the business."
Her work-travel venture began in 2013, when she embarked on a cross-country journey that involved 10 different cities and a determination to "experience them authentically, not as a tourist but as a local living in a real neighborhood."
That yearlong adventure would take her to Miami, Atlanta, New Orleans, Austin, Boulder, Long Beach, Portland, Seattle, Chicago, and Memphis, where she spent a month living, working, and making connections in each city.
Embracing every opportunity she could find, Watson earned a certificate in writing from the University of Washington in 2016 and the same year achieved a few more life goals: she set foot in Brazil, walked on an iceberg in Alaska, and took her work on the road again, this time through Canada.
The dawn of 2019 found Watson celebrating the new year in Cape Town, South Africa, where she spent a month immersing herself in the culture and volunteering in a cheetah sanctuary.
"My little life experiment is to work remotely — this time internationally — in a socially conscious way," Watson says, explaining that she thinks it's important to give back by volunteering in the cities where she sets up shop. "Every place I go, I find something in the culture that inspires me, and I take that back to Baltimore with me and incorporate it into the way I run the design studio."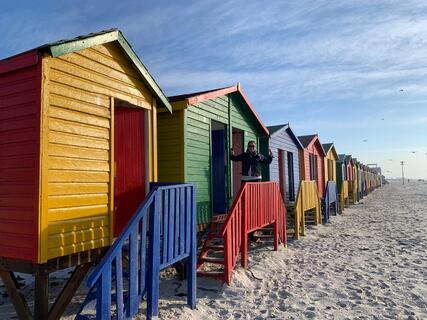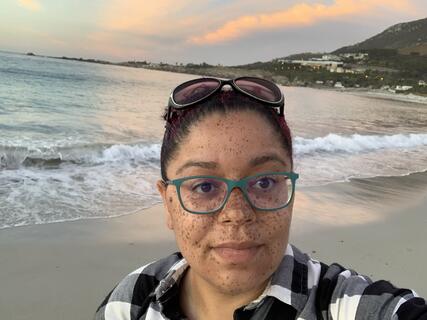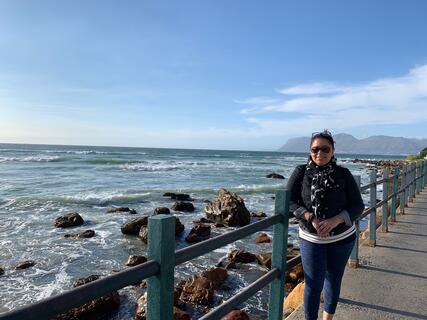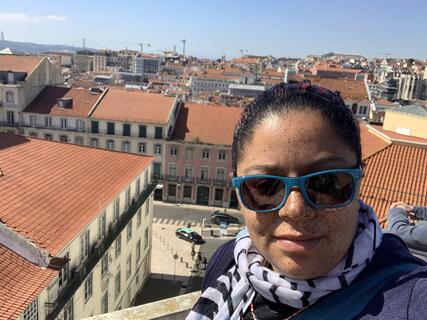 From Cape Town, she was off for a month in Marrakesh, then on to Lisbon, where she volunteered with Re-Food, an organization that picks up leftover food from restaurants, prepares it in commercial kitchens and distributes the meals to families in need. Also in Portugal, Watson helped organize a fundraiser for A Avó Veio Trabalhar, a community center for elderly women — she dubbed them "sassy grannies."
The event, Netos Por Uma Noite (Grandchildren for the Night), included a traditional Portuguese meal, wine and desserts prepared and served by the grannies in a local café. The proceeds went to the center — and both women and their "grandchildren" reveled in the home-cooked meals.
Spain, Croatia, and Hungary rounded out the six-month adventure, landing Watson in Baltimore in time for the final days of summer. Of course, even as the heat of a Baltimore summer refused to give way to fall, Watson was thinking of winter. Escaping winter, to be more specific.
"One of the cool things about a McDaniel education is that it pushes you to explore what interests you and instilled in me the motivation to go after what I want," she says. "And not to worry if it doesn't fit in a box."
Career: Founder of Points North Studio
Class: 2005
Major: Communication
Minors: Business Administration and Art
Photo Caption (below): Jessica Watson '05 was featured in the Autumn 2014 issue of The Hill after she spent a year running her design firm while traveling cross-country in 2013. Five years later, she told us about her 2019 world tour, during which she spent a month living and working in Marrakesh, Morocco.