Michelle Poler, Author and social entrepreneur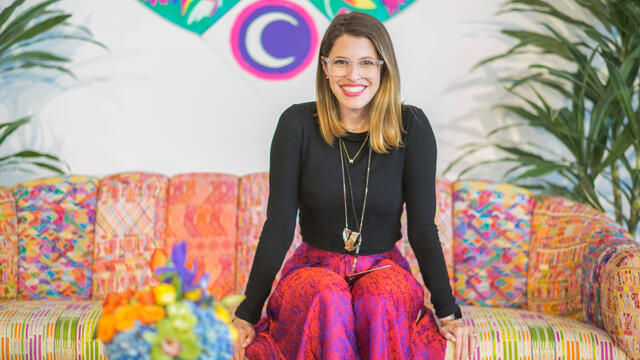 Michelle Poler is a creative and passionate social entrepreneur, keynote speaker, fear facer, branding strategist and author.
She is the founder of Hello Fears, a social movement empowering millions to step outside of their comfort zone and tap into their full potential, and the author of "Hello, Fears: Crush Your Comfort Zone and Become Who You're Meant to Be," an honest, empowering guide to living alongside what scares you.
As the creator of the project 100 Days Without Fear, she faced 100 of her fears in a period of 100 days, uploading every experience, from changing her hair color to diving with sharks, to YouTube sharing them with the world. At around day 40, the project was discovered by the media, becoming a viral phenomenon. Celebrities such as Ashton Kutcher, Sofia Vergara, Zoey Deschanel, Lil Wayne and George Takei also shared her project, generating millions of views. Poler has been featured on NBC's The Today Show, Forbes, CBS, CNN, among others.
She presented at TEDx to combat her 100th fear and is now a sought-after speaker. She has spoken at Google, Procter & Gamble, Facebook, ESPN, Netflix, Microsoft, Toyota, and many more.
In 2017, Michelle started speaking to the younger generation. Since then, she has empowered over 100,000 students at schools and universities around the world to live with courage, find their authenticity and embrace their growth paths.
Born to a family of Holocaust survivors and raised in Caracas, Venezuela, she worked as an Art Director at Young & Rubicam for brands such as Hershey's, Wendy's, AT&T, and Revlon. In addition to holding a Masters in Branding from the School of Visual Arts in New York City, she has a Bachelor of Fine Arts degree in Advertising and Graphic Design from the Savannah College of Art and Design (SCAD), where she had the opportunity to address the class of 2016 during their Commencement ceremony.
Poler and her husband, Adam Stramwasser, now run the "Hello Fears" movement together along with their Spanish-language podcast "Desde El Avión." In 2021, they welcomed baby Noah to their family and the three now travel together all over the world, from event to event.
Michelle Poler, Author and social entrepreneur will be the keynote speaker for the 2022 Undergraduate Commencement Ceremony.