Mike McKelvin '88
As a student on the Hill, Mike McKelvin had no plans to return to Carroll County after graduation, but it turns out that staying local was the best decision for his family-owned businesses. With smart planning and community support, McKelvin has persevered through crises to operate successful businesses, including 1623 Brewing Company, the fifth largest brewery in Maryland.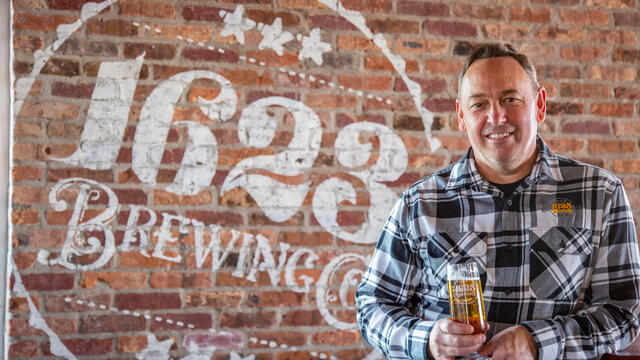 Communication graduate Mike McKelvin '88 has a knack for starting businesses right before the world falls apart.  After a career winding its way through broadcasting, emergency management, sales, waterproofing, and home accessibility, McKelvin bought a construction company in 2008; six months later, the housing crisis happened.
Fast forward 12 years and he and his family finally got to open the doors to their new brewery and taproom in February 2020, only to have the COVID-19 pandemic shut those same doors just three weeks later. "But if there's one thing I know how to do," he says, "it's how to plan."
His plans have given McKelvin a life leading two thriving businesses, keeping his family and his community at the forefront of everything, no matter how many times he has to redraw the plan. McKelvin vividly remembers sitting around a table with friends at Old Westminster Winery in the summer of 2017 when the idea for a family-owned brewery in Carroll County came to mind. He called his cousin, Zac Rissmiller, a successful brewer out in Colorado, and pitched the idea to him.
Rissmiller, a recent medalist at the Great American Beer Festival, wasn't so sure about the idea. "He said 'no' right away," McKelvin recalls. "He goes, 'The beer laws in Maryland are too difficult. If you wanted to do it in Pennsylvania or Virginia, I'd do it. But not in Maryland.'"
McKelvin thought that was the end of the story. But that December, Rissmiller called him back and asked, "Are you really serious that you want to do this?" McKelvin didn't hesitate. That's how the dream of a family-owned business was brought to life over a phone call 1,623 miles apart — and brought 1623 Brewing Company to Maryland.
In September 2018, Baltimore brewer DuClaw Brewing helped them brew their first beer; by November, they'd worked out a distribution agreement with Chesapeake Beverage. At the turn of the calendar in January 2019, McKelvin had negotiated distribution deals with three distributors in Maryland and they began to think about looking for locations for a brewery and taproom.
Despite plans to begin with a modest brewery size, 1623 went from selling 200 to 300 cases per month to 1,500 to 1,800 cases per month — before ever signing a lease. After searching for a location to accommodate the sudden growth of 1623, the McKelvin family broke ground in Eldersburg in June 2019 to build out a 30-barrel system with the capability of double batching. That meant 1623 could brew 60 barrels at a time, or 5,000 barrels per year, making it the fifth largest brewery in Maryland.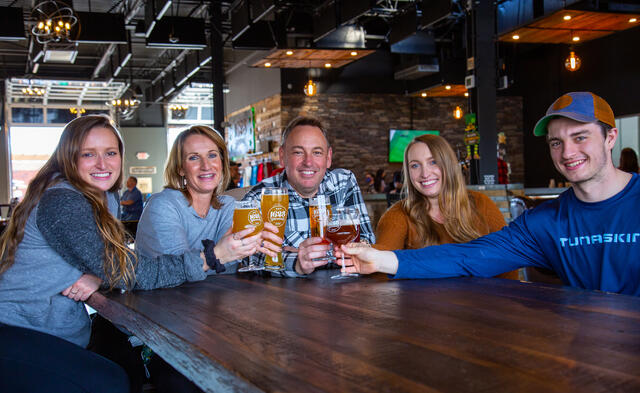 Less than a month later, 1623 — along with all the other breweries in the state — was forced to close its doors to comply with COVID-19 lockdowns. Although it was unexpected, McKelvin had pulled a business through crisis before, and alongside community support, his quick thinking allowed 1623 to thrive.
In fact, in 2021 McKelvin, Rissmiller, and the entire 1623 family — which includes 27 employees, six of whom are full time — began working to triple their brewing capacity with an expansion of their site. As of March 2021, 1623 distributed to the entire state of Maryland and 34 counties in Pennsylvania, with plans to move into Northern Virginia and Delaware to become a true Mid-Atlantic brewery.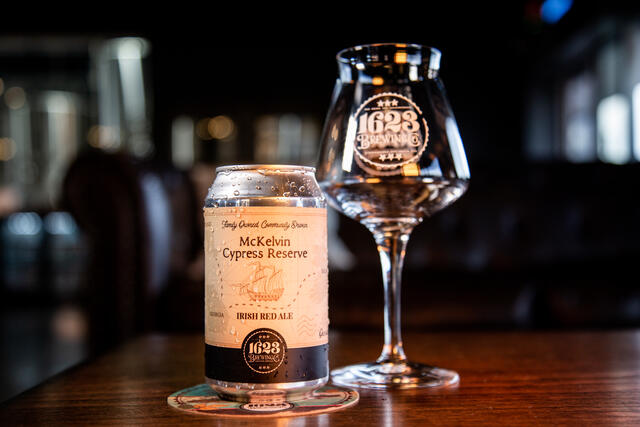 Just as he's come back to his Carroll County roots, McKelvin will always hold true to his mission, which is on every beer can they distribute: "Family-owned, community-driven." McKelvin knows his family's business wouldn't have succeeded without that focus.
For a guy who reluctantly came to school on the Hill and swore he'd never return to Carroll County, Mike McKelvin has built quite a life here. "I wish I would have understood at 19 years old; now I know that McDaniel was the framework to start building something bigger, better all the time," he says. "It was way later in life that I realized how much it helped me and how those little bits and pieces that I thought were insignificant weren't." And McKelvin wants everyone to know it's never too late to learn the lesson.
"You don't realize what you're learning at McDaniel. You don't realize what you're learning in a financial crisis. You don't realize what you're learning in a pandemic," McKelvin says. "If you just take a second, take a breath, and make a plan, you'll be all right."
Career: Entrepreneur
Class: 1988
Major: Communication