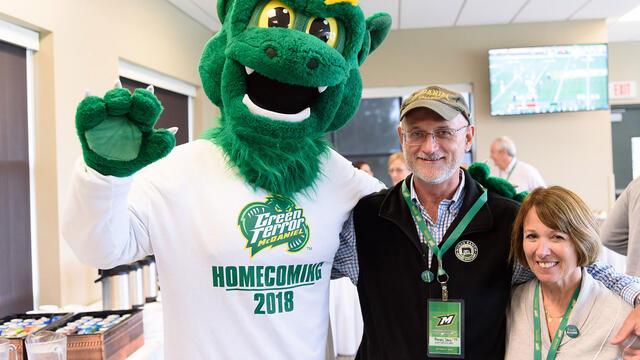 Randy Day was a middle-schooler in Salisbury, Md., when his dad, a local minister, drove him past Frank Perdue's home in town.
"This man is doing something interesting," his dad said. "He's going to try to brand chicken, something nobody has ever done."
Day '77 was, by his own admission, "absolutely indifferent." But, he added, "It made an impression on me, and when the ads began appearing, I took notice."
Perdue Farms now has 21,000 employees, is the nation's fourth-largest poultry producer and sells chickens internationally. It also raises turkeys, hogs, cattle and lambs. Day, far removed from middle school, is the company's chief operating officer after assuming increasingly senior-level roles in his 36-year career with the company. Together with CEO and Board Chairman Jim Perdue — Frank's son — Day is setting a new industry standard for how its chickens are bred, raised and harvested that has won unanimous plaudits from animal-rights organizations. The animal-care plan states: Perdue will strive to raise happier chickens, "to go beyond just the 'needs' of our chickens to also include what our chickens 'want.'"
Day took his first job tending peaches, apples and strawberry plants at age 12 and continued working at poultry farms through high school and college. "I never thought seriously about a career in anything other than agriculture," he says. "I just like growing things."
On the Hill, he majored in Biology, ran track and played football, pledged the Alpha Gamma Tau fraternity, and fell in love with his future wife, Debbie Scalzone '79. "Academically, I was an exceptionally mediocre student. I was young and immature and having too much fun. [Dean of Students] Wray Mowbray kept calling me to his office to set me straight." Still, he says, "I was paying more attention than they thought I was."
He was captivated by the enthusiasm of professors in his department, like Isabel Royer and Jean Kerschner, and appreciated his relationships with coaches Rick Carpenter, Ron Jones, Sam Case and Jim Hindman. He loved how the liberal arts taught him to quickly change gears, from organic chemistry to courses in the humanities, and says that skill has translated to versatility in both his professional and personal lives.
Perdue's roots in the Eastern Shore are personally meaningful to Day, he said, even though the vast majority of the company's employees live far from Arthur Perdue's original farm, which has been restored and sits across the street from company headquarters. 2020 will mark Perdue's 100th year and Day's 40th with the company. The future looks fertile for both. "This career suits me," Day said. "I have to have a strong emotional attachment to what I do. And this is it."
Career: Chief operating officer, Perdue Farms
Class: 1977
Major: Biology