Class of 2020: Abby Hernandez
While integrating her Hispanic heritage with her studies, Abby Hernandez discovered her passion for helping students with psychological illnesses along with language barriers. Her internships, study abroad in Buenos Aires and presentations at professional conferences prepared the Psychology and Spanish major to take the next steps in realizing her dream by pursuing a master's in School Psychology.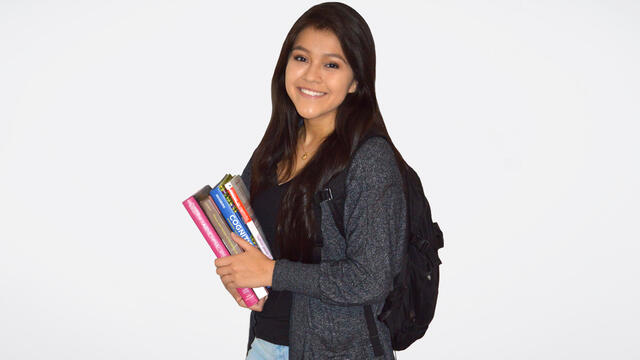 Abby Hernandez is a Psychology and Spanish double major with a minor in Sociology from Germantown, Maryland.
When I took my first step on the Hill, I was: super excited to embark on this new chapter in life! I was nervous, but mainly eager because I knew I was about to face the most challenging yet rewarding experiences of my life.
The me who will ring the Old Main bell at Commencement is: someone who has grown from challenges and learned to be confident! I think the biggest lesson I learned was to be patient with myself and to always go the extra mile, even when you're not seeing the results you want to see. My confidence stems from my work ethic and knowing I did all I could to be the best student, athlete, and friend.
Real-world experiences: Apart from working at Target Community and Educational Services, I have interned at Crown Psychological Services, Sheppard Pratt, and Carroll County Youth Service Bureau. These internships have helped me expand my knowledge in psychology and apply what I have learned in the classroom to real-life experiences.
My study abroad experience in Buenos Aires, Argentina, was life-changing! I went through so much personal growth and became so much more independent. I always like giving back to my community wherever I may be and fortunately, I had the chance to teach English to children who were from disadvantaged neighborhoods.
For the past two years, I have participated in Dr. Holly Chalk's Clinical Psychology Lab. We had the amazing opportunity to present our research at the Eastern Psychological Association Conference both years, which included traveling to cities like New York!
Footprints I'm leaving on the Hill: The legacy I hope to leave behind is to show all students that you can be just as successful in the classroom as you are in other areas of your life, whether it's in your sport, internship/job, or Greek organization. Never limit yourself to just one or two extracurriculars; college is the time to try it all!
Professor who most influenced who I have become: Spanish professors Dr. Maria Campero and Dr. Amy McNichols have always encouraged me to integrate my Hispanic heritage in my academics and to embrace it! Through their encouragement, I realized my dream is to help students who may have psychological illnesses along with language barriers. I am excited to incorporate this part of my identity into my professional life!
My mentor. For life.: Psychology Professor Dr. Holly Chalk has always been someone I looked up to since I took her Abnormal Psychology class three years ago. Apart from being my academic advisor, she has been a mentor who has presented endless opportunities, like internships and presenting at research conferences, that have gotten me closer to my dream job. This year, Dr. Chalk guided me through the graduate school process, which is beyond the educational level my family has reached so I had no idea what I was doing, and I can honestly say that I could not have done it without her. She not only invests in her students' academic growth, but in their personal growth as well!
My favorite spot on campus: The volleyball court! I am going to miss playing for McDaniel, alongside some of my bestest friends. This is where we played our hearts out and had our moments of joy, laughter, frustration, sadness, you name it.
My capstone: "Narcissism, Interpersonal Exploitativeness, and Life Satisfaction as Indicators of Social Media Usage"
What it's about: We used data from the collaborative EAMMI2 project to examine emerging adults' reasons for social media usage and their relation to levels of narcissism, interpersonal exploitativeness, and subjective well-being. As predicted, those using social media to create new and maintain existing connections had high levels of narcissism and exploitativeness. Narcissism and interpersonal exploitativeness were positively related. Unexpectedly, we found a positive relationship between social media usage and life satisfaction, as well as with narcissism and life satisfaction.
What it's really about: We found that emerging adults with narcissism report more frequent social media use to maintain existing connections and create new ones. Those who reported willingness to benefit at someone else's expense also reported using social media frequently for the same reasons. Contrary to our predictions, individuals with narcissism and those who use social media frequently were more likely to report greater life satisfaction.
What's next: I will be pursuing my master's degree in School Psychology at Towson University next fall!
Name: Abby Hernandez
Major: Psychology & Spanish
Minor: Sociology
Class of 2020