Class of 2020: Anna Mondoro
Anna Mondoro seized every opportunity at McDaniel. She majored in Kinesiology and Cinema — and added a French minor — while starring all four years on the basketball court, serving as a peer mentor to freshmen, conducting authentic research in strength training, shooting and editing a quarantine mockumentary and, in one class, even pulling a truck.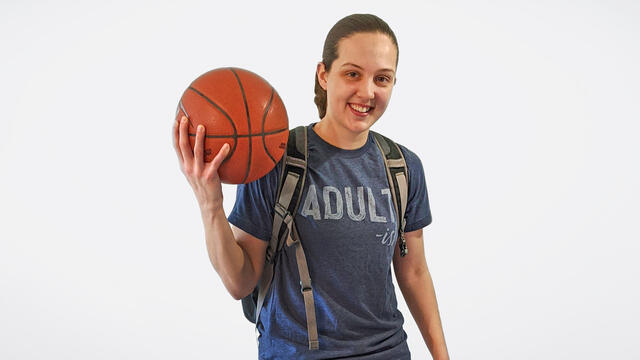 Anna Mondoro is a Kinesiology and Cinema double major from Dumfries, Virginia.
When I took my first step on the Hill I was: nervous. It was a whole new world for me and there were a lot of unknowns.
The me who will ring the Old Main bell on Commencement Day is: self-assured. My experiences on the Hill have bolstered my ability to confidently overcome challenges.
Real-world experiences: As a Cinema student, I was able to complete an internship with a county cable station near my hometown. It was an awesome opportunity that gave me real, hands-on experience in the industry. For my Kinesiology capstone, I conceptualized, designed, and conducted a research project, along with my partner. This was a valuable experience because it allowed me to better understand and appreciate the process of conducting research in this field, having completed a study myself. One of my favorite experiences from my time at McDaniel was traveling to France and Portugal with the women's basketball team. I had never been on a plane before that trip, so flying across the ocean and visiting two countries seemed surreal. It was such an amazing experience to share with my teammates and one I will always be grateful for.
Aha moment: During my time here, I have come to be very appreciative of the vast number of differences that exist among and between people, and yet some common ground can almost always be found or a connection made, through which individuals can share experiences and ideas that broaden and enrich interactions, relationships, and communities.
Footprints I'm leaving on the Hill: can be found all around the Gill Center, where I spent four years playing basketball, taking Kinesiology classes, doing homework, and even sleeping. My footprints can also be found in Hoover Library, where I'd go with friends to procrastinate together... some work got done, but we were mostly making memories.
Professor who most influenced who I have become:Angie Bryant in the Kinesiology department. Professor Bryant is one of the most genuine people I have ever met. In the classroom, she is clearly an expert and very passionate about what she does. Beyond that, she truly cares about her students and wants to help them succeed. For me personally, she has provided excellent advising, many laughs, and endless support. My time at McDaniel would not have been the same without her.
My mentor. For life.: My high school basketball coach. Her belief and confidence in me during the time I played for her brought the best out of me both on and off the court. She never let me settle for anything less than my full potential. I still look to her for advice and inspiration. She pushed me out of my comfort zone and has contributed so much to my growth as a person.
Best class ever: Principles of Strength Development taught by Angie Bryant. Simply put, this class was just a lot of fun. I mean, I got to pull a truck... super cool. We learned about the basic movements/components of barbell strength training as well as how to incorporate them into a program to effectively build strength. The course involved not only lectures, but frequent trips to the Neuromuscular Lab to practice what we'd discussed, and several field trips to Professor Bryant's gym. I learned so much in this class, it increased my fascination with strength training/programming, and it never even felt like work because I enjoyed it so much.
Took me totally by surprise: Coming out of college with a minor in French. I came in freshman year having tested out of one semester of the language, and my plan was to just take one class to finish the requirement and be done with it. That plan changed. Big time. I ended up enjoying the class, and the faculty were very helpful and encouraging. So here I am four years later with a French minor. They talked me into it. :)
My favorite spot on campus: One of my favorites is definitely Gill Gym because I spent so much time there as a student-athlete playing the game I love. Other than that, any spot with a good view of the sunset, like behind Hoover Library or Merritt Hall overlooking the football field.
My capstones: I have two. For Kinesiology, I completed a research capstone, and my Cinema capstone is a short film that I shot, directed, and edited.
What they are about: My Kinesiology capstone is a research project I completed with my partner, in which we designed a study to compare different recovery methods in strength training. We looked at active and passive recovery and how each affects repeated bouts of resistance exercise.
My Cinema capstone involved putting everything I've learned in the program here together to conceptualize, shoot/direct, and edit my own short film. The movie is a mockumentary style look at how one family handles the various frustrations, disappointments, and challenges that arise from being quarantined at home together during the coronavirus pandemic.
What they are really about: For Kinesiology, my partner and I designed a research project that looked at which recovery method is best to use during strength training. My Cinema project is a short film about my family quarantining during the 2020 pandemic.
What's next: I'm planning to pursue a master's degree in Kinesiology and eventually become a strength coach.
Name: Anna Mondoro
Major: Kinesiology & Cinema
Minor: French
Class of 2020