Class of 2020: Connor Weikert
Fully empowered with the sense of confidence and self-worth he developed through his McDaniel experiences, Connor Weikert takes his Business Administration and Accounting Economics double major to a career as a financial advisor in Philadelphia. The internship he landed during on-campus Interviewing Day proved invaluable in redirecting his career plans from accounting to the financial world he relishes.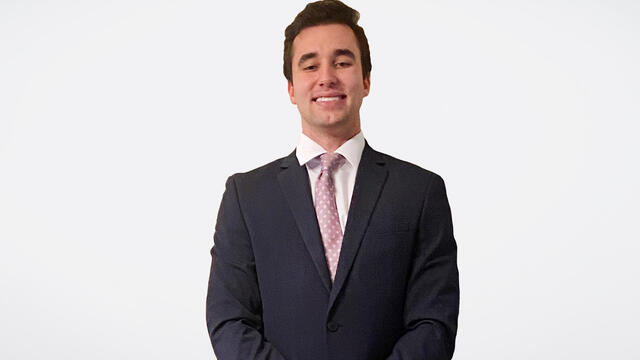 Connor Weikert is a Business Administration and Accounting Economics dual major from Gettysburg, Pennsylvania.
When I took my first step on the Hill, I was: a child, who was excited for a new challenge in life, but also scared of leaving home for the first time. A child who wasn't quite sure who he was, was insecure, and was lost in someone who he was trying to be.
The me who will ring the Old Main bell on Commencement Day is: a man who has found my identity and is proud of it. I'm extremely proud of the person I am now, someone who has confidence and self-worth, a bright future, and a revived faith. McDaniel has been a steppingstone for achieving who I am today.
Aha moment: I received an internship at an accounting firm through the great Interviewing Day that is held by the business department. Unfortunately, my Aha moment was that I wasn't as interested in working in public accounting as I previously thought. This has still been extremely beneficial to me because it gave me experience in the business world and geared me away from a field I might not enjoy as much.
Footprints I'm leaving on the Hill: The footprints I hope to have left on McDaniel is the notion that effort and hard work are key to success. As a freshman, I had the lowest GPA (2.5) in my educational career, and I felt ashamed of myself for prioritizing other aspects of college before my academics. Junior year, once I committed to being an Accounting major, completely turned my academic experience around. While I was never the smartest person in the room, I knew I was the hardest worker in every class I went to, and I take a lot of pride in that. I went from a 2.5 GPA student, to being referred to by Professor Routzahn as one of our best Business students. With that said, I hope that I set a lasting example on my fellow classmates that developing a great work ethic will get you to so many great places in life.
Professor who most influenced who I have become: Professor Kerry Duvall
My mentor. For life.: Professor Kerry Duvall
Best class ever: Intermediate Accounting. I had such a love/hate relationship with this class. I was always excited to learn in that class, even if it was at 9:40 AM because I knew I would be challenged every day. It was so hard, yet so rewarding when I'd finally understand a concept I was struggling with or I would figure out a problem I'd been stuck on for an hour. Professor Duvall showed me the potential I had, and I'm happy and proud to say I fulfilled it.
Took me totally by surprise: How many lifelong friends you will make, especially at McDaniel. Even if they are not your best friends, I feel like I will never forget these people and they will never forget me as well.
My favorite spot on campus: The first section of tables on the right at Glar. I had so many memorable Glar dates with friends that I will cherish.
Most mind-boggling idea I learned at McDaniel: That McDaniel has the nicest student and faculty population. Many of my friends who came to visit were so surprised by how welcoming everyone was and how their school wasn't like this. I didn't necessarily understand how lucky I was until I dealt with people at their schools.
My capstone: Business Strategy
What it's about: The class analyzes business strategies that can be used by all businesses in the world today. We elaborately breakdown a company and assess their business situation (target market, SWOT analysis, etc.), and examine business strategies that would fit that specific mold. We also look at specific companies and decipher whether their business strategy is operating efficiently for that specific company, or if they should change their strategic perspective.
What it's really about: Essentially, how a business works and the different methods and planning required to achieve success.
What's next: I will be a financial advisor at AXA Equitable Life Insurance Company in Philadelphia, Pennsylvania.
Name: Connor Weikert 
Major: Business Administration & Accounting Economics
Class of 2020