Class of 2020: Jackie Fahrenholz
Jackie Fahrenholz has firsthand experience with environmental issues all over the globe, having studied on the Galapagos Islands, in the forests of Borneo, the mangroves of Turks and Caicos and the rain forest of the Peruvian Amazon. Now headed to grad school at Duke University, the Environmental Studies major also served as research assistant to Professor Jason Scullion and was a stand-out on the women's soccer field.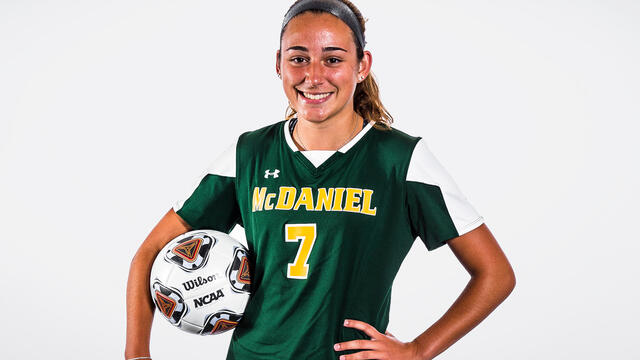 Jackie Fahrenholz is an Environmental Studies major from Scotch Plains, New Jersey, concentrating in Biology, Policy and Management, and Earth Systems Science
When I took my first step on the Hill, I was: a junior in high school doing a visit as a recruit for the women's soccer program. I came for an overnight with the team, and we had a guided paint night. When I left the next day, the team had won their game, and I still to this day will never forget the grilled cheese I got from The Pub before heading home.
The me who will ring the Old Main bell on Commencement Day is: someone that would make the younger version of myself proud for following my dreams of making an impact on our ever-changing world.
Real-world experiences: I have participated in three Jan Term courses, which have brought me to The Bahamas, the Galapagos Islands, and the Peruvian Amazon. On top of this I was able to visit Borneo, Indonesia, for orangutan research in the summer as well as participate in a semester abroad with the School for Field Studies in South Caicos, Turks and Caicos. McDaniel's Environmental Studies department has also given me the opportunity to conduct summer research with Dr. Jason Scullion where we used GIS to make a corridor plan for an organization in Sumatra, Indonesia, funded by the Leonardo DiCaprio Foundation. Having had the opportunity to travel so much, people always ask where my favorite place is. To be honest, I think it's absolutely impossible to compare all of them. With that being said, I grew the most as an individual during my semester abroad because I was truly on my own and had to make friends with students from other institutions.
Aha moment: McDaniel taught me how to communicate subject matters that I cared about in a way other people could also understand. I realized that my time at the college wasn't just about getting an education, but also how to educate others through my experiences.
Footprints I'm leaving on the Hill: Many of these can be found on the soccer field. I think within the four years of being on the women's soccer team, the footsteps would equate to miles that would allow me to run home and back at least twice (which is roughly 200 miles from campus-LOTS of footsteps).
Professor who most influenced who I have become: Dr. Jason Scullion has given almost all of the students in the Environmental Studies department the motivation to be the go-getters that we all are today. During the senior class's time at McDaniel, he taught the majority of the ENV classes and truly challenged us to have a systems-way of thinking, meaning that we look at the picture as a whole rather than at one aspect. On an individual level, he pushed me to apply to all of the courses that I have participated in as well as to apply to the graduate programs that I did. Without his mentoring, I wouldn't be near where I am today.
My mentor. For life.: As stated above, Dr. Scullion truly has positively impacted my time here at McDaniel. Having become his research assistant in my final year at the college, our long meetings accomplished much on the work front, but also provided a space to discuss "life." I think that this was extremely valuable for our team as it acknowledged that while work needed to be done, that life was also happening, and it was okay. I think that McDaniel's environment allows for these professional relationships between students and professors that don't have a fear factor embedded, which truly brings all aspects of the McDaniel family together.
Best class ever: Conservation Biology was one of my all-time favorites as an undergrad. My class was the first one ever to review camera trap data from a National Park located in Northern Peru. Basically, this means that we went onto a Google Drive folder and clicked through thousands (literally) of pictures from cameras that had been triggered by motion sensors, capturing animals in the park. Every time we saw an animal we would enter it into a spreadsheet and then as a class we each analyzed a different part of the data, making a memo for the park managers as to where they should focus their efforts based on our first overlook. To me, this was a crazy concept considering our little college in Maryland was helping out the big cats of Peru.
Took me totally by surprise: The fact that a Ballroom Dancing club exists. They meet on Friday nights, and you don't have to have any experience, and can even go by yourself! Having been on several occasions, my friends and I learned how to waltz, and not to brag, but I think we are pretty decent at it…
My favorite spot on campus: When I wasn't being a student or an athlete, I would spend a lot of my time in the ANW quad. During the spring semester, when it gets warm out, people break out all the lawn games — from cornhole, to KanJam, to SpikeBall, even ones most of us don't know. The people who live in that dorm will open their windows and play music for those who have set up hammocks and blankets to sit and bask in the sun. It's great to see people out there playing until it gets dark and everyone heads to dinner.
My capstone: A preliminary study of anthropogenic impacts on mangrove community assemblages in relation to fishery management and conservation practices in South Caicos, Turks and Caicos.
What it's about: The importance of mangroves, and how areas being impacted by human presence should be placed under protection as top predators are utilizing this habitat as a grounds for nursing their young. This has important implications on the fishing industry that the local and national economy is heavily reliant on.
What it's really about: Living on an island means there's not a whole lot of space to put things. Mangroves are plants that live on the coasts of islands, and in the case of the island of South Caicos, happen to mostly be next to dumps, the airport, and the fishing docks. We know that predators like sharks are important for maintaining populations of fish that fishermen are trying to catch. We also know that sharks use mangroves for nurseries for their young. If the mangroves of South Caicos are not protected in the future, we believe that the population will decrease and the fishing industry will then suffer. The area in question was at one time proposed to be placed under a level of protection, but the bill was never passed. The project acts as a push factor in asking political leaders of the Turks and Caicos Islands to take such actions.
What's next: After graduation, I will be attending Duke's Master of Environmental Management program, starting in the fall of 2020. I will be pursuing the Ecosystem Conservation and Science Track, after which I may pursue a Ph.D., but that's still in the works.
Name: Jackie Fahrenholz 
Major: Environmental Studies
Class of 2020