Class of 2020: Justin Arter
No doubt Justin Arter's best class — Professor Kevin McIntyre's Money and Financial Markets course — helped launch the career in investments he'll begin after graduation. But nothing can match the experiences of The Forest Online course which took the Economics major out of his comfort zone and deep into the Peruvian Amazon rainforest for an eye-opening environmental adventure and introduction to ecotourism.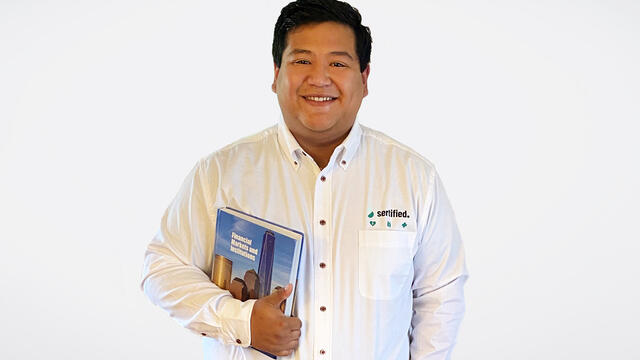 Justin Arter is an Economics;major from Waldorf, Maryland.
When I took my first step on the Hill, I was: confident. I was confident that I knew what I wanted to study, I knew exactly what career I wanted, and I knew what my path through college would look like. I didn't realize that I was actually clueless. I had no idea where college would take me, what I would learn, or where I would work. I still had a lot of learning to do.
The me who will ring the Old Main bell at Commencement is: still confident, but not in the same way. I am not confident in that I know exactly where life will take me. I'm confident that I'm much more prepared. Since the last time I rang the bell, I've gained experience ranging from trekking in the rainforest to starting a business. These experiences haven't helped me "figure it all out," instead they've given me the confidence to know that McDaniel has given me the tools I need to be ready for whatever is next. All I do know is that I still have a lot of learning to do.
Real-world experiences: I've studied abroad both at our sister campus in Budapest, Hungary, and in the Amazon Rainforest in Peru. My time in Budapest was eye opening, giving me a chance to experience culture and travel, while still studying within my discipline. The trip to the Amazon Rainforest with Dr. Jason Scullion was an absolute adventure that I wouldn't have traded for anything. Exploring the rainforest while helping to promote the development of eco-tourism within one of the most biodiverse regions in the world was an unparalleled experience. The trip gave me a whole new appreciation for nature and took me far outside of my comfort zone. My time in the rainforest was my favorite, and I wish I could go back! It's an experience that I wish everyone could have!
Aha moment: What surprised me most about my time at McDaniel was simply the connections. At a school like the Hill, every connection you make is so much more. Each connection you make opens more doors and opportunities. Before you know it, you have forged a unique path through college that no one else will ever quite experience the same way. For me, the tennis team was the first connection/door. From there, I found lifelong friends, joined new extracurriculars, found new opportunities, and so much more. All of that, from just one connection!
Footprints I'm leaving on the Hill: The legacy that I leave behind on the Hill is my love for it. I remember when I first visited McDaniel and so many of the staff and students that I met mentioned the accolade of changing lives. That has stuck with me ever since. I got the chance to experience it firsthand, and I have been so proud to tell every prospective student I have met it's true. When I see those prospective students come to McDaniel the next year, I know that they too will get the chance to love the Hill like I do.
Professor who most influenced who I have become: Dean Lisa Breslin. Although she doesn't always have the professor hat on, she proved to be the most influential professor in my time on the Hill. Although I never had Dean B. as a professor, I feel that I have learned so much from her guidance. Dean B. always took the time to check in with me, show me new opportunities, guide me when I was unsure of my next steps, and even reminded me when I needed to slow down and take a break! She saw the potential that I had and nurtured it. Thank you, Dean B.!
My mentor. For life.: My tennis coach Will Giles will be a mentor and friend to me for life. Will is two years my senior, and I looked up to him as a mentor on the tennis team and as a fellow student. When I decided to join Greek life, he continued to act as a mentor and role model to me, even becoming my big brother within the fraternity. After his graduation, he continued on to be the head tennis coach at McDaniel, where I continue to look to him for guidance on and off the court. Whenever I face hardship in life, whether that is car troubles (again!) or have to make a big decision, I know that he has an ear to listen!
Best class ever: The best class that I ever took was Dr. Kevin McIntyre's Money and Financial Markets course. This course was one that I was excited to participate in but didn't realize how much I would enjoy it. This class gave me the confidence in my knowledge of economics and provided me with the chance to apply that knowledge to the real world. I will be able to take what I learned and apply it to my post-graduation job in investments! Dr. McIntyre's witty banter also made the class that much better!
Took me totally by surprise: Something that took me by surprise was Homecoming on the Hill. On my tour of McDaniel, the tour guide talked about tailgating on the Hill and how amazing it was. I had high hopes for tailgating and homecoming after hearing this, and I was not disappointed. Walking over the hill from my dorm on my first Homecoming, I was absolutely amazed! And the same for my second, and my third! I only missed one because I was abroad; I won't be missing anymore. It is an absolutely fun time and a unique experience that you won't find anywhere else.
My favorite spot on campus: The quad outside of Gill, especially in the spring. The quad is a place for throwing a frisbee, playing summertime music, playing impromptu volleyball, napping in a hammock, and more. It's the absolute best place to enjoy the beautiful weather on the Hill, and every student takes advantage of it!
Most mind-boggling idea I learned at McDaniel: The craziest thing I learned at McDaniel wasn't actually at McDaniel, it was in the Amazon Rainforest! During my time there we got the chance to visit an indigenous community and learned how the community was able to change their practices to better support themselves and the forest. They started ecotourism! Instead of harming the land by traditional farming methods, they worked to create more sustainable methods and allowed visitors to come and learn about what they were doing. It was a win-win for the environment and for themselves. We actually visited just a little while after Maroon 5 was there!
My capstone: Economic Effect of Aid to Third World Countries – A Fallacy
What it's about: The paper takes a delve into the topic of international aid and whether it is truly effective. A macroeconomic model for Shocks to Productivity is used to define expectations and impacts of economic aid on the labor market, loanable funds market, and aggregate demand of third world countries. These expectations are then compared to empirical data of receiving countries. Via this comparison, we can see that there are discrepancies in the effectiveness of these programs. Hypotheses are then made on what may have caused these discrepancies and used to further the discussion on the effectiveness of economic aid programs both economically and socially.
What it's really about: We took a look at whether or not developmental aid programs are actually effective in promoting the economic growth of developing countries. We then found that the data doesn't necessarily support that they are effective. A discussion on why this may be the case is made, followed by a more socially oriented discussion on the effectiveness of these same aid programs. The result: developmental aid programs are so multifaceted that it is hard to define success on all fronts, because these programs affect more than just the economy. These programs help to promote positive social change as well.
What's next: I have taken a position with Merrill Edge in Hunt Valley, Maryland, to begin a career in investments, with the hopes of being able to help people reach their financial goals now and in the future.
Name: Justin Arter
Major: Economics
Class of 2020