Class of 2020: Meghan Sadler
While carrying a full load of classes, conducting research and even spending time out west in Bryce Canyon learning how to be an editor for the student-led UReCa scientific journal, Meghan Sadler took over the presidency of McDaniel's Pre-Health Club. The Biology major and aspiring physician nurtured the club's growth by bringing in speakers from health professions, organizing MCAT and GRE trivia nights and more, ultimately topping membership at 90 active students.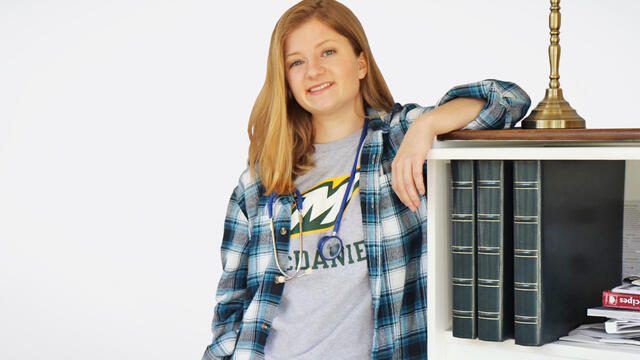 Meghan Sadler is a Biology major with a Chemistry minor from Blandon, Pennsylvania.
When I took my first step on the Hill, I was: a junior in high school trying to figure out what I wanted to do after I graduated. I knew I liked biology and I wanted to continue playing field hockey, but I had no clue where I wanted to go or what to do with a biology degree. I was so nervous about making such a big decision that would affect the rest of my life.
The me who will ring the Old Main bell at Commencement is: so much more confident in my abilities and where I'm headed. McDaniel has really taught me to put myself out there because the risks you take are definitely worth what you'll be gaining in the end.
Real-world experiences: There's so many, which is one of the reasons I am so glad I chose McDaniel! In the summer after my sophomore year, I was able to develop my own independent research project with the help of Dr. Holly Martinson. Working on the project strengthened my critical thinking, problem-solving and data analysis skills, and getting to see the whole thing through from conception to completion was amazing. Presenting this research at a few different symposiums gave me more confidence in my ability as a scientist and allowed me to see the payoff from all my work. I don't think I could have had this experience at any other school.
That same summer I also flew out to Bryce Canyon in Utah to learn how to be an editor for the Journal of Undergraduate Research and Creative Activity (UReCA). I got to meet and work with a great group of diverse and passionate students from all over the country. Over the past two years, I've been so impressed with what we are able to accomplish as a student-led journal, despite being so far from one another.
I also took a class in Greece during one of my Jan Terms. It's a place I've always wanted to visit, and I learned so much about the history and culture of the country. Even though it was short, my time there brought me new perspective on how others live with the bonus of fantastic food and scenery.
I think my favorite experience was my Jan Term volunteering at University of Maryland Medical System in the Shock Trauma Center. The fast-paced environment was the best kind of challenge and definitely confirmed for me that I want to go into the medical field. This opportunity has opened so many doors for me. I believe it was a big part of the reason why I was able to get an internship at the hospital back home where I tested out a sonogram simulator software and created the ultrasound curriculum for their medical students.
Aha moment: The class that surprised me most was Medicinal Chemistry with Dr. Dana Ferraris. I had no clue how much it cost to make a new drug and how long and challenging the process could be. We also learned a lot about the patenting process and what goes on during clinical trials. I went into the class expecting to learn how drugs are made on the molecular level but walked away with so much more.
Footprints I'm leaving on the Hill: One of the things that I'm most proud of is seeing the Pre-Health Club grow as an organization and being a part of that growth. The club was brand new my sophomore year and didn't have many members. I took over as president my junior year and worked hard to create opportunities for students looking to go into health occupations. Our events have included everything from panels with alumni who are doctors, nurses, physical therapists, physician assistants, and more to MCAT and GRE trivia nights and we now have close to 90 members! I've laid the groundwork for some volunteer opportunities and field trips to take place in the upcoming semesters and I'm so excited to see how the club continues to grow after I'm gone.
Professor who most influenced who I have become: Dr. Katie Staab. I've known Dr. Staab since freshman year in my introductory biology class and she has been a big part of my college journey ever since. In addition to being a great academic advisor, she's also a great friend. She is personally invested in my success and cares about each student individually. I can talk to her for literally hours about anything from biology to life at home to that one thing that one person said, can you believe it?! Whenever I start to doubt myself and need advice, she is the first person I go to. She is always able to remind me what I am capable of and I know what she says is true because she knows me on a personal level. She is there to listen, to laugh, and to cry (and to tell you that that's okay because it's just your parasympathetic nervous system kicking in to bring you back to homeostasis).
My mentor. For life.: Dr. Staab is an obvious answer for the reasons above, but I think that one of the best things about McDaniel is that there are so many people invested in your success after college. Dr. Holly Martinson, Dr. Susan Parrish, and Dr. Dana Ferraris are all people that I know I will keep in touch with after I leave campus and can go to if I need advice. I haven't had a physics class since sophomore year, but I know I could reach out to Dr. Jeffrey Marx and get help when studying for the physics section on the MCAT or just to talk the science behind the plot of the latest Avengers movie. The connections you make with professors, coaches, and friends last for so much longer than four years.
Best class ever: Neurobiology. I've always been interested in how the brain works so I thought it would be a fun class. Turns out it was way more than that. Dr. Robert Resau took everything I thought I knew about science and raised it to the next level. He has plenty of personal stories from his experience with the subject and doesn't teach from any notes or PowerPoints. He just knows the material that well; it's like talking to a human library! His exams really test your critical-thinking skills and allow you to apply your knowledge through "diagnosing patients." It's a completely different classroom experience, which is what I think makes it so memorable!
Took me totally by surprise: How welcoming people were during my overnight for field hockey recruitment. I was expecting to just be the tagalong recruit that coach was forcing the team to hang out with, but my expectations couldn't have been more wrong. The team was genuinely interested in getting to know me and wanted me to be involved in everything. They didn't hold back and let their crazy, fun personalities show, which made me feel like I had a true sense of what it would be like to be a Green Terror for the next four years. I felt like a part of the team before I was even on it and that was a major reason why I chose McDaniel.
My favorite spot on campus: The ANW/DMC quad. Some of my favorite memories are from when it gets warm in the spring. Everyone hangs out in the quad and people work on assignments or play cornhole and spike ball. Someone usually has music playing. It's a great way to destress.
Most mind-boggling idea I learned at McDaniel: That I have the potential to become a published author. I thought that was something that only people with five degrees who had spent their life working in a lab or combing through historical documents could do. Nope. Even though we are a small school, McDaniel has had many students get published as undergraduates, which I think helps you stand out when looking to start your next steps after college.
My capstone: "Bugs and Bodies: An Investigation Into the Volatile Organic Compounds Attractive to Flesh- and Fly-Eating Beetles"
What it's about: More needs to be done to increase the precision and accuracy of Pre-Appearance Interval (PAI) estimates in order to create more reliable Post-Mortem Interval (PMI) estimates. While most of the literature in this field has focused on characterizing the role of fly species in early PAI estimates, very few studies have looked at different beetle species to determine their role in late PAI estimates or how they can affect early PAI estimates. We looked at various volatile organic compounds (VOCs) and their attractiveness or repellence toward the flesh-eating species Dermestes maculatus and the fly-eating species Carcinops pumilio and Dalotia coriaria. The results of this study could be helpful for forensic entomologists when estimating PAI in to inform PMI estimates.
What it's really about: Scientists can use insects to determine the time of death, helping investigators to eliminate certain suspects and solve crimes. They can do this by understanding when flies and beetles get to a body and how long it takes for any eggs they may lay to grow. The methods scientists use to do this need to be improved so their findings can hold up in court. We studied beetle species that could help determine time of death when it takes longer for a body to be discovered or that could possibly distort time of death estimates. Using different gases that are naturally released as a carcass breaks down, we can find out when a certain beetle is likely to find the body by whether it is attracted to or repelled by a gas released at a specific time during decomposition. This can help scientists make their time of death estimates more accurate.
What's next: My ultimate goal is to get into medical school, which I'll start applying for this year. During the application process, I plan to work in a research position or as an EMT.
Name: Meghan Sadler
Major: Biology
Minor: Chemistry
Class of 2020