Class of 2020: Emanuel Lee Wilkerson
When Social Work major Emanuel Wilkerson isn't interning as a therapeutic specialist at an autism center assisting preschoolers and teens in learning and adapting social skills or mentoring preteens and teens at the Boys and Girls Club in Westminster, Maryland, you'll find him in McDaniel's percussion studio, loving the hours he spends honing his drumming talents with lessons from Music instructor and master percussionist Jon Seligman.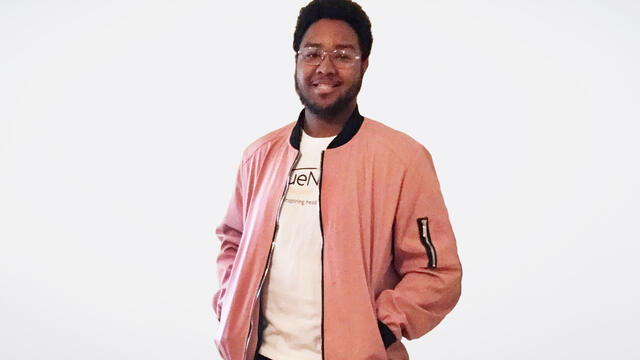 Emanuel Lee Wilkerson is a Social Work major from Rosedale, Maryland.
When I took my first step on the Hill, I was: still enrolled at CCBC (Community College of Baltimore County) completing my AA degree. I was taking a tour with my future junior year advisor, Dr. Jim Kunz. After planning out the next two years of academic courses to graduate in 2020, he personally took me on a mini tour of the school. He didn't have to, and he was busy, but he thought it would be nice to get outside, enjoy the day and see some of the campus.
The me who will ring the Old Main bell on Commencement Day is: A person who had always had confidence in his own abilities, although now it has a different meaning. Living on campus for two years has given me exciting, saddening, saddening, wild, and most importantly worthwhile experiences. No matter the heartache that followed, I still would not change a thing. I have been through many tests and challenges, emotionally and mentally. I re-learned time and time again to try your best and it will work out, one way or another. Now as I come to the end of the year, I am still a person who is confident in his own abilities but now I have a plethora of experiences to put meaning behind the bold claim.
What internships, study abroad and/or research experiences have you had? Your favorite?: I am currently interning at True North Wellness: Autism Center "Amazing Kids Club" (AKC) located in Hanover, Pennsylvania. Here, I am leading groups as a therapeutic specialist assisting our clients to learn and adapt their social skills. AKC's wide variety of facilities such as an indoor gymnasium, two outside playgrounds, an indoor and outdoor garden, and multiple relaxation rooms allow us to give them an environment to succeed. I have had the luxury of working with adorable preschoolers and fun, interesting, and intelligent teenagers. Plenty of experiences outside the classroom can be found on site. You never know a population until you work with them face to face.
Aha moment: Someone had a good enough arm to throw a pizza box on the top floor roof of Eaton Hall. (Totally not me, by the way.)
Footprints I'm leaving on the Hill: I leave behind knowledge passed on to future Social Work majors. I tell them of my service learning and internship experiences. I have found it important to give them positive vibes for their upcoming years in the major. I deem it necessary to take away their justified feelings of worry and uncertainty and leave them hope and excitement for what's to come.
Professor who most influenced who I have become: All the social department heads. Dr. Michelle Young for showing me to always critically analyze and work to my fullest potential. Dr. Jim Kunz for being a male social work role model, as well as teaching me that humor and a laid-back attitude can be important. Lastly, Dr. Cathy Orzolek-Kronner, for helping me overcome my own personal stigma surrounding my disability and accept myself. Students going into the Social Work major will be safe and secure having these three individuals running the department.
My mentor. For life.: My friends. As a junior year transfer, I found six amazing friends. First, an individual who I feel has unparalleled intelligence. Second, an individual who always seeks knowledge to understand himself and others around him. Third, an individual with an unbreakable resolve in who he is and pride in himself. Fourth, an individual who has an incredible, unshakable moral compass. Fifth, an individual who loves her friends unconditionally. Lastly, an individual who has internal struggles but never fails to find humor in the darkest moments. These six each gave me amazing lessons by being themselves, that I'll carry within me forever.
Best class ever: Percussion private lessons with Jon Seligman. The class took place in a soundproof drum studio room, that I had access to 24/7, meaning I got to practice and play the drum kit anytime I wanted. After two years in his lessons, my drumming ability has improved immensely, and I cannot thank Mr. Seligman enough. I was lucky to expand my musical talent with a teacher for the first time after being self-taught for a decade.
Took me totally by surprise: Someone threw a pizza box on the top floor roof of Eaton Hall. (Again, totally not me, by the way.)
My favorite spot on campus: Definitely the drum studio. It's like my own personal room where I can play to my heart's desire.
What's next: Getting my master's degree in social work during an advance standing program at University of Maryland or Shippensburg. Then I will pursue a master's in music therapy.
Name: Emanuel Lee Wilkerson
Major: Social Work
Class of 2020