Class of 2020: Hannah Ravenscroft
After an internship with the University of Maryland's premiere Shock Trauma unit and conducting research in cancer-drug discovery with chemistry professor Dana Ferraris, Chemistry/Kinesiology major Hannah Ravenscroft is well prepared to take on physician assistant school. Her experiences on the Hill also include four years on the women's basketball team and induction in the Phi Beta Kappa and Beta Beta Beta honor societies.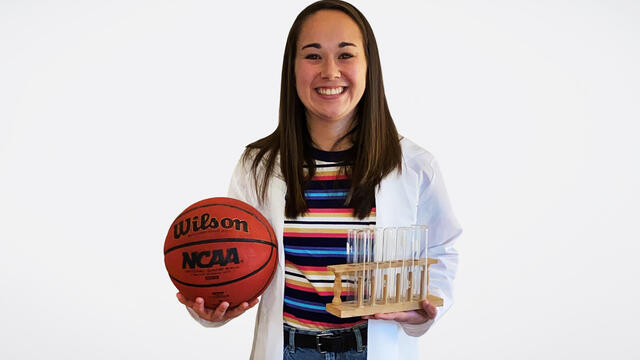 Hannah Ravenscroft is a Chemistry/Kinesiology dual major from Berryville, Virginia.
When I took my first step on the Hill, I was: an 18-year-old freshman coming from a small high school of roughly 800 students located in Berryville, Virginia. The saying "big fish, small pond" hits home for me, as I played three sports in high school (basketball, soccer, and volleyball), which essentially became my identity. Upon arriving on the Hill, I quickly found this identity yet again as a member of the women's basketball team. Coming from a small school and a small town, beginning a new life in foreign territory was scary but also exhilarating. Knowing that I was attending a school that once again would give me that tight-knit community atmosphere was promising, and I was happy to have found my four-year home at McDaniel.
The me who will ring the Old Main bell at Commencement is: a young woman who has grown into a confident figure, excited to see the world of opportunity that lies ahead. The four years I spent at McDaniel were nothing short of the most exciting years of my life thus far. Arriving on campus four years ago, I would have never known that I would be able to develop the relationships, with both my peers and mentors, that I was able to here on the Hill. The opportunities McDaniel has given me now make me a four-year collegiate basketball player, a chemist, a friend, and a mentor. I am a proud member of the McDaniel community, where the campus became my home and the people became my family.
Real-world experiences: I was able to intern at Carroll Hospital, working as an assistant in discharging patients. I also interned at the University of Maryland Medical Center in its Shock Trauma unit. I spent the summer of 2019 conducting organic chemistry research here at McDaniel with Dr. Dana Ferraris. Beyond the skills I picked up in the lab, I was able to develop lasting relationships with my peers who were also conducting research.
Aha moment: During Jan Term of my junior year, I had the opportunity to take part in an internship at the University of Maryland Medical Center in the Shock Trauma unit. I was able to see first-hand emergency medical response beyond the scope that most 20-year-olds have the chance to. This opportunity opened my eyes to how quick-thinking and on-your-feet emergency medical responders must be.
Footprints I'm leaving on the Hill: My legacy is to show all McDaniel students following me that adversity can't slow you down, especially here on the Hill. We are spoiled with the resources and family community to fall back on for support in the times that we need it most. Do not be scared to look to those around you to be a shoulder to lean on, because each one of us makes McDaniel whole. Speak victory together, not defeat.
Professor who most influenced who I have become: Organic Chemistry professor Dr. Dana Ferraris. Dr. Ferraris has served as a wonderful mentor from the time I met him in his Organic Chemistry class my sophomore year. He's always willing to offer whatever advice he can in life, beyond the scope of chemistry. Dr. Ferraris never fails to give you a laugh, or a bagel and a cup of coffee, upon visiting his office.
My mentor. For life.: My mentor for life is my mother. Though she passed away in fall of 2017, I'll carry with me throughout my life her determination and the valuable lessons she taught me.
Best class ever: Abnormal Psychology with Dr. Holly Chalk. Dr. Chalk is one of the few professors I've come across that has experience in the clinical setting that she can offer in her educating. The class itself is also fascinating as it offers the exploration of a compass of psychological disorders that I didn't even know existed. Dr. Chalk's clinical experience offers the viewpoint of both the real-world setting, in addition to the academia that backs it up.
Took me totally by surprise: Watching the senior chemistry capstones my freshman year, I can recall being amazed and impressed by students who were talking about being able to present their research at the annual American Chemical Society (ACS) meeting. Fast-forward four years, I'm amazed with myself now being in those same shoes. The research I participated in was submitted and approved to be presented at this year's, 2020 ACS meeting. Despite the Philadelphia meeting being canceled due to COVID-19, I'm beyond proud of myself for attaining the same goal that seemed impossible and wowed me as a freshman four years ago.
My favorite spot on campus: None other than the Hill at Kenneth R. Gill Stadium. Some of my fondest McDaniel memories occurred surrounded by friends, tailgating and watching football in the fall.
Most mind-boggling idea I learned at McDaniel: The most mind-boggling idea I learned at McDaniel is that the Old Main Bell in Red Square only really becomes a bell for freshman convocation and senior commencement. I can (embarrassingly) remember trying to ring it a few days after my freshman convocation and being puzzled as to why it wouldn't ring. I now know that ringing the bell is a tradition that you do upon arrival on the Hill and leaving four years later.
My capstone: "Computer Aided Design and Synthesis of PARP10 Inhibitors"
What it's about: During the summer of 2019, I conducted research here at McDaniel designing compounds with the hope of discovering a potent and selective inhibitor of PARP10 proteins. PARP10 proteins serve a vital role in the proliferation of cancer cells during tumorigenesis, so designing a selective and potent inhibitor is a promising drug discovery target.
What it's really about: We were taking the first steps in designing a drug that can stop the function of PARP10 in the body because of its role in tumor formation. Discovery of such a drug shows promise in cancer therapy because of the role of PARP10 in cancer progression.
What's next: I am currently in pursuit of acceptance into a physician assistant program. Upon acceptance and completion of a program, I plan to pursue a career as a physician assistant.
Name: Hannah Ravenscroft
Major: Chemistry & Kinesiology
Class of 2020