Class of 2020: Jamie Wimmer
Born to be a teacher, Jamie Wimmer tackled and came to understand the theory behind elementary school math, savored time spent immersed in children's literature and taught a class in the Earth's rotation using a wearable map of Earth and a light bulb. The Elementary Education major and Resident Assistant even carved out a semester to study in Scotland and learned American Sign Language as a minor.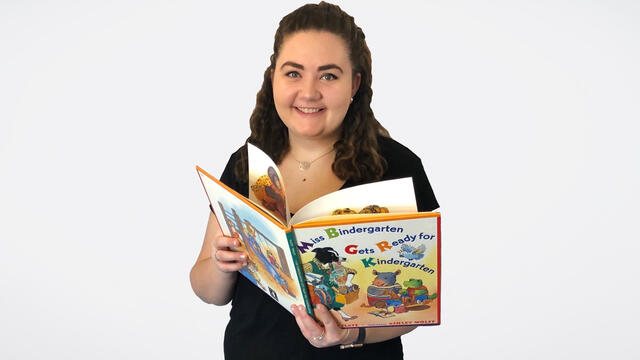 Jamie Wimmer is an Elementary Education major with a minor in American Sign Language and Deaf Studies from Westwood, New Jersey.
When I took my first step on the Hill, I was: So excited to see what memories I was going to make in a new state and at a school where I knew absolutely no one! Paired with this excitement was plenty of nerves and fears, but they were soon diminished when I realized the Hill was truly my second home.
The me who will ring the Old Main bell on Commencement Day is: Well-rounded and prepared for almost anything to come my way. I was able to develop so many skills in and out of the classroom at McDaniel. I also have made so many meaningful friendships and memories along the way, which will make ringing out a lot harder than I would've thought.
Real-world experiences: I was able to do a summer study abroad to Scotland with two of my friends! We spent the month of June at University of Stirling in Stirling, Scotland, studying Education and British Journalism. We went on so many adventures: Loch Ness, Glennfinan Viaduct, a weekend to Dublin, Ireland, and more! Even though the Education major is very time-sensitive, this summer abroad was definitely the perfect experience for me.
I also had four wonderful teaching internships at three different schools in Carroll County (Elmer A. Wolfe, Cranberry Station, and Mt. Airy Elementary) in first, second, and fifth grades! During these semesters, I observed and taught whole group and small group lessons in math, science, social studies and English/language arts. I think my favorite semester was spent doing a reading intervention with a developing first grade reader. It was an opportunity to not be in the traditional classroom setting, and to see what it would be like to be a reading specialist.
Aha moment: My "aha" is when my students have an "aha!" Being able to see a student's face light up when I am teaching validates my plans and execution of a lesson. Being able to reflect as I go to meet my students at their level and to extend them to the next level, is probably the most meaningful part of teaching.
Footprints I'm leaving on the Hill: A lot of my footsteps would be found wandering Whiteford and ANW, as I spent three years as a Resident Assistant. Others are in Hill Hall for weekly Alpha Phi Omega meetings or wandering the campus from Red Square through North Village meeting up with friends!
Professor who most influenced who I have become: Dr. Rebecca Gibson and Dr. Barbara Swartz are the two most influential professors that I was so grateful to have for four semesters at McDaniel. Dr. Gibson and Dr. Swartz helped me and my classmates find the root of our passion for teaching, and how to share that passion with our own students. Having back-to-back classes, Dr. Swartz and Dr. Gibson were sometime in cahoots with each other, joking about which students showed up to one class and not the other. Both Dr. Gibson and Dr. Swartz shared personal stories of their own teaching, and let us into their lives, caring for our needs in and out of the classroom. My greatest laughs and memories were spent in their classrooms in Merritt Hall.
My mentor. For life.: I first met Rich Goodman when I was a first-year RA, and he had just joined ResLife as an Area Coordinator. I ended up being his Head RA, or right-hand man, for a year in First Year Housing overseeing Whiteford and Rouzer Halls. Rich and I share a birthday, which was probably our first bonding moment. He was able to help challenge me as an RA and as a developing teacher, as at one point that's the direction he was heading. Now in the CEO office, Rich has still continued to be a resource and a familiar face to see around campus on even the roughest days. Rich is so passionate about helping and guiding others, and is truly one of my mentors.
Best class ever: Dr. Rebecca Gibson's Teaching Writing/Children's Literature class was so much fun. In order to teach developing writers, we ourselves had to become writers, writing memoirs and creating our own books. We also spent time reading many, many different children's books. Her class was always so calm, and enjoyable. The perfect way to end a Tuesday/Thursday!
Took me totally by surprise: How many faces you recognize on campus and around Westminster. The small community feel of McDaniel is so unique and comforting.
My favorite spot on campus: Caseys' Corner, with an iced caramel macchiato, curled up in the comfy chairs surrounded by friends doing work. My friends and I would venture to Caseys' as a motivation tool to get work done, but we would always end up talking and laughing for hours.
Most mind-boggling idea I learned at McDaniel: Even though I had successfully graduated high school and passed SATs and ACTs, I never actually knew the theory behind elementary math until entering Dr. Barbara Swartz's Mathematical Structures courses. They challenged everything I knew, but prepared me so well for successfully teaching math!
My capstone: Student teaching in fifth grade
What it's about: Acting as a full-time teacher by attending school for the full week and attending all meetings that my mentor teachers did!
What it's really about: Being like an actual teacher, all day long, but with an extra set of eyes to monitor, provide feedback, and to support me in all of the ways to become the best teacher possible. I taught a full science unit about Earth and Space. My favorite lesson that I taught was about Earth's rotation. I found a template for a wearable map of Earth, a lightbulb and a video to go along with it. Students transformed into the Earth and practiced rotating around the lightbulb "sun" to show day and night!
What's next: Continuing my teaching journey by becoming a full-time teacher!
Name: Jamie Wimmer
Major: Education
Minor: American Sign Language & Deaf Studies
Class of 2020