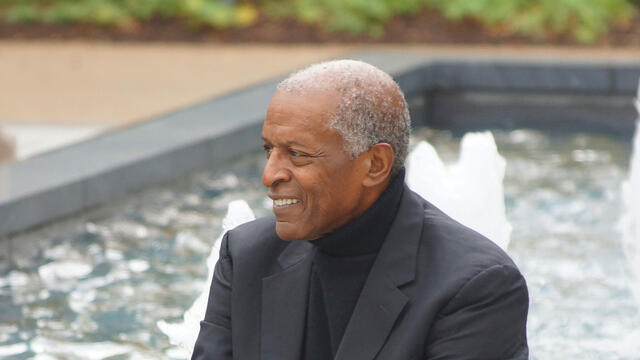 Victor McTeer is a celebrated civil rights attorney and one of the first African American students to graduate from the college. He has spent his adult life engaged in professional, volunteer and philanthropic efforts to ensure that many more successful black scholars would follow in his footsteps to earn degrees at this and other fine institutions of higher learning.
McTeer was just 16 years old in the fall of 1965 when he left his home in the Forest Park neighborhood of Northwest Baltimore to join the overwhelmingly white student body here on the Hill. He came equipped with a Senatorial Scholarship, which paid his tuition, and a keen mind, which propelled him to skip two primary school grades. He also brought his smooth singing voice to the college choir and powerful athleticism to the Green Terror football team. In a minority population of two, McTeer's football teammates and coaches became his support system. The offensive line and end coach, Ira Zepp, who also happened to be an alumnus and rising star on the faculty, became his personal mentor and sounding board.
By his graduation with a degree in Political Science in 1969, McTeer had begun to feel the first pangs of a lifelong passion for challenging preferences based on race or any basis other than merit. At Zepp's suggestion, he spent the summer after graduation volunteering with black civil rights activists in the Mississippi Delta — experiences that inspired him to become a lawyer who would fight for victims of historic discrimination in that region.
He attended Rutgers School of Law in New Jersey because it was known as the place to study civil rights law, but as soon as he graduated in 1972, he returned to the Mississippi Delta for good. In 1973, he filed his first case on behalf of a young black woman who was denied a teaching job because she chose to bear a child out of wedlock while she was a teenager. At just 25 years old, McTeer argued this first-of-a-kind case before the United States Supreme Court — and he won.
Over the course of his nearly 40-year career, he gained acclaim, notoriety — and sometimes disdain — pursuing cases involving voting rights, employment discrimination, housing discrimination and Constitutional law. In 1981, he was part of a legal team that gained the first-ever money damage award against a faction of the Ku Klux Klan after a federal jury heard his powerful closing argument. The federal jury, composed of six whites and one black, awarded five black women $500,000, finding that they were victims of a racially motivated shooting on the streets of Chattanooga, Tennessee.
Representing both plaintiffs and defendants in lucrative product liability and commercial litigation involving some of the largest controversies heard in the state of Mississippi, McTeer was one of the attorneys representing plaintiffs in the case against the American Tobacco Company that was the basis for novelist John Grisham's fictional account, "The Runaway Jury."
McTeer and his wife, Dee, have provided scholarships for financially challenged college students from the Mississippi Delta and have endowed the McTeer-Zepp scholarship at McDaniel College. Although officially retired, he serves on the boards of charitable and educational institutions. The McTeers generosity built the McTeer-Zepp Plaza, fittingly in front of Baker Memorial Chapel, featuring a granite fountain and conceived as his lasting tribute to Ira Zepp's commitment to his students and the WMC-McDaniel community. It also stands as a testament to McTeer's time here on this campus and the positive changes he effected here and in the wider world.
Career: Civil Rights Attorney
Class: 1969
Major: Political Science