Your Path to Commencement
Most students arrive on campus expecting to graduate four years later. And most do. But it takes attention to details to make it happen.
Yes, you need 128 credits. You also need to:

Fulfill the requirements of the McDaniel Plan
Complete a major
Earn a 2.00 GPA overall and in your major.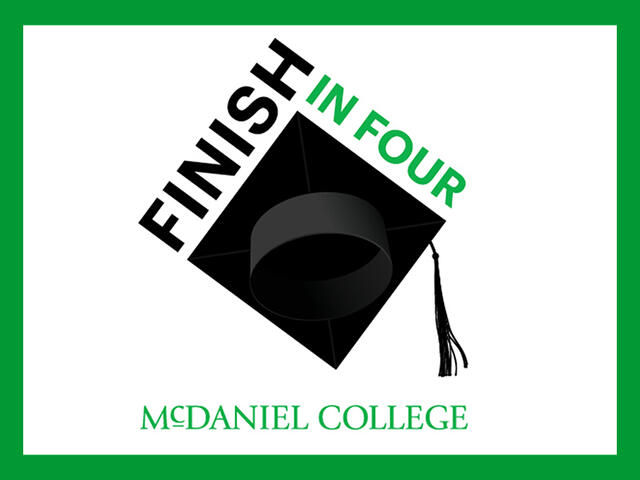 IT'S SIMPLE MATH.
You can do it, and here's how:
Take 16 credits every semester.

16 credits x 8 semesters = 128 credits.

Stay on course

By fulfilling your McDaniel Plan and major requirements and maintaining a 2.00 GPA.
So what if stuff happens?

You drop a class. You decide your courses require you to take a lighter load. You only sign up for 12 credits one or even two semesters. Life has other plans. You are 4, 8, maybe even 12 credits short.

Don't worry! You still can FINISH IN FOUR - If you try. Here's how:

Take a summer course…or two

Add 4 credits…or 8.

Summer courses are 100% online so you can take them from home, and two summer sessions make it possible to earn 8 credits in one summer. Nearly two dozen courses cross disciplines from Physics to English, Communications to Math; Environmental Science to History, and more. There's Personal Finance, Nutrition, Transmedia Storytelling, Mathematical Excursions, Understanding the Universe, and Social Psychology.

Add on lower credit courses

Add .5-2 credits.

Don't overlook courses with fewer credits that you can tuck into your schedule, earn a few extra credits, and even have some fun while relieving stress. There are 5-week, .5-credit classes in activities like fitness walking, yogalates, and volleyball. Or, sing your heart out with 1-credit Gospel Choir and College Choir. Browse the course catalog to see what is available. 

Take Common Ground on the Hill

Add 3-4 credits…or 6-8 when you add a second week.

Earn credits while exploring the common ground of the traditional arts. A week of classes that include the visual arts, singing, instrumental music, recording, dance, yoga, film, and lecture classes taught by nationally and internationally renowned instructors.

Dive into a second Jan Term

Add 2 credits.

Your first Jan Term is reserved for My Design, but take advantage of up to three more. Earn 2 credits while you leap into a brand-new subject or travel to Mexico, Greece, Hungary, Peru, and more while enriching your global perspective and cultural understanding.

Test drive a career

Add 2-4 credits.

You can take 2 summer internship credits for free, and your internship can be paid or unpaid. You just need a faculty supervisor. Contact CEO or your advisor to learn about hundreds of internship opportunities.

Collaborate with your advisor

Design and complete an independent study or an internship. Add .5-8 credits.

Be creative – immerse in a topic in your major or in a whole new area or sample a career to see if it is for you. Your advisor and McDaniel's CEO can help you find the perfect fit.

Cash in your leadership skills

Earn credit as a Peer Mentor or Writing Center Tutor. Add 2-4 credits per semester.

Enough said. You invest countless hours in mentoring other students and that's worth credits to you and endless gratitude from those you mentor.

Make sure your credits are applied

Make sure all of your credits from high school and other colleges are applied.

AP? CLEP? Dual enrollment? Transfer? You deserve credit for what you earned – and learned. Don't overlook credits for all you've accomplished.

Get credit for life and work experiences

Submit your portfolio.

Military service, volunteer time, on-the-job training, research, and creative ventures – any or all of these experiences may be worth college credit. Learn more here.