Military & Veteran Benefits
We have a variety of financial resources and services available for military affiliated students at McDaniel College to assist you, support you, and help you further your educational and career goals. We've collected them in one place to make them easier to find for all of our Military affiliated students including: Active, Reserve, Guard, Veteran, Retired, Dependent, Spouses and ROTC cadets. All military affiliated students are encouraged to apply for financial aid by completing a FAFSA. This will not disrupt receipt of educational benefits from the VA.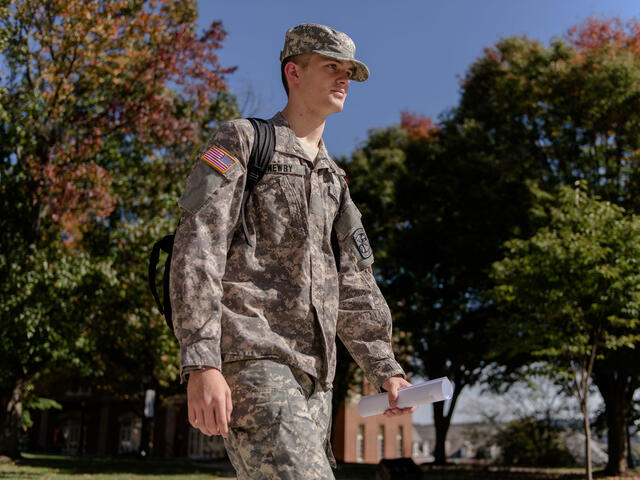 Financial Aid Programs & Opportunities
Yellow Ribbon Program
The Yellow Ribbon Program is a provision of the Post-9/11 Veterans Educational Assistance Act of 2008 (GI Bill®). Under this program, the act provides payment for tuition, fees, a stipend for books and supplies, and a housing allowance for qualified veterans who have served on active duty since September 11, 2001. Veterans who wish to be considered for this educational benefit must apply, qualify, and be approved by the Department of Veterans Affairs (DVA). Once approved, veterans may apply to transfer the benefit to qualified dependents.
The VA will determine eligibility for the Post-9/11 GI Bill® (Chapter 33), and issue a Certificate of Eligibility (COE) which will advise the student if he/she is eligible to participate in the Yellow Ribbon Program.
The McDaniel College Yellow Ribbon is designed to cover the student's tuition and allowable fees above the annual maximum benefit established annually by the Department of Veteran's Affairs. After restricted state, federal and GI Bill Benefits are applied, the student's remaining tuition and fees are covered one-half by McDaniel College and one-half by the Department of Veteran's Affairs.
Funds are applied to net tuition and fees in the following order:
State and External Scholarships restricted for tuition only.
GI Bill® Benefits
McDaniel Yellow Ribbon Grant and VA matching funds
At the time of acceptance, a Yellow Ribbon eligible student may be awarded a McDaniel scholarship or grant. McDaniel College uses McDaniel scholarships and grants as funding sources for the school's contribution for the Yellow Ribbon Program. As a result, previously awarded institutional scholarships, awards or grants will be replaced with the McDaniel Yellow Ribbon Grant.
Other eligible fees, such as lab fees, are taken into consideration when determining the McDaniel College contribution.
The combination of veteran's benefits, Yellow Ribbon funds and McDaniel scholarships may not exceed the total cost of tuition and fees.
If a continuing student's Yellow Ribbon Benefits are exhausted, their previously awarded McDaniel scholarships will be reinstated. Institutional need-based aid will be reevaluated based on the student's annual FAFSA submission and may not match the need-based grant originally awarded.
**Student tuition and fees will only be certified to the VA after an election regarding medical insurance coverage has been received by the Bursar's Office.
Maryland National Guard Tuition Discount
McDaniel College provides a 25% tuition discount for members of the Maryland National Guard (MNG) attending classes at McDaniel College. In order to be eligible to participate, the student must have at least 24 months remaining to serve in the MNG as certified by the member's Company Commander, or have agreed in writing to serve for a minimum of 24 months.
This tuition discount cannot be used in conjunction with any other institutional aid provided by McDaniel.
This policy applies to regular tuition charges only. Mandatory and other applicable fees such as registration, application, course fees, and laboratory or appropriate self-support fees, are not included under this policy.
In order to obtain the tuition waiver, The MNG member must submit verification of active status and meet the 24-month requirement. The verification must be on official letterhead and signed by the member's Company Commander. The Company Commander should stipulate that the member would receive a 25% tuition waiver. A new verification letter is required for each term in which the student seeks a tuition waiver. After the student registers for classes, but before the semester payment due date, the student must submit their verification letter to the Office of the Bursar. The Office of the Bursar will review the waiver and apply the appropriate waiver percentage to the student account as appropriate.
If the MNG member drops, withdraws, or is unenrolled from a class or classes during the semester's refund period, no part of the tuition waiver will be refunded to the student. If the student is discharged from the MNG for a reason designated by the member's Company Commander, the tuition waiver terminates and the student owes the institution, within 30 days of discharge, the amount of the tuition waived for that semester.
Edward T. and Mary A. Conroy Memorial Scholarship Program & Jean B. Cryor Memorial Scholarship Program
Folds of Honor Higher Education Scholarship
The Folds of Honor Higher Education Scholarship serves those seeking a first bachelor's degree or a certification at a post-secondary institution. The scholarship is based on "unmet need" as determined by documentation submitted by the awardee and can be valued up to $5000. Since it's inception in 2007, Folds of Honor has awarded approximately 20,000 scholarships. 
The window of application is open each calendar year from February 1 – April 1 for the upcoming academic year. Award or Denial notifications are sent in the summer. 
Veterans of Afghanistan and Iraq Conflicts (VAIC) Scholarship Program
The Veterans of the Afghanistan and Iraq Conflicts Scholarship Program is designed to provide financial assistance to United States armed forces personnel who served in the Afghanistan or Iraq Conflicts, and their sons, daughters, or spouses who are current high school seniors, and full-time or part-time, degree-seeking undergraduate students enrolled in an eligible accredited Maryland postsecondary institution.
Applicants for the scholarship must submit the Veterans of the Afghanistan and Iraq Conflicts Scholarship application by March 1..
The Veterans United Foundation Scholarship
The Veterans United Foundation Scholarship creates opportunities for family members of service members and Veterans to achieve their educational dreams. The scholarship program, launched in 2012, is funded by contributions from Veterans United Home Loans and its employees. 
The Veterans United Foundation Scholarship awards up to 10 one-time scholarships for up to $50,000.
McDaniel's Military Legacy Scholarship
The Army Reserve Officers' Training Corps (ROTC) program has been a part of McDaniel College since 1919 and is one of the oldest programs in the nation. In recognition of the Green Terror Battalion's 100 years of service to our country, McDaniel College is pleased to introduce the McDaniel Military Legacy Scholarship (MLS) for veterans and active duty military personnel and their children.
Military veterans, active duty military personnel, and their children who are admitted to McDaniel College as undergraduates are eligible to receive a scholarship valued at up to $30,000 per year ($80,000 over four years for commuter students and $120,000 over 4 years for residential students) to help fund their college education.