120 minutes with a plein-air painting research group
In the Student-Faculty Collaborative Summer Research Program, Art students Zoe Shelby, Sarah Mendez, Lacy Newhouse, and Mandy Smith are painting en plein air with Professor of Art Steven Pearson to develop oil painting techniques and experience an art practice with a long tradition. Their work will appear this November in a campus art exhibition alongside visiting artists.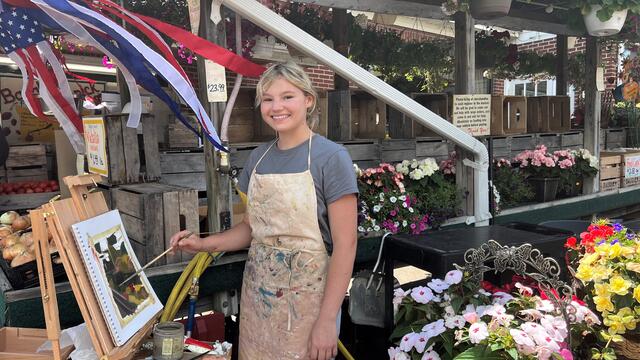 "These are the French easels," Professor Steven Pearson says, gesturing to the folded wooden contraptions that Art students Zoe Shelby, Sarah Mendez, Lacy Newhouse, and Mandy Smith are slinging over their shoulders. It's 1 p.m. on a sunny, blustery June day.
"And those are the best clouds we've seen so far," says Pearson, surveying the sky above Baugher's, the chosen location for their daily plein-air painting session. The students divvy up and trek to a spot of their choosing to unfold their easels and begin painting.
For six hours a day, split between morning and afternoon, four students in the Summer Student-Faculty Collaborative Research program are painting outside and reading about artists who focus their artwork on evoking a sense of place.
The program, supported by donors, spans multiple weeks for undergraduate students at McDaniel to pursue research beyond the classroom in all areas of study, from Art to Mathematics.
Making art beneath an open sky is a long tradition, often referred to with the 19th-century French term "en plein air," meaning outdoors. While the practice involves painting from real life, there's room for imagination.
"In painting, it's always how you interpret what you see. It's up to the artist to decide," Mandy Smith says as she paints a study of watermelons and flowers at the market in moody earth tones.
"So, you can paint in local colors, exactly what you see, but you can also paint whatever you want," says Smith, who is a junior Art major from Cambridge, Maryland.
"I don't like everything green. It's too boring for me," Sarah Mendez says, dabbing orange onto a stand of peaches in her art. Wearing headphones and an apron, she's focusing on how the sunlight shines on the fruit.
A senior Art major and Education minor from Damascus, Maryland, Mendez says learning to paint realism will enhance her portfolio and introduce her to new favorite mediums. Though, "oil paint is definitely not it," she says, but she's enjoying the challenge.
The student-researchers contend with many challenges en plein air that don't pop up in a studio setting. Like strong winds, changing light and shifting clouds, inconveniently parked buses, and vocal passersby.
Must-haves for painting en plein air:
French easel

Oil paint in cobalt blue, lemon yellow, alizarin crimson, white

Brushes

Terpenoid

Linseed oil

Mahl stick

Headphones

Sunscreen and sun hat

Paper towels

Palette

Paper or canvas

Apron

View finder or camera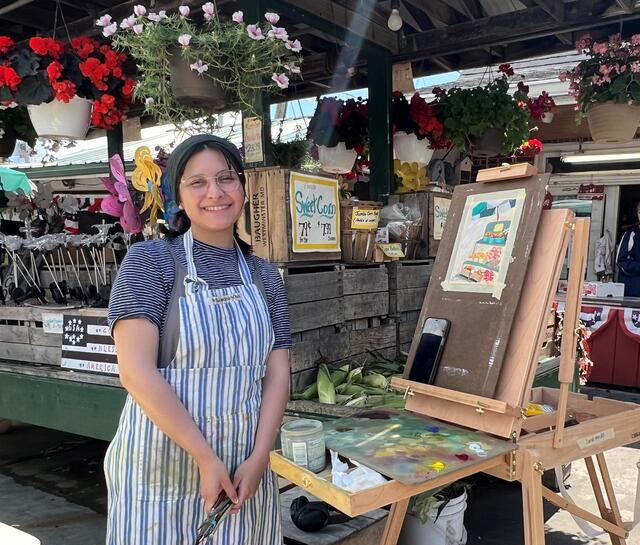 In a 10-minute span, a local stops by Smith's easel to ask what she's working on, and Mendez is asked to relocate further away from a display of ears of corn.
"Sometimes people come up to you and critique you. They're like, 'Maybe you should add a little green in there,"' Mendez says. "Or they say it looks good; that's a confidence boost."
What can students learn from these experiences? Pearson decided to lead a plein-air painting research group after his student-researchers last summer made art based on "Notions of Place." This year, he's tasked his students with exploring place as both a subject and location for painting.
"Painting outside, you've got so much information. Instead of a few objects, you've got a million leaves, and you have to figure out where your composition is," Pearson says. He adds that practicing plein-air capabilities like distilling information can in turn speed up studio work and improve brush techniques.
When laying down a first sketch, Pearson's one rule is to avoid using pencil — he begins by using red paint. "You need that kind of freedom in plein-air painting where you're not making yourself start out too tight. Let yourself find decisions in the painting process itself," he says.
The students' color palettes appear limited, with tubes of just red, yellow, blue, and white paint, but the possibilities are endless.
"They have to learn how to manipulate color," Pearson says. He recalls one of his mentors from graduate school who made his students crush pigments to make paint, which gave students a deeper understanding of colors and medium. While his own methods aren't as extreme, Pearson hopes his students have a similar epiphany.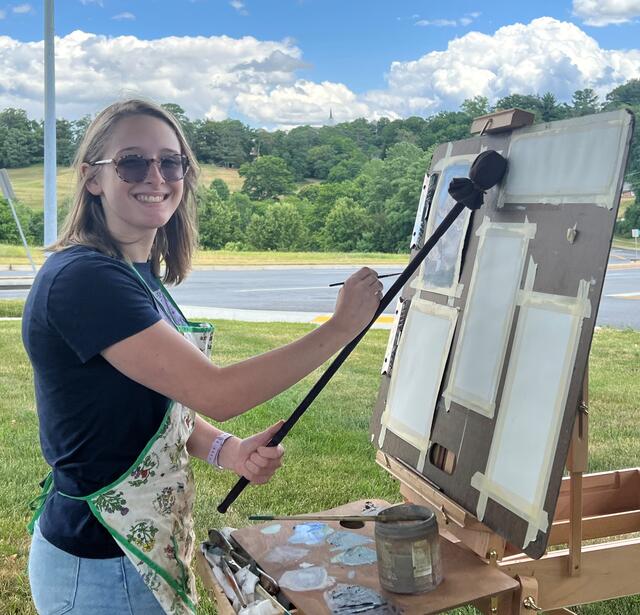 "Color is made of three physical properties: color, value, and saturation. Value is how light or dark it is, and saturation is how dull or bright it is," Pearson says. He points out a reddish hue in the trees on the McDaniel campus. "It's counterintuitive when you think how green can have red in it." Also counterintuitive is the fact that white and black, he says, dull colors, but adding other colors makes more realistic hues.
"Every site is different, so I'm inspired differently every time," Zoe Shelby says. She's adding clouds to her vertical composition. In it, the spire of Baker Memorial Chapel just barely crests the trees in her landscape.
The students' plein-air paintings from this summer will appear in a fall exhibition titled "Light and Color, Space and Place: Landscape Painting on Site and in the Studio," alongside work from various visiting artists. "It'll definitely be the biggest thing I've done," says Shelby, who is a junior Art major from North East, Maryland.
By the end of June, the researchers will have more than 10 paintings for the art exhibition, and a new set of techniques and experiences to support them in their advanced studio courses and beyond.
"I feel like I learn from everything," Shelby says. "This experience for my art — it's like a snowball. I feel like my snowball will just get bigger with all the things that I do."
Read more about the Student-Faculty Collaborative Summer Research Program: