Carroll County Health Officer Ed Singer '87 honored with McDaniel's Trustee Alumni Award
Ed Singer '87, Carroll County Health Officer and incident commander for Carroll County's COVID-19 response, received McDaniel's highest alumni honor, the Trustee Alumni Award, during the college's 2021 Commencement in recognition of his career and service achievement.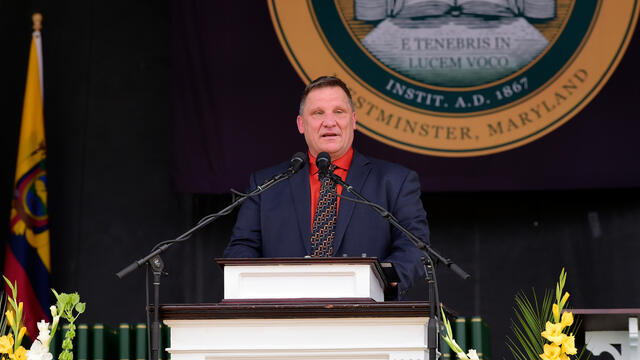 Ed Singer '87, Carroll County Health Officer and incident commander for Carroll County's COVID-19 response, received McDaniel's highest alumni honor, the Trustee Alumni Award, during the college's 2021 Commencement in recognition of his career and service achievement.
McDaniel President Roger N. Casey presented Singer with the award on behalf of the Board of Trustees in recognition of Singer's leadership through the uncharted territory of an unprecedented global pandemic to keep the Carroll County community safe during the onslaught of COVID-19.
"Integrity, compassion, and service. These are three words that will be forever tied to your name," Casey said at the ceremony. "In such an unprecedented year that required countless businesses and schools to close and left fear reigning in the hearts and minds of residents, we saw true heroes step forward — one of them was you."
Leading a staff of 185, Singer has worked closely with Carroll County government, Emergency Management, Carroll County Public Schools, local businesses, and community partners to minimize the impact of COVID-19, Casey said. In the course of the past 16 months, he has overseen outbreak investigations, contact tracing, mass and community-based testing, vaccinations, supply of PPE to community organizations, education and enforcement of mitigation measures, and advising various organizations on many issues related to COVID-19. Not one to lead from the sidelines, he immersed in the work with his team, from responding to phone calls and emails to literally carrying boxes of face shields from storage.
Stressing the importance of relationships, Singer credited his college mentors for helping him find his way through college, his Army colleagues for his success in the military, and community partners for helping him, the Carroll County Health Department, and the entire community navigate the public health crisis — from the first COVID-19 case to the last vaccine.
"Our county's response to the COVID-19 pandemic has been so much stronger because of partnerships we developed before it even began," Singer said. "McDaniel College is one of our great partners and our coordinated efforts helped make it possible for you to complete your college journey in these uncertain times."
McDaniel College is among the countless schools and businesses to benefit from Singer's strong and concise leadership and herculean efforts, Casey said. His work with McDaniel staff to reimagine classroom spaces, dorm rooms, dining, and outdoor activities and gatherings and to establish distancing guidelines, capacity, signage, and communication resulted in a successful fall 2020 semester. He continues with an active vaccination program for Carroll County that also encompasses the McDaniel community.
Singer turned the table and applauded McDaniel students, faculty, and staff from the podium.
"I am certain this is not the senior year you expected to have, but you have done an amazing job to reach this day through all of the uncertainty and tension caused by the COVID-19 pandemic," he said. "You and the faculty and staff have done a commendable job in keeping your campus community as safe as possible and working with our health department team to get to this day.
"I am proud to say that McDaniel got through the year with no major outbreaks and no shutdowns. Not all colleges can say this.
Singer is directly responsible for McDaniel's much-requested in-person 2021 Commencement ceremony. He reviewed Commencement plans and with his adjustments gave the go-ahead for the May 22, 2021, ceremonies for 2021 and 2020. He is being presented with the Trustee Alumni Award at the 2021 ceremony because without him the day would not be possible.
"There are two main things that I still carry with me today from college," he said. "One was using the problem-solving principles I learned as a Biology major … The other was the importance of personal and professional relationships, because together we are all stronger."
Singer encouraged the graduates to use their skills to help solve problems and make the world a better place.
"Be nice to other people and you will create relationships that will change your life for the better," he said. "And do both of these things at the same time by getting vaccinated!
"The vaccinated part will help end this pandemic, keep you from having to quarantine, and let me and my staff get back to doing what health departments did before the pandemic."
Currently president of the Maryland Association of County Health Officers, Singer has served the Carroll County Health Department for more than 33 years. Before his appointment as health officer in July 2015, he served in the Health Department's Environmental Health Bureau, first as an environmental health specialist manager and then as director of environmental health.
A retired major, Singer served 24 years in the Maryland Army National Guard and United States Army Reserve. He served on deployments in Afghanistan, Iraq, and Central Asia where he worked as a civil affairs officer in building infrastructure, expanding health systems, and building emergency preparedness. He was awarded the Bronze Star twice, the Meritorious Service Ribbon three times, the Combat Action Badge, and various other military awards.
Singer has a bachelor's degree in Biology with a concentration in Environmental Studies from Western Maryland (now McDaniel) College, where he was captain of the wrestling team and a member of Sigma Phi Epsilon fraternity, the track and field team, and the Ecology Club. As a senior, he was honored with the Charles Havens Award, given to a student who has participated in intercollegiate athletics and has shown the attributes of charity, altruism, benevolence, and a humane and compassionate concern for fellow man. He lives in Manchester, Maryland, with his wife, Michelle Singer M.S. '00. They have two grown children, Eddie and Natalie.
The Trustee Alumni Award is the highest alumni honor given at McDaniel in recognition of alumni career and service achievement. The award is given each year to a very small number of McDaniel graduates who are unknowingly nominated, evaluated by the Academic and Campus Life Committee, and approved by the McDaniel College Board of Trustees