Ceremony unveils plans for renovation of student center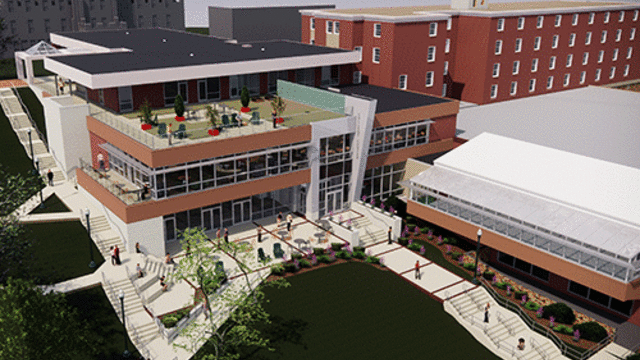 President Roger N. Casey joined by Board Chair Martin K.P. Hill and Mary Lynn Durham '70, a member of the Board of Trustees, with her husband, Bill Roj '70, unveiled plans for the renovation of the Decker College Center during a May 10 kickoff ceremony.
The $10 million renovation will modernize the student center located in the middle of campus. With the exception of the 2011 renovation of Englar Dining Hall, this is the first overall renovation of the structure since it was built in 1978. Plans include an updated McDaniel Pub and the addition of brand-new student spaces, as well as offices for the Center for Experience and Opportunity, Student Engagement and Office of Diversity and Inclusion.
"These changes will transform how our students connect with each other and our staff," Casey remarked. "How they look for internships, learn about study abroad opportunities, collaborate on projects, meet with student leaders and engage with each other. With these changes, we believe that the student center has the potential to not just stand at the heart of our campus, but serve as the heart of our student body."
Funding for the project has been supported by a $5 million leadership gift from Mary Lynn Durham '70 and Bill Roj '70.
"Throughout our long association with McDaniel, the College has focused on the education of each of its students as a whole person. We are so pleased that the redesign of the student center has been developed to further enhance the all-in transformative education McDaniel students continue to experience," Durham told The Hill magazine.
An additional $2 million was donated by several current trustees, including Dr. Chitrachedu Naganna and his wife, Vimala, of Westminster, Md.; Board Chair Martin K.P. Hill of Manchester, Md.; Robert "Robin" Salomon, III, and his wife, Sarah, of Bethesda, Md.; Carroll Yingling '68 and his wife, Susan Morales Yingling '70, M.S. '00, of Westminster, Md.; and William Westervelt '71 and his wife, Laura, of Arnold, Md. Efforts are underway to raise the remaining $3 million.
Construction is slated to begin at the end of May 2019 with a targeted completion date for the start of the 2020–2021 academic year. The architect for the project is Marshall Craft Associates of Baltimore and contractor is Whiting-Turner Contracting Company of Baltimore.
Project components and features include:
Exterior:
Green rooftop terrace
Outdoor terrace with a mini amphitheater for student gatherings and performances
Renovated patio
Middle-level:
McDaniel Pub will be modernized to offer fast-casual dining options along with modern conveniences, such as iPad ordering and updated furniture
Reception desk and new offices for the Center for Experience and Opportunity, Student Engagement and Diversity and Inclusion
Student work space, including an innovation lab and meeting rooms for student organizations
Student lounge and recreation area
Performance area
Lower-level:
McDaniel College Bookstore will move to the lower-level offering convenient access
New Rec Room
Replace Englar Dining Hall sunporch window system
Rendering courtesy of Marshall Craft Associates