Chemistry seniors explore natural products for capstone research
Chemistry major Madelyn Jackstadt's capstone research into the anti-inflammatory and anti-oxidant properties of the stinging nettle plant began deep in the Amazon rain forest when a friend was stung by the plant Jackstadt has come to see as "ironic."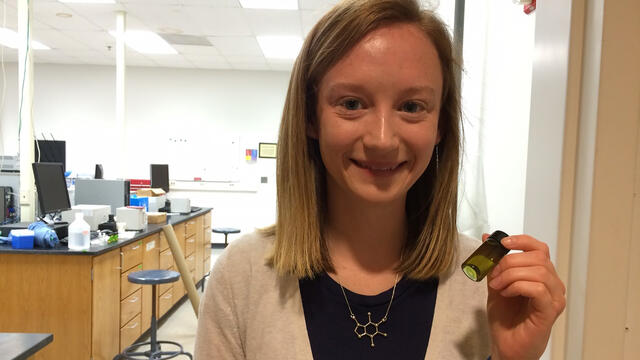 Chemistry major Madelyn Jackstadt's capstone research into the anti-inflammatory and anti-oxidant properties of the stinging nettle plant began deep in the Amazon rain forest when a friend was stung by the plant Jackstadt has come to see as "ironic."
After the painful sting, her friend's finger and hand swelled — yet the beneficial medicinal uses of stinging nettle have been known since ancient times. Her curiosity sparked by the plant's dichotomy, Jackstadt wondered what was going on with the plant and how its medicinal properties varied between traditional laboratory alcohol extraction and an ancient tea water extraction.
The lab-extracted flavonoids in stinging nettle, especially one called rutin, are known to be powerful antioxidants and are used to combat inflammation, but Jackstadt wanted to explore the concentrations of flavonoids found in the tea made from stinging nettle leaves when steeped by various methods in water.
Jackstadt, who enters a Chemistry Ph.D. program at Washington University in St. Louis in the fall, developed the techniques and resolved the problems that emerged in the course of her original research.
"I found that there are not only enough flavonoids in the tea to make a difference — there are five times more than we previously thought," says the senior from Barnegat, N.J. "The plant uses acids as defense, and that's what stings. But in the tea form, the acids are boiled or dried out of the leaves, leaving its medicinal compounds."
Jackstadt wasn't alone in choosing to do research into natural products as a capstone project. Four classmates headed in the same direction.
"As a department, all of us are interested in natural products one way or another," says instructor Steve Robertson, who specializes in wine chemistry and was Jackstadt's capstone mentor. "I think the main reason is that anybody who studies it sees natural products have evolved over millions of years to create molecules that we have not yet synthesized."
In other words, says Jackstadt, "nature has already done the hard work."
Meg Rosario, a Chemistry major from New Windsor, Md., focused her capstone research on isolating bioactive compounds from marine sponge samples collected off the coast of Pulau.
"I love natural product research because compounds produced by organisms have been evolving for millions of years and we have the ability to utilize those compounds to fight diseases," says Rosario, who is headed to University of Rhode Island School Pharmacy to earn her Ph.D. in medicinal chemistry and pharmacognosy, where she will look for novel antibacterials in marine natural products. "The power of nature is amazing."
Antioxidants are the focus too of both Vi Lam's and Jeb Shingler's capstone projects, although that's where any similarity ends. Thanks to his study of the metabolites found in the fermented brew, Shingler has a better understanding of the complexity and versatility of kombucha, the revitalizing health drink he's been brewing for a little over a year.
"I have a better understanding of kombucha's potential health benefits because of my research," says the senior Chemistry major from Hagerstown, Md., who plans to start a business after graduation selling homemade local kombucha.
Lam decided to research the homemade kimchi — oriental sauerkraut — her mom made and claimed would keep Lam healthy and prevent common diseases. She did her capstone on the antioxidant properties of a compound called HDMPPA, extracted from the fermented cabbage dish, and its potential as a drug to treat atherosclerosis.
"I personally think HDMPPA is a topic worth pursuing because it's relatively easy to synthesize compared to other natural products," says Lam, a Chemistry major from Herndon, Va., who has a summer internship to work as a student researcher at the Korea Advanced Institute of Science and Technology (KAIST) before returning to the U.S. to apply to med school.
McDaniel swimmer Kelly Lewis' capstone is "Caffeine and Endurance Exercise." As an athlete, Lewis found that drinking coffee before workouts helped her feel better at practice, and she wanted to see if caffeine was truly having a positive effect.
"I researched caffeine as a drug and how it improves athletic performance," says the Chemistry major from Montgomery Village, Md., who will commission as a 2nd lieutenant in the U.S. Army and serve on active duty as a Quartermaster officer in Alaska.
Madelyn Jackstadt shows a sample of the stinging nettle tea she extracted and researched for its anti-inflammatory and anti-oxidant properties.