Cinema major earns prestigious national 'Star Trek' internship
Cinema major Faith Young of Takoma Park, Md., has been selected as one of two fellows for the inaugural year of the national "Star Trek" Command Training Program in Los Angeles. This brand-new internship, hosted by the Television Academy Foundation in partnership with CBS Television Studios, was open to undergraduate and graduate college students nationwide and launched in 2020 to promote core values of the "Star Trek Universe."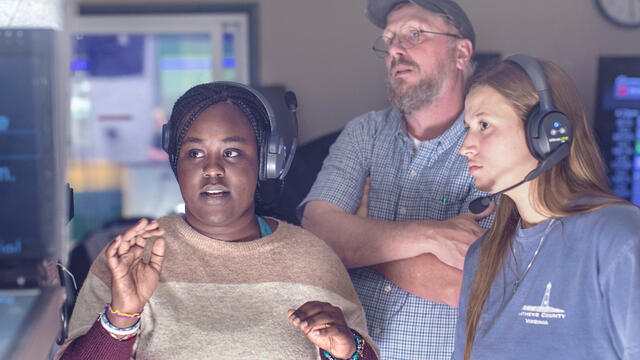 Cinema major Faith Young gets to experience a voyage on the Starship Enterprise like never before this summer.
Young, a rising senior from Takoma Park, Md., has been selected as one of two fellows for the inaugural year of the national "Star Trek" Command Training Program in Los Angeles. She is also an Art and Art History minor and has served as the teaching assistant in Television Production.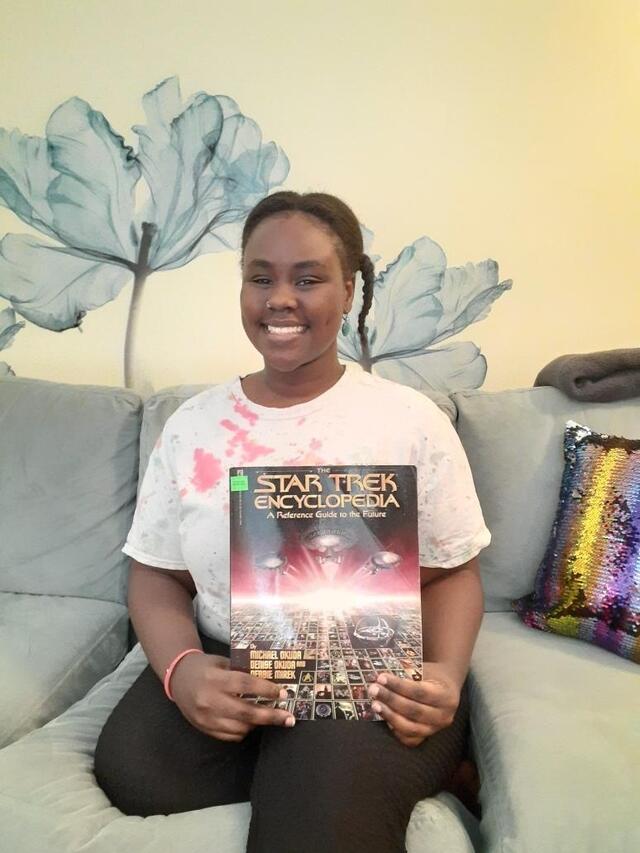 "I think my liberal arts education helped me stand out during the application process," Young said. "I tried to write a well-rounded essay that didn't just answer the specific questions they asked. I also wanted to talk about my love of art and illustration, and the places I've lived. My deep knowledge of 'Star Trek' probably helped, too."
This brand-new internship, hosted by the Television Academy Foundation in partnership with CBS Television Studios, was open to undergraduate and graduate college students nationwide and launched in 2020 to promote core values of the "Star Trek Universe." With encouragement from McDaniel Cinema faculty member Jonathan Slade, Young applied in January.
"When she was my teaching assistant in Fall 2019, I made a random 'Star Trek' reference in class and I don't think anyone got it – except Faith," said Slade, who happened to be a Television Academy Faculty Fellow in 2016. "I had just received an email announcing the new 'Star Trek' experience, and I immediately knew Faith was perfect for it."
Young was at a friend's house in April when she found out she'd been selected for the internship.
"I got a phone call. It was from an unknown number and I almost didn't pick it up," says Young. But the person at the other end turned out to be Nancy Robinson, director of education programs at the Television Academy in North Hollywood.
"She told me I'd been chosen. I was trying to focus and sound professional on the phone, but part of me was trying not to cry," added Young.
"The 'Star Trek Universe' forces us to look at ourselves from a distance and shows us what we could be as a society. It reminds us that tolerance, acceptance, and empathy are possible if we actively try to understand and embrace our differences," Young said.
Young says her interest in the franchise began when she was about 13 years old.
"'Star Trek' changed my life. It changed the way I view the world and myself," she said. "The 'Star Trek Universe' forces us to look at ourselves from a distance and shows us what we could be as a society. It reminds us that tolerance, acceptance, and empathy are possible if we actively try to understand and embrace our differences."
Her favorite entry in the franchise so far is "Star Trek: Voyager."
"It's adventurous and relatable. Everyone can see themselves in one of its characters," Young explains. "And because it takes place in an entirely new part of the universe – The Delta Quadrant – you're introduced to entirely new species and planets. It's like discovering 'Star Trek' all over again."
She admits to binge-watching two seasons of "Star Trek: Discovery" on Netflix while studying at McDaniel's European campus in Budapest, Hungary, during the Spring 2020 semester. Young was awarded a prestigious Gilman Scholarship from the U.S. Department of State to study abroad.
Young hopes to finish "Star Trek: Picard" by the end of the summer and is also looking forward to the release of "Star Trek: Lower Decks," a 10-episode animated series scheduled to premiere on CBS All Access in 2020.
The "Star Trek" Command Training Program internship is designed to provide a 360-degree immersion in the franchise's production process, allowing fellows to be introduced to writers' rooms, wardrobe design, cinematography, animation, and post-production.
Due to COVID-19, the experience shifted online from July 8–August 26, offering a number of virtual workshops, conversations, and seminars with leaders in the film and television industry, as well as a series of targeted one-on-one meetings with key creative forces in each student's area of interest.
The first event Young attended on July 8 featured an evening conversation with Amazon Studio's Chief Operating Officer and Co-Head of Television about how production is changing and studios are forced to navigate a new normal.
Other panels are scheduled to address how a television project moves from script to screen, how interns can land their first industry job, and how Hollywood's hidden history of race and gender codes impact cinematic storytelling.
Young wants to use this opportunity to meet and speak with as many Hollywood professionals as she can, and she's particularly interested in a workshop on building her own personal brand within the industry.
At McDaniel, Young is involved in Terror TV, McDaniel College's TV station, and worked as a teacher's assistant for a television production class. She also serves as an active member of Alpha Phi Omega, a co-ed service fraternity.
Her hope is to create shows that follow the bravery in "Star Trek," added Young.
"In today's world we need something that unifies people, and 'Star Trek' has been inclusive and uniting people for a very, very long time," she said.