Three McDaniel juniors land prestigious Gilman scholarships to study abroad
Supported by U.S. Department of State Gilman scholarships, Emem Akpan and Faith Young are studying abroad at McDaniel Europe, the college's branch campus in Budapest, during spring semester and Priscilla Owusu heads to Dijon, France, in the summer to learn more about French culture and become more fluent in the language.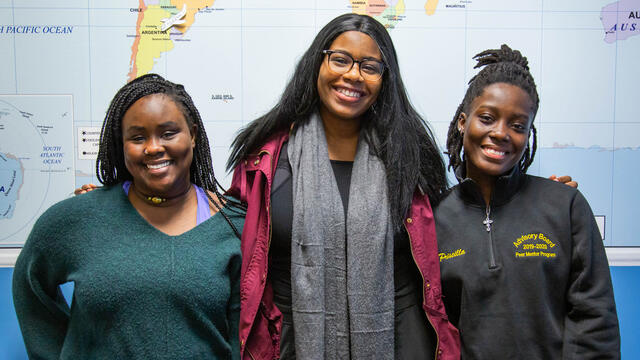 Juniors Emem Akpan, Priscilla Owusu and Faith Young are among 1,413 students from 427 U.S. colleges and universities to receive Gilman scholarships to study abroad.
Akpan, a Philosophy and Political Science major from Fulton, Md., and Young, a Cinema major from Takoma Park, Md., are using their Gilman scholarships to study at McDaniel Europe, the college's campus in Budapest. Priscilla Owusu, a Biochemistry major from Bowie, Md., will attend the Centre International d'Etudes Françaises (CIEF), an intensive six-week French program in Dijon, France, during the summer of 2020.
McDaniel students looking for study abroad opportunities receive support throughout the process from Elizabeth Davis, director of international and off-campus programs in the college's Center for Experience and Opportunity. Davis meets with students to review available scholarships and provides feedback on scholarship application essays.
Cultures have always been something Akpan, a second-generation immigrant, has sought to understand and appreciate.
"Studying abroad not only allows you to gain new experiences, but it also instills values in you that simply cannot be taught," says Akpan, president of the Philosophy Club and Honors Society and a member of Alpha Phi Omega, a co-ed service fraternity. "I hope to become more knowledgeable on intercultural relations and a more open-minded person."
Although Akpan is a Global Fellow and required to study abroad, she wants to go to Budapest to immerse in political studies and a culture-based education. She went on a study tour to Egypt with the college in January and plans to go to Argentina during the summer of 2020 to study the Spanish language.
As her Gilman scholarship project, Akpan will host a Gilman Guild during her semester in Budapest. Students from all over the world will come together during the meet to share their experiences and learn about each other, the European crossroads city around them and their variety of cultures. When back in the U.S., she plans to host information sessions at her high school to help students learn about study abroad and how to apply for scholarships.
After graduation, Akpan plans to serve in the Peace Corps.
Owusu is also a Global Fellow who hopes to learn more about the French culture and become comfortable with the language, especially her fluency in speaking.
A sprinter on the Green Terror track and field team and a peer mentor, Owusu is involved in several campus clubs including Africa's legacy, the Hispanic Latinx Alliance and the McDaniel Dance Company.
As her Gilman project, Owusu hopes to help other science majors understand that study abroad really is within their reach in spite of their course and lab schedules.
"I want to show them how it can be done," she says.
After graduation she plans to attend medical school and become a surgeon.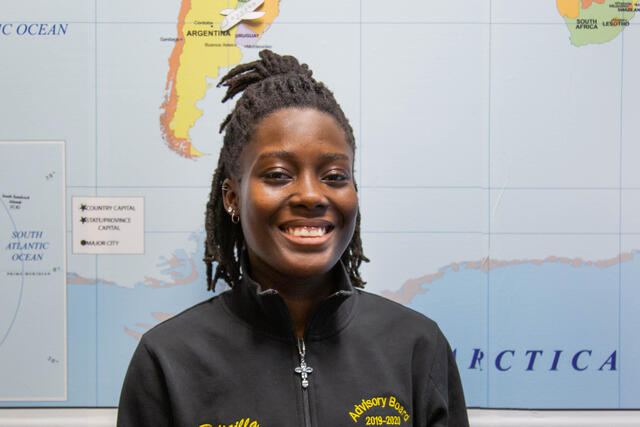 During her semester at McDaniel's Budapest campus, Young plans to enlist her cinematography skills to produce videos and photography that she'll bring back to present at information sessions about study abroad and the Gilman scholarship.
"I'm hoping to expand my knowledge of other cultures and to learn in a different environment," Young says.
A member of the TV club and Alpha Phi Omega Service Fraternity, she plans on a career as a cinematographer for feature or Indie films or in visual development for feature films.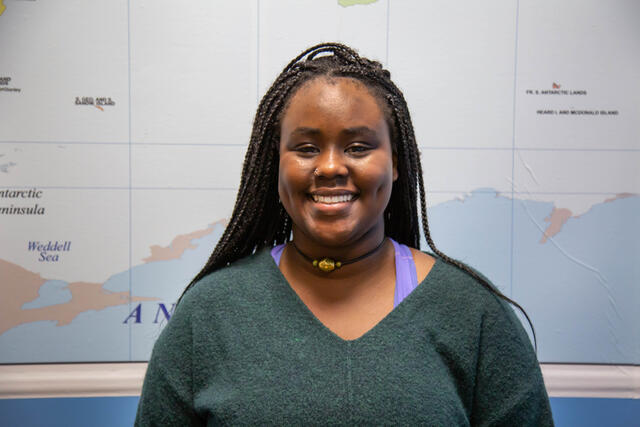 The U.S. Department of State's Benjamin A. Gilman International Scholarship Program enables American students to gain proficiency in diverse languages and cultures, skills that are critically important to their academic and career development. Through Gilman scholarships, students of limited financial means can study or intern abroad, providing them with skills critical to our national security and economic prosperity. The Institute of International Education has administered the program since its inception in 2001.