Class of 2019: Ashly Nsangou
A first-generation college student born in Cameroon, Ashly Nsangou chartered the first black Greek letter sorority on McDaniel's campus, served as Student Government president and left her footprints in research labs in psychology, sociology and biology. She published her first scholarly article as a sophomore.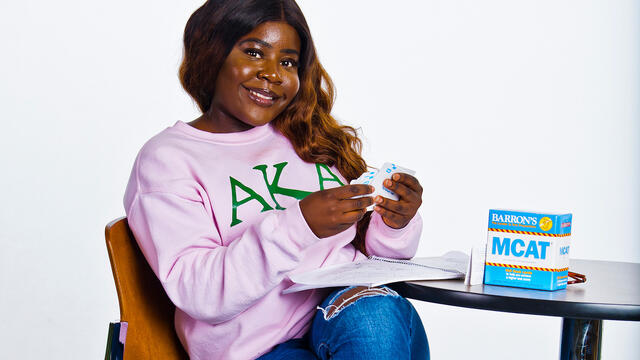 Ashly Nsangou, from New Carrollton, Maryland, and born in Cameroon, is a Biology/Pre-Med major with a minor in Chemistry.
When I took my first step on the Hill, I was: a young girl who was excited about being the first in her family to attend college. Shy, but definitely not afraid to speak my mind. I was open to learning new things and meeting new people. The thought of doing something outside of my comfort zone by attending a small institution was the most exciting part because I was so used to living in the city.
The me who will ring the Old Main bell on Commencement Day is: confident, strong, determined, and an outspoken young woman who is not afraid to try new things and meet new people. A great scientist who believes in herself. Someone who understands the importance of diversity and equality amongst all races.
Real world experiences: I have been fortunate to have had a wide range of research experiences in multiple disciples that have broadened my knowledge on life. I conducted research during my sophomore year with Sociology professor Lauren Dundes, which ended up being published in the Journal of Social Sciences, and during my junior year, with Psychology professor Jack Arnal. The summer of my junior year, I collaborated with Biology professor Katie Staab and presented my research at the Society for Integrative and Comparative Biology in Tampa, Florida. With the help of my adviser Biology professor Susan Parrish, I landed a job as a scribe at Johns Hopkins Hospital. I learned something different about myself in every experience, so it is impossible to rank one as my favorite.
Aha moment: I learned that with determination and hard work I can accomplish anything I put my mind to. Never in the world would I have ever thought I would be sitting in a room full of trustees as a student visitor. It's crazy how the mind works.
Footprints I'm leaving on the Hill: I chartered the first black Greek letter sorority, Alpha Kappa Alpha Sorority, Inc., here on McDaniel's campus on November 13. 2016. I have been Student Government Association President and have left my footprints in research labs in psychology, sociology, and biology. I published my first scholarly article as a sophomore. Most importantly I live and enjoyed every moment.
My mentor. For life.: I call her my school mother. Dr. Staab has literally been more than a professor to me. She believed in me when I did not believe in myself. She taught me that through hard work and determination I can do anything. She inspires me through her love of science and enthusiasm for teaching, and is always willing to share and learn. She is the most passionate and caring person I know, and I am extremely lucky and grateful to call her my mentor.
Best class ever: West African Drumming. Despite coming from West Africa Cameroon I never knew how to play the drums until I took this class. My favorite part about this class was watching how the professors talked about his culture and how much he loved drumming. It made me love it too. Playing became something I enjoyed and look forward to doing.
My favorite spot on campus: The gym because whenever I go there I just forget about everything. Exercise helps me deal with my anxiety and stress.
Most mind-boggling idea I learned at McDaniel: A lecture on chirality and stereochemistry — organic chemistry. The thought of holding a molecule in 3D space without visibly seeing it was mind blowing.
What's next: My plan after graduation is to attend a 1-year post-baccalaureate program in pre-health specialized studies at the University of Pennsylvania and then apply to medical school. In the meantime I plan to travel around the world — to visit Cameroon, the country where I was born, and volunteer as much as I can.