Class of 2019: Megan Quattrone
Chemistry-Kinesiology major Megan Quattrone leaves footprints all over the field hockey and lacrosse fields — and hopes to leave her mark on a new cancer treatment that utilizes one of the new compounds she sythesized during summer research.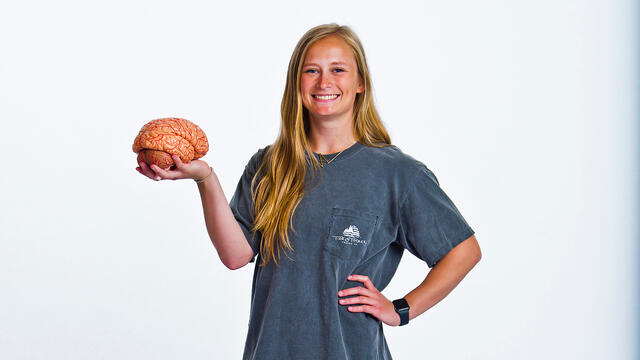 Megan Quattrone, from Carlisle, Pennsylvania, is a Kinesiology-Chemistry dual major with a minor in Biology.
When I took my first step on the Hill, I was: very nervous but excited for the next chapter of my life.
The me who will ring the Old Main bell on Commencement Day is: excited to graduate and move on to the next chapter of my life, but I am also a little sad to be leaving such a great place and so many great friends and professors.
Real world experiences: I volunteered at the University of Maryland Medical Center Shock Trauma department in Baltimore over Jan-term. I also participated in summer research. Both were great experiences, but I would have to say summer research was my favorite. I loved going into the lab and synthesizing new compounds every day — I made great friends and I had an awesome mentor in Chemistry professor Dana Ferraris.
Aha moment: I was surprised that I decided to include Chemistry in my major. I was also surprised at how much I enjoyed chemistry, that is, once I got through intro. Getting into the different classes of the major — biochemistry, organic chemistry, medicinal chemistry — I discovered a new appreciation and interest for chemistry.
Footprints I'm leaving on the Hill: All over the field hockey and lacrosse fields — and hopefully on a future cancer treatment that utilizes in some way a new compound I synthesized during summer research.
My mentor. For life: Dr. Ferraris has been the most influential professor I have had here. He was my professor for four of my classes, allowed me to tag along in summer research, and has helped me with anything and everything — from resumes and figuring out my future plans to helping me in class to even just letting me take a moment out of my day to just sit and drink coffee. He has been there and I will always appreciate having him as such a great mentor in my life.
Best class ever: The best class I have ever taken is either human physiology, abnormal psychology, or medicinal chemistry.
My favorite spot on campus: I really like the fishbowl on the third floor of Eaton because it's a great place to study and do homework. It's a good change of scenery from the library and has lots of whiteboard space. It also has a nice view of campus.
My capstone: My capstone is based on the research I did in the summer of 2018. My research involved synthesizing inhibitors of PARP10 and sending the compounds I made off to a lab to determine if it improved potency and inhibition percentage.
What it's really about: Essentially PARP10 is an enzyme that is found in certain cells that lead to cancer — if you get rid of PARP10 there is a halt in tumor cell growth but if you add more PARP10 there is an increase in tumor growth. So what I did was create compounds that would inhibit PARP10 activity.
What's next: I plan on taking a gap year after I graduate so I can get certified in something that will allow me to get patient-contact hours (phlebotomy, EKG tech, etc.) After I acquire the hours I need I will apply to Physician Assistant school. In the meantime, I have also been looking into research jobs.