Class of 2019: Olivia Maenner
Kinesiology and Spanish major Olivia Maenner's best class ever was Anatomy with Kinesiology professor David Petrie because the course reminded her of how much she loves learning about anatomy and gave her a great foundation which she took with her to Occupational Therapy graduate school.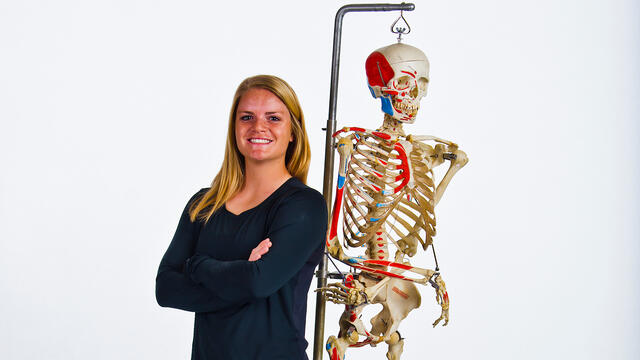 Olivia Maenner, from Towson, Maryland, is a double major in Kinesiology and Spanish with a Psychology minor.
When I took my first step on the Hill: I was excited to meet my lacrosse team!
The me who will ring the Old Main bell on Commencement Day: is eager to use what I have learned from my experiences on the Hill in my future endeavors.
Footprints I'm leaving on the Hill: can be found up and down the lacrosse field where I played for four years, in and out of Gill, and most definitely through the doors of the Pub (with a cheesesteak in hand).
Professor who most influenced who I have become: Kinesiology professor Andria Hoffman because she recognized potential I had from my first class with her during my freshman year, which influenced me to become the involved, hardworking student I am today, as she continues to be a mentor.
Best class ever: My best class ever was Anatomy with Kinesiology professor David Petrie because this course reminded me of how much I love learning about anatomy and gave me a great foundation which I will take into Occupational Therapy graduate school.
Took me totally by surprise: The close bonds you can form with professors and coaches on a college campus. Walking through Red Square and being able to wave to a professor or coach and having them greet you by your first name is something that surprises you at first, but quickly becomes a normal part of your day.
My favorite spot on campus: The tall tables outside of the library. I loved doing work here freshman and sophomore years because I saw my friends as they passed the library and also got to enjoy the beautiful weather at the heart of campus.
Real world experiences: I've studied abroad for a semester in Madrid, Spain, and had experiences in my field by interning with Tournament of Champions sophomore year under the leadership of Dr. Hoffman, at Stella Maris Nursing Home Learning and Therapy Corner, and at Ridge Ruxton School observing occupational therapists as my McDaniel Plan Jan Term. My favorite experience was at Stella Maris because I was able to work with older adults to improve their quality of life and to form relationships with them. My internship hours also serve as experience for Occupational Therapy graduate school. In Madrid I lived with a host mom, was able to immerse myself in the culture, meet friends from many different places, and travel around Europe!
My capstones: My capstones are in two quite different areas. I did a Kinesiology Research Capstone and in Spanish completed "La Conquista en la literatura contemporánea" or translated, "The Conquest in contemporary literature")
What it's about: My Kinesiology capstone is a research project in which my partner and I created a study to see if the amount of sleep and stress differs between athletes vs. nonathletes and males vs. females and also to find out if these two variables correlate to one another. In doing so, we conducted surveys including a perceived stress scale and sleep quality index.
For my Spanish capstone, I read, researched, and wrote an essay about how the organization and relationship to society today in Carmen Boullosa's "Cielos de la Tierra" (1997) makes it an important work of literature that shows the importance of diverse perspectives of history. Throughout the semester we studied different articles, books, and movies about La Conquista.
What's next: I am going to pursue my master's degree in Occupational Therapy at Nova Southeastern University in Fort Lauderdale, Florida, beginning in May of 2019.