Curiosity sparks Chem student's research from cancer drugs to medical cannabis
Organic chemistry changed Caitlin McCadden's career direction from orthodontics to medicinal chemistry research.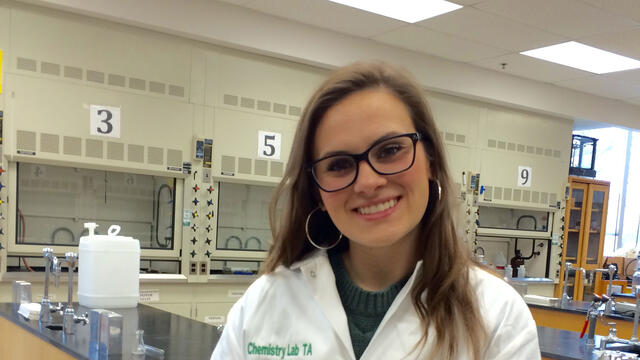 When Caitlin McCadden arrived at McDaniel College in the fall of 2015, she wanted to be an orthodontist. Then the Chemistry major discovered medicinal chemistry research, and everything changed.
It began with organic chemistry. McCadden, then a sophomore, was fascinated with the intricacies of carbon-based compounds — the study of substances found in living organisms. She excelled in lecture and lab and, even before the year-long course ended, knew she wanted to know more.
Opportunity was just down the hall, in Chemistry professor Dana Ferraris' medicinal chemistry labs. There faculty-student research collaborations focused on designing a molecular probe for a novel oncology-based drug discovery target. In other words, cancer-drug design.
Even before the summer research session began, McCadden was exploring scientific literature on the topic and talking with upperclass students who had begun the research. Over the course of the summer, she synthesized 20 compounds with potential to inhibit PARP10, an enzyme in cells that plays a role in the transformation of healthy cells into cancer cells.
One of McCadden's compounds, MCD-175, met all the criteria in the lab to move into testing in cellular models. MCD-175 is one of the most potent and selective PARP10 inhibitors ever synthesized, Ferraris says. It is water soluble, which means the compound can be tested in an aqueous cellular system, and metabolically stable so that researchers can use it in animal studies as well.
"The value of this compound to the cancer research community speaks for itself," Ferraris says. "We now have collaborations with eight different biology/biochemistry groups around the globe who are testing MCD-175 in various cancer models thanks to the work that Caitlin did in my labs."
Success only fueled McCadden's passion for conducting pharmaceutical research.
"It blew my mind that I had made a compound that nobody else on this earth had ever synthesized," says McCadden of Bethlehem, Pa., who presented her results at the 255th American Chemical Society's national meeting in New Orleans in the spring of 2018. "I realized that you can make a difference being a research chemist — that research chemists are doing things that matter."
After refining her research focus to natural product medicinal chemistry, McCadden moved on to a new challenge — optimizing the production of medical marijuana to be taken orally. She landed a job with Grassroots Cannabis in Taneytown, Md.
"It was a cool experience to work and do research in an industry based on chemistry," McCadden says. "Initially I had no knowledge about cannabis, but knew the chemistry and was confident with the machinery and instruments I needed to use.
"And my professors have always encouraged thinking creatively and viewing challenges from new perspectives."
That is precisely what McCadden did. Over the course of her work at Grassroots Cannabis, she developed the methodology that optimized production of orally active cannabis oil from marijuana plants. This meant determining the optimum combination of production variables, including temperature, pressure, amount of material and time.
McCadden wrote what are now standard operating procedures — and presented her research as her capstone project in chemistry at McDaniel.
"I had the opportunity to learn about a new budding industry while doing the pharmaceutical research I love," says McCadden, who is exploring graduate schools and Ph.D. programs where she can continue to pursue research in medicinal chemistry. "I'm particularly interested in drug design and synthesis — and studying what pharmaceuticals do to your brain and body."