Elementary Education major recognized as Distinguished Teacher lands first job
Not only did Elementary Education major Mackenzie McBride land a full-time teaching position as a fourth-grade teacher for this fall, she also was honored as both a Distinguished Teacher Candidate by the Maryland Association of Teacher Educators and a Teacher of Promise by the Maryland State Department of Education.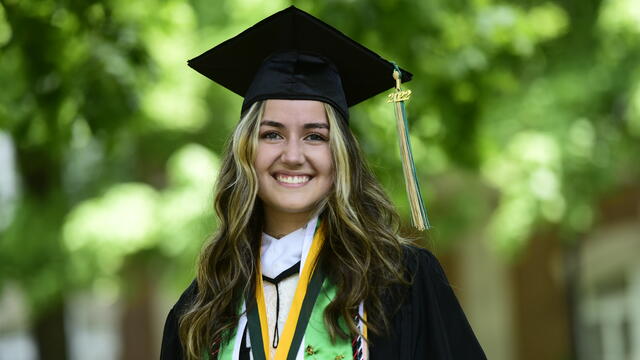 Before Elementary Education major Mackenzie McBride graduated May 21 summa cum laude with departmental honors in Education, she was named a Distinguished Teacher Candidate by the Maryland Association of Teacher Educators (MATE).
Each year, distinguished teacher candidates are selected by their institutions to receive this honor and McBride was one of 19 students from colleges in Maryland and Washington, D.C., chosen for the award due to her "commitment to student learning and to the practice of reflective, responsive teaching," according to Patricia Tate, past president and chair of the awards committee for the MATE.
McBride of Hanover, Pennsylvania, who graduated from South Western High School before enrolling at McDaniel, has accepted a full-time teaching position for this fall in her home school district teaching fourth grade at West Manheim Elementary School. The experiences she had as a student at McDaniel helped her land this role.
Despite COVID-19, McBride and her McDaniel classmates still had the opportunity to student teach within Carroll County Public Schools, where McBride did her teaching practicum in Fall 2020 in a first-grade classroom at Parr's Ridge Elementary School in Mount Airy. She then had the opportunity to intern with a fourth-grade class at Linton Springs Elementary School in Sykesville in Spring 2020 before completing her professional year final internship during the 2021-2022 academic year in Westminster at Cranberry Station Elementary School, where she worked with second graders.
Robin Townsend, McDaniel's coordinator of Teacher Professional Development, said, "Mackenzie is an outstanding example of the type of teacher we want in front of students. She possesses the perfect balance and knowledge of, and passion for, the profession. She understands that her classroom must be founded on building relationships with not only her students, but also their families and her professional peers."
Also during her time at McDaniel, McBride served as a resident assistant and was involved with the Alpha Sigma Tau sorority. She was a member of the Best Buddies and Love Your Melon student organizations, plus she found the time to serve as a substitute teacher and camp counselor, while still achieving President's List and ranking among the top one percent of the student body.
Plus, McBride along with six other graduating seniors were named Teachers of Promise by the Maryland State Department of Education and had the opportunity to participate in the Teachers of Promise Institute. Students are nominated as Teachers of Promise on the basis of GPA, service, leadership, and their application and they are provided a mentor to guide them through their transition from college to the classroom.
In addition to McBride, McDaniel's Teachers of Promise awardees were:
Danielle Garris, Elementary Education major from Washington, D.C.
Maria Kropkowski, Elementary Education major from Forest Hill, Maryland
Hannah Miller, Elementary Education major from Ellicott City, Maryland
Jalyn Richmond, Elementary Education major from Elkridge, Maryland
Zachary Ruggerie, History major with a Secondary Education minor from York, Pennsylvania
Gillian Scott, Elementary Education major from Littlestown, Pennsylvania