Forecast: Bright future ahead for senior with self-designed Meteorology major
Kelly Novak teamed up with Physics professor Jeff Marx to design her major in Meteorology, a concentration of physics and math courses enriched with chemistry and environmental studies, which earned the Honors student a competitive summer research experience in atmospheric science and offers of funded graduate studies.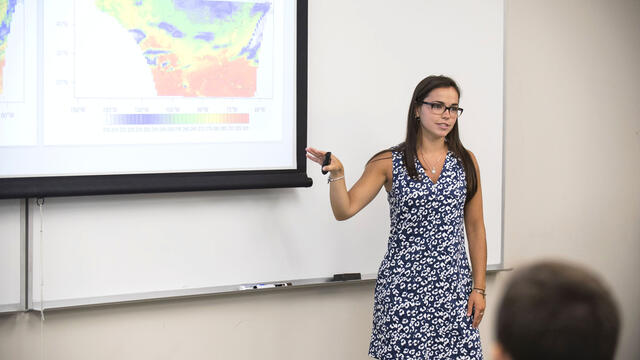 Senior Kelly Novak can't pinpoint the moment when her passing interest in the weather shifted into a career path and a self-designed major in Meteorology.
Sure, her dad's pastime of following the weather earned him the family nickname Storm Steve and the position as the go-to person for an unofficial but reliable prediction of school snow days.
Then, there was Super Storm Sandy, the 2012 hurricane that pummeled the East Coast before colliding with a second storm and intensifying into what was dubbed Frankenstorm over New York and New Jersey – with Novak's hometown of Millington, N.J., inside the raging storm's bull's-eye.
"We were without power for weeks," she says. "I remember how eye-opening it was to see how weather works and how powerful it can be.
"I was a freshman in high school but suddenly weather intrigued me."
Still, Novak left the weather forecasting to her dad. She fine-tuned the stick skills she ultimately brought to the Green Terror lacrosse team and finished high school with a record that earned her a spot in McDaniel's Honors program.
In the fall of 2016, Novak arrived on McDaniel's campus eager to explore all that the liberal arts college has to offer. And explore she did, sampling Contemporary Issues of Ethics, Chinese Painting and Calligraphy and Intro to Psychology. Sometime during her sophomore year, her interest in the weather – in meteorology – resurged, and her advisor, English professor Kathy Mangan, introduced Novak to colleague and Physics professor Jeff Marx.
"Dr. Marx is a bit of a weather buff himself, and he helped me figure out what physics, math, chemistry and environmental science courses I would need to graduate with a major in meteorology," says Novak, who also checked out curricula at universities that offered meteorology majors. "McDaniel is my home – I am thrilled that I could design my own major and stay right here."
Her hard work and student-designed meteorology major has opened some impressive doors. During the summer between her junior and senior years, Novak earned a highly competitive National Science Foundation Research Experience for Undergraduates (REU) at Coastal Carolina University where she evaluated the new dynamical core in the National Oceanic and Atmospheric Administration's (NOAA) Global Forecast System.
"This piece of the prediction system is the governing element of the atmospheric model, connecting all the physics terms, equations and formulas," she says. "It was my job to identify strengths, weaknesses and biases of the updated Global Forecast System."
She presented her REU research at the American Geophysical Union in San Francisco and was never more sure she had made the right choice in majors. With Marx advising, Novak is constructing, programming and calibrating an autonomous rain gauge as her capstone project. The fully independent, microcomputer-controlled device will record rainfall amounts in real-time in the field. Ultimately, a collection of these rain gauges could be deployed in the field to determine the influence of the tree canopy on the spatial and temporal patterns of rainfall, Marx says.
"One of the great things about this project is that Kelly, being the Meteorology student, is most invested in developing and perfecting the instrumentation, but in the future, it will likely be ecology students that use her devices to collect and analyze the data about rainfall," says Marx.
Because of Novak's interests, Marx developed and is teaching a new elective, "Weather, Atmosphere, and Climate" this semester.
"The upper level physics course pulls together a host of sub-disciplines of physics – thermodynamics, fluid dynamics, non-inertial mechanics and radiation physics – to help understand the various atmospheric patterns and events we witness on daily to decadal timescales," he says.
Meanwhile, Novak continues to explore all the potential her major has to offer. She shadowed an NBC meteorologist/producer in New York City, and is open to all career possibilities.
"The more involved I am with the meteorology community the more sectors I learn about," she says, explaining that she likely won't decide what career is for her until grad school. "There are even careers as agriculture insurance analysts – meteorologists who give farmers and others personal weather forecasts."
For right now, she has more immediate decisions such as which of the grad school offers she'll accept and where she'll intern this summer. It doesn't take a meteorologist, however, to forecast a bright future.