Important Message for Students related to Spring charges from President Roger Casey
McDaniel College is announcing meal plan refunds and housing relief to help ease the financial burden on our students and their families during this time of economic uncertainty. Read more about the details, including eligibility requirements.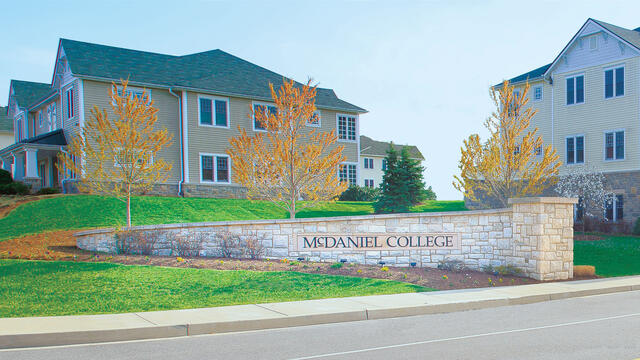 Dear Students,
The great writer Flannery O'Connor once wrote that "The truth does not change according to our ability to stomach it emotionally."
I don't think there's a better way to describe what the past few weeks have felt like, as each day seems to bring more difficult truths—about the growing threat of COVID-19, about lives and routines upended and interrupted, about financial crises in our country and in the homes of our friends and our families.
Each of these truths carries a tremendous emotional cost that is indeed hard to stomach. I know that right now many of you are feeling pain and fear for so many reasons. I want to say I'm sorry your lives have changed so much with so little warning, and I want to help any way I can.
That's why I've asked the entire McDaniel College organization—from our Board of Trustees, to our faculty, to our senior leadership—to pursue all efforts to ease the burden on our students and their families.
Late this afternoon, the Executive Committee of the Board of Trustees met to discuss a variety of concerns related to COVID-19 and the College. Central to this discussion was the decision on how the College would be handling refunds related to Spring 2020 room and board charges. We know that this is a period of uncertainty, and wanted to get their decision in your hands as quickly as we could. Unfortunately, that means you are receiving this information now, after our support offices are closed for the weekend. Please know that our staff will be available to answer your questions beginning on Monday, March 23, at 8:30 a.m.
In the meantime, for the full explanation of how these policies will be implemented and who they will impact, I ask that you read all the details, including eligibility requirements, on the College's COVID-19 webpage. Please note that there is some fine print. We did our best to make it clear, but these are complex situations and no two students are exactly alike.
Meal Plan Refunds
Eligible students who have paid for a Spring 2020 meal plan will be refunded 100% of the prorated amount of their meal plan. Our intention is for refund checks  for eligible students to be issued  no later than  April 3. Information related to eligibility is available here.
We are proud of the commitment to our students that this decision reflects. The choice to issue direct refund payments for meal plans to students and families is because we believe an immediate infusion of cash is one of the best ways to help you right now. We hope you feel the same.
Specifically, here are the amounts eligible students can expect to receive based on their dining plan:
Bronze Plan Members: $613.33
Silver Plan Members: $1,409.07
Gold Plan Members: $1,697.07
Platinum Plan Members: $1,771.73
Housing Relief Grant: Freshmen, Sophomores, Juniors, and 9th-10th Semester Seniors
All eligible freshmen, sophomores, juniors and 9th-10th semester seniors will receive a Housing Relief Grant applied to their account for the 2020-2021  academic year. The amount of the grant will be equal to 100% of the prorated amount of your room costs for the 8 week online instructional period that occurred in the Spring 2020 term. Information related to eligibility is available here.
Housing Refund: Graduating Seniors
All eligible graduating seniors will be refunded a prorated amount of their room costs this summer. The amount of the refund will be equal to 100% of the prorated amount of your room costs for the 8 week online instructional period that occurred in the Spring 2020 term. Information related to eligibility is available here.
Additionally, please know that through my role as Chair of the National Association of Independent Colleges and Universities (NAICU) Board of Directors and my appointment on the Board of Directors of the American Council on Education (ACE), I am doing everything that I can at the national and state levels to generate the greatest support possible for McDaniel students, and all students. I have been closely monitoring the federal and state response to this unprecedented moment in our nation's history. I remain hopeful that there may be additional relief coming from our federal and state governments.
Commencement
Unfortunately, we do not know enough about what the future holds as to the time and nature of our Commencement. We plan to share more information in the coming weeks.
Those are the key updates for today. Again, I'm asking you to read all the details on our webpage. Our Bursar (bursaroffice@mcdaniel.edu) and Financial Aid teams (finaid@mcdaniel.edu) will be available to assist you if you have questions or concerns.
I'd like to close by saying how much I admire the unique character of McDaniel students. You are facing this challenge with courage and tenacity, and I am in awe of your strength and resilience. Thank you for setting such a good example—our world needs people like you now more than ever.
Despite all the hard truths we've faced recently, there is one truth that sustains me and brings me a measure of peace. And that truth is this: I've never been prouder to be a Green Terror. I hope you feel exactly the same.
Sincerely,
President Roger Casey