Innovation Challenge top prize goes to Environmental Studies major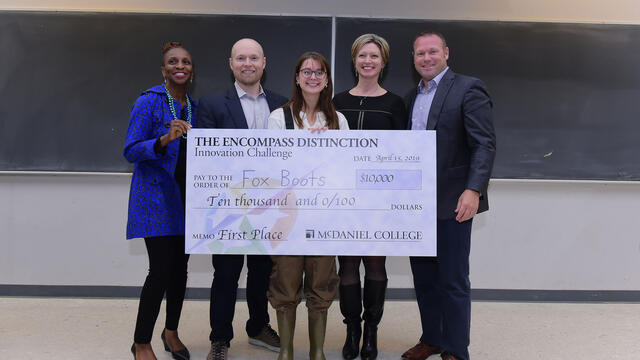 McDaniel junior Rachael Fox, Environmental Studies major from Crofton, Md., and her Fox Boots earned the top prize of $10,000 April 15 at the fourth Innovation Challenge finals. The mission of Fox Boots is to "build a women's boot company that creates a reliable and comfortable product that assists any woman in her outdoor needs."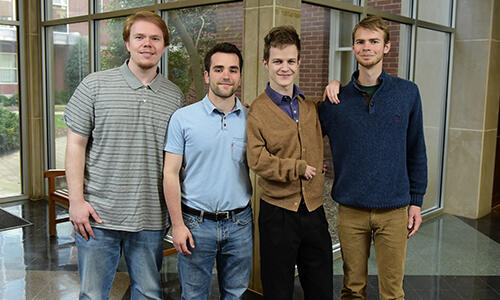 Jeremy Crowley, Thomas Riedo, Nolan Wolf and Aidan Finnerty
Second place of $3,000 went to senior Nolan Wolf, Political Science major from Seattle, junior Jeremy Crowley, Communication and Cinema major from Baltimore, junior Thomas Riedo, Business Administration and Cinema major from Chandler, Ariz., and sophomore Aidan Finnerty, Political Science major from Selinsgrove, Pa., for Abilitize, an advertising agency focused on accessibility that empowers businesses to engage people with disabilities.
Money Mind, a financial literacy mobile app aimed at 20-25-year-olds presented by senior Accounting Economics and Business Administration majors Marissa Funke of Kings Park, N.Y., and Renie Tsomos of Forest Hill, Md., received $2,000 for third place as the audience winner.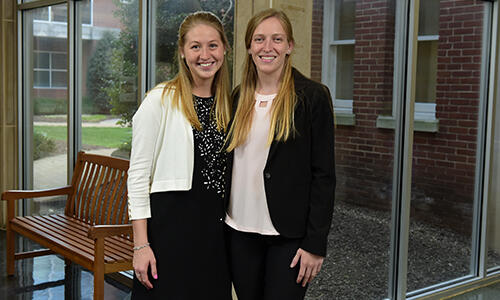 Marissa Funke and Renie Tsomos
Five finalists presented their ideas to four judges and an audience of 150 people. The finalists and 11 runners-up were chosen by members of the President's Advisory Council, which is made up of entrepreneurial alumni of the College. The students were judged based on creativity/innovation, clarity of purpose, market potential, financial plan and overall strength of application of their entrepreneurial idea or product.
In addition to the three prize winners, other finalists are junior Madison Hively, Business Administration major from Frederick, Md., for AWARE, aimed at creating electricity in a renewable way, and Liquid Lens by senior Chloe DePiano, Communication major from Titusville, N.J., senior Zachary Fortuna, Business Administration major from Metuchen, N.J., and senior Dustin Miller, Communication major from Wyomissing, Pa. Liquid Lens is both an aluminum water bottle and social media app aimed at making a positive environmental impact.
The Innovation Challenge competition, made possible with the support of 1968 alumnus Dennis Sisco and Alexine Lesko through The Sisco Fund for Enterprise Management, is part of The Encompass Distinction, an academic program in innovation and entrepreneurship that is open to students in any major. By combining courses, off-campus learning experiences and mentorship by entrepreneurial alumni of the College, students gain broad-ranging skill sets required for enterprise management. The Encompass Distinction also includes entrepreneurship and marketing minors.
The judges for the finalist competition are:
Jason Stambaugh, entrepreneur and director of partner experience at DTS Connex, a suite of online cash management tools used in over 30,000 retail locations nationwide. A resident of Westminster, Md., he is a 2007 alumnus of McDaniel.
Guy Sheetz, entrepreneur and managing director of Greyhound Holdings, LLC, an investment and consulting firm. Sheetz, a 2002 alumnus of McDaniel, is a former executive vice president at Medifast, Inc.
Debra Cancro, founder of VoiceVibes, an automated coaching tool that empowers effective communicators. VoiceVibes is headquartered in Marriottsville, Md.
Funlayo Alabi, an entrepreneur and co-founder of Shea Radiance, a beauty product line that supports women-run cooperatives in West Africa. She and her products, which are sold nationally, have been featured in Forbes, Elle and Inc.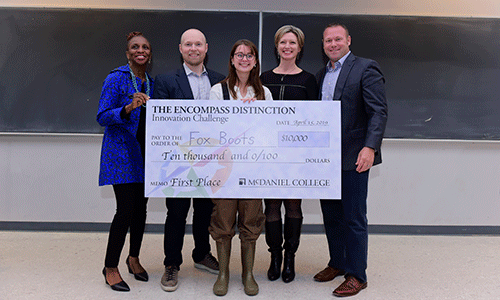 Innovation Challenge judges are (l. to r.) Funlayo Alabi, Jason Stambaugh, Innovation Challenge winner Rachael Fox, Debra Cancro and Guy Sheetz
Fox Boots by junior Rachael Fox, Environmental Studies major from Crofton, Md., earned the $10,000 top prize as the first place winner of the fourth McDaniel College Innovation Challenge