McDaniel College serves as premiere host of exhibition featuring works from acclaimed graphic novel 'Breathtaker'
UPDATE: The 'Breathtaker' comic exhibition in McDaniel's Rice Gallery has been postponed until Fall 2021.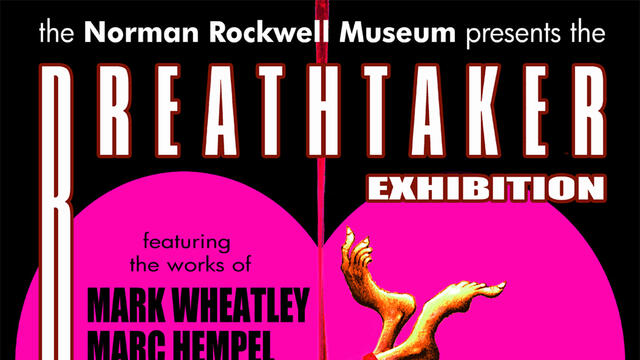 UPDATE (as of June 2020): McDaniel College will serve as the premiere host of the traveling exhibition in conjunction with the remastered edition of Mark Wheatley and Marc Hempel's acclaimed graphic novel "Breathtaker." The exhibition, which will be displayed in McDaniel's Rice Gallery in Peterson Hall, has been postponed until Fall 2021. (Original dates were slated for Monday, Aug. 24–Friday, Oct. 30, 2020.)
With more than 90 original works of art, the exhibition explores the creative and physical processes that were undertaken during the original production of the comic "Breathtaker" in the 1990s, as well as how the work was re-adapted during the preparation stages for the Titan Comics re-release.
"McDaniel College is proud to serve as the premiere host of the 'Breathtaker Exhibition,' which represents a chance to see up close the results of the creative chemistry and collaborative process between Mark Wheatley and Marc Hempel," said Robert Lemieux, associate professor of Communication and Cinema.
"This is a natural fit for McDaniel, having previously mounted a major exhibition exploring the serious side of newspaper comic strips, as it provides the opportunity to look behind-the-scenes at the process that gave birth to an award-winning graphic novel. The engaging mix of the art displayed will only further enhance the incredible story in the book."
From giving viewers the opportunity to experience story and character development to seeing the construction of a narrative in the comic format, the exhibition will incorporate examples from all aspects of the creative process. The exhibition was created by the Norman Rockwell Museum in Stockbridge, Mass.
"It is gratifying to see an institution of the stature of the Norman Rockwell Museum and such a highly regarded college as McDaniel recognizing the legitimate power of comic art to communicate, entertain and explore social constructs and ideas. Without their strong and creative support, this exhibition would not be happening. The truth is, there are comic fans in every walk of life. And we shouldn't be surprised to find many of these fans working in the arts," Wheatley said.
"Breathtaker" is about Chase Darrow, who is on the run after both she and her mother had this crazy idea that the government should not be in the business of deciding how she should live her life. With the NSA having their lead agent on her trail, they have given her the code name of Breathtaker.
The exhibition is free and open to the public. Rice Gallery hours are Monday–Friday from 10 a.m.–4 p.m. and Saturday, noon–5 p.m. Call 410-857-2595 for more information.