McDaniel Weekly - March 3, 2021
This year's Women's History Month theme is "Valiant Women and the Vote"; throughout the month of March, offices around McDaniel will be hosting events that celebrate and recognize the many contributions of women in our society.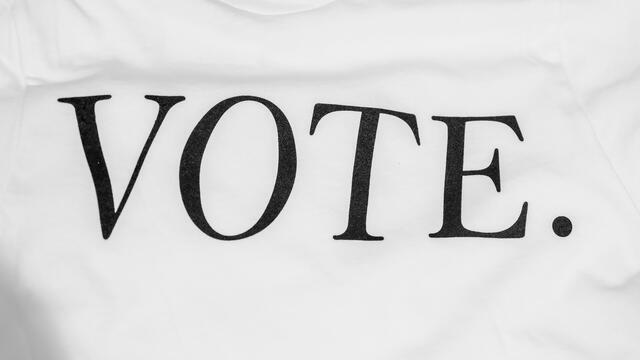 March is Women's History Month. We take this time to celebrate the many contributions of women in our society and recognize the specific achievements women have made over the course of American history in a variety of fields. To learn about the history and origins of Women's History Month, visit: https://womenshistorymonth.gov/about/.
The 2021 Women's History Month theme is "Valiant Women and the Vote" as chosen by the National Women's History Alliance (due to the Covid-19 pandemic, the alliance has chosen to extend the centennial theme from last year).
They say, "In recognition of the centennial of the 19th Amendment, we will honor women from the original suffrage movement as well as 20th and 21st century women who have continued the struggle (fighting against poll taxes, literacy tests, voter roll purges, etc.) to ensure voting rights for all.
This month we can also work to celebrate those from marginalized groups that did not necessarily get the right to vote in 1920. These groups include those who didn't acquire citizenship until later and those who were discriminated against at the polls.
Please join ODEI, the Wellness Center, CurlFriends, Phenomenal Women, HLA, Africa's Legacy, OSE, CEO and many other organizations as we celebrate women's history month with a variety of great programs throughout the month of March."
Manuel Rodriguez
Assistant Director of Diversity, Equity, and Inclusion
Pronouns: He/Him/His
Check out these upcoming OSE events:
Additional information about all OSE events can be found on McDaniel_OSE!
3/3 4pm: Popcorn Pop By, Recreation Lounge
3/3 8pm: Res Life Takeover: Seniors, Roj Student Center Mid-Level
3/4 6pm: National Pancake Day, Roj Student Center Mid-Level
3/8 7pm: Crayon Art, Innovation Lab
Sign up for the OSE Poetry Slam while you still have time! Event is 3/11 8pm, Roj Student Center Mid-Level
Find and apply to a third-party scholarship
Join the Financial Aid team TONIGHT, Tuesday, March 2, at 6pm on Zoom as we discuss how to search and apply for third-party scholarships and grants. We will be addressing upcoming deadlines for state awards and some new scholarships available for those in the Carroll County community.
We will also provide some tips and resources that first-generation and upperclassmen can use when searching for scholarships. All undergraduate and graduate students are welcome! Co-sponsored by ODEI.
Pitch your business idea for $$$
Want to start your own business or non-profit? Now's your chance. Entrepreneur Bootcamp will run from March 15 until April 12. You'll get the chance to develop your business ideas with the help of some awesome alumni and faculty mentors. Applications are due Wednesday, March 3.
If you complete the program and present your idea at the Entrepreneurship Competition, you'll get $1000 towards your venture! Winner of the Competition gets another $5000!
Join ODEI for "Intersex: The Inside Story with Emily Quinn"
Join the ODEI on Wednesday, March 3, at 6:30pm as we invite activist and artist Emily Quinn to learn about the "I" in LGBTQIA. Come prepared for an evening of storytelling and biology, as Emily shares her experience living in an intersex body within our binary world. Join the Zoom meeting and email Jose Moreno (jmoreno@mcdaniel.edu) with any questions.
Nominate a READ Poster Honoree
Do you know a faculty, staff, or student at McDaniel who exceptionally supports, promotes and utilizes Hoover Library and its resources and services? Help us honor them by nominating them to be featured on one of HooverLib's READ posters!
Nominations are due by 11:59pm on Monday, March 8. You may submit multiple nominations and nominate someone else and/or yourself!
CHAARG Chapter at McDaniel
Looking to live a healthy lifestyle, striving for more leadership opportunities, finding yourself wanting more out of your college experience? Well, you're in the right place. CHAARG empowers women of all backgrounds, majors and organizations.
Our goal at McDaniel is to create a safe space where every woman feels valued and strong. Email Brooke Boyland at bab0100@mcdaniel.edu to add your name and email to the interest form - it's not a commitment! Come and join the BOLT fam today!
Mark your calendars for "Speech and Debate"
McDaniel College Theatre presents "Speech and Debate," a comedy by Stephen Karam, March 12 and 13 at 7:00 p.m. Senior McDaniel Theatre Arts major Zack Callis directs the show. "Speech and Debate" examines what happens when three teenage misfits in Salem, Oregon discover they are linked by a sex scandal that's rocked their town.
The event is only open to current students, faculty, & staff of McDaniel. Attendees must follow all campus health/safety protocols. Please note the show contains mature language and alcohol use. For more information, visit the show's Facebook event or call 410-857-2448.
Stay aware of what services the Wellness Center offers
Remember, the Wellness Center is here to help you achieve and maintain your physical, emotional, and interpersonal well-being. As part of their services, they offer a weekly Grief and Loss Support Group every Monday at 3:30pm over Teams and weekly sessions on how to engage in mindfulness and self-compassion every Wednesday at 3:30pm over Teams. Questions? Email Laura Knox, LMSW, at lknox@mcdaniel.edu.
Also, the first student to email Amanda Gelber (agelber@mcdaniel.edu) with the phrase "Happy March!" will win a free fleece blanket.
Follow us on social media
Want more updates? Make sure to follow offices on social media!
McDaniel Weekly Archives
Missed a week? Catch up on the McDaniel Weekly Archives.