More than 1,200 students return to the Hill during six-day staggered move-in
More than 1,200 freshmen, sophomores, juniors and seniors returned to the Hill over a six-day staggered move-in period. McDaniel also welcomed its largest incoming class in the College's history with more than 600 new first-year and transfer students. The Return to the Hill Task Force met regularly throughout the summer to develop the College's Fall 2020 reopening plans based on guidance by state and county health officials to ensure a healthy and safe residential and academic experience.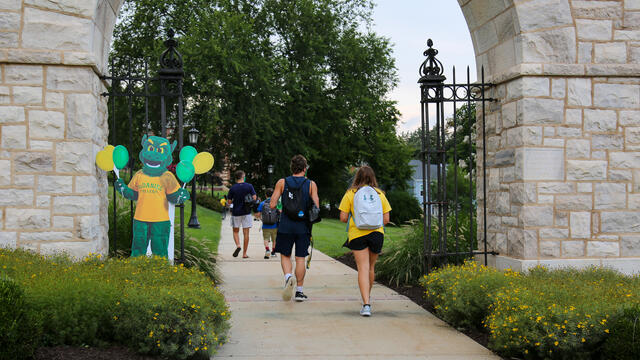 More than 1,200 freshmen, sophomores, juniors and seniors were welcomed back to campus for the 2020–2021 academic year – including the largest incoming class in the college's history.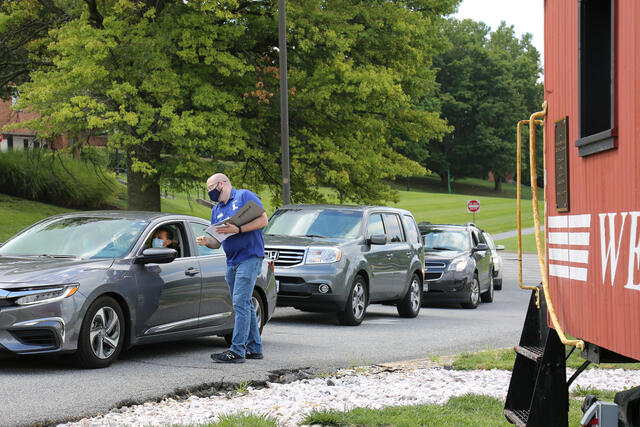 McDaniel's move-in was shifted to a whole new experience for all students with staggered times that spread out over six days starting Aug. 14, ahead of classes beginning Aug. 20. Students were able to reserve a time to move in through an online mobile app that limited the number of students moving in per residence hall and floor.
Baltimore residents Dave and Becky Farace dropped off their son, Wyatt, a sophomore who is planning to study Environmental Studies, and thought the new move-in process was "smooth and organized." They found it especially helpful having volunteers at different points around campus to direct students.
Wyatt said he is excited to return to the Hill and appreciated receiving a face mask from the College. Face masks were given to students during the "On Track Challenge" that took place each night of move in. Students also had the opportunity to sign the "Community Safe. McDaniel Strong." pledge and pick up other giveaways, including drawstring bags, water bottles, and T-shirts. In addition, all residential students received wellness kits with a thermometer, alcohol wipes and hand sanitizer when they arrived at their rooms.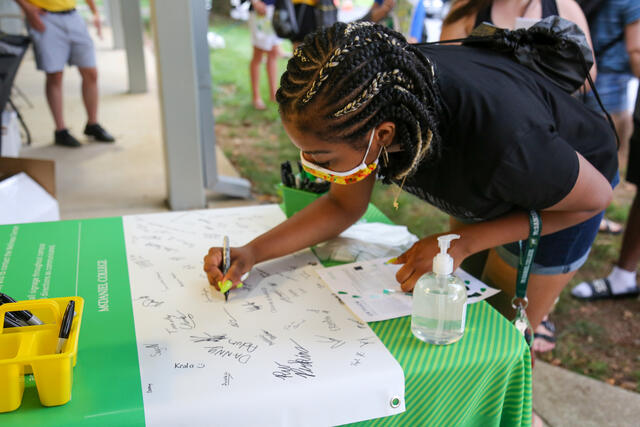 McDaniel's Return to the Hill Task Force and subcommittees met regularly throughout the summer to develop the College's Fall 2020 reopening plans based on guidance from state and county health officials. The College has invested about $2 million in health and safety preparations and has worked to de-densify classrooms and other spaces throughout campus. Outdoor spaces have been constructed and enhanced to encourage students to hangout outside and thousands of pieces of furniture were removed with the remaining furniture reconfigured in classrooms and public spaces. The College has also committed to increasing the frequency of cleaning and sanitization throughout campus and nearly doubled the size of the housekeeping staff.
Sophomore Elizabeth Fyfe of Media, Pa., said that McDaniel did "a good job" with the new rules and outdoor dining options for students.
Some of these new rules call for all members of the McDaniel community to wear facial coverings when inside buildings and outdoors when social distancing isn't possible as well as complete a daily symptom check. McDaniel is performing voluntary surveillance testing weekly throughout the semester, and students will have access to telehealth services through a new partnership with LifeBridge Health.
While the incoming class moved in among upperclassmen for the first time, all first-year students were able to ceremonially "ring in" the academic year at Old Main Bell on Aug. 19.
McDaniel's incoming class is the largest in the college's history with 599 first-year students and 62 transfer students. The class came from a record-breaking applicant pool of over 5,000.
The Class of 2024 is made up of more than 45 percent multicultural students and over 40 percent are first-generation college students.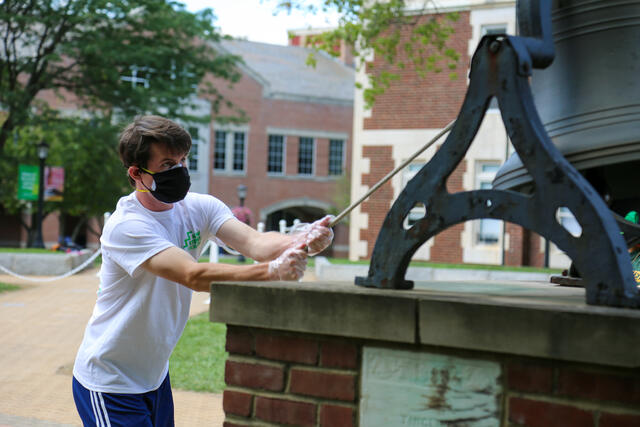 Seventy-four percent of the incoming class are from Maryland, and many of those who are out-of-state are within driving distance. In addition to Maryland, other states represented are California, Connecticut, Delaware, Florida, Georgia, Hawaii, Maine, Massachusetts, New Hampshire, New Jersey, New York, North Carolina, Pennsylvania, South Carolina, Texas, Virginia, Washington, and West Virginia, as well as Washington, D.C.
Fifteen countries are also represented in the class, including Cameroon, Côte d'Ivoire, Cuba, El Salvador, Ethiopia, Ghana, Guatemala, Guyana, India, Mexico, Myanmar, Philippines, South Korea, The Gambia and Zambia.
First-year students Nick Foley of Robbinsville, N.J., and Kramoh Mansalay of Philadelphia both said they chose McDaniel because of the small campus and tight-knit community.
Foley said, "I came and visited the campus, and everyone knew each other."
Mansalay added that he is excited to be on campus for the fall semester and is looking forward to the "new climate, new experience and new people."
In conjunction with students returning to campus, McDaniel also unveiled its newly renovated student center along with a new name, Roj Student Center. The new Hilltop Pub in the Roj Student Center adds a new take-out ordering option on campus, and students have the ability to order through a new McDaniel Online mobile app, as well as use the app to make a reservation to eat in Englar Dining Hall.