Summer research brings student team scientific recognition and lasting friendship
Last summer, when Chemistry professor Dana Ferraris welcomed his research team of a Chemistry-Kinesiology, two Biology and two Chemistry majors, he could not have predicted the awards and friendships that would come from the collaboration.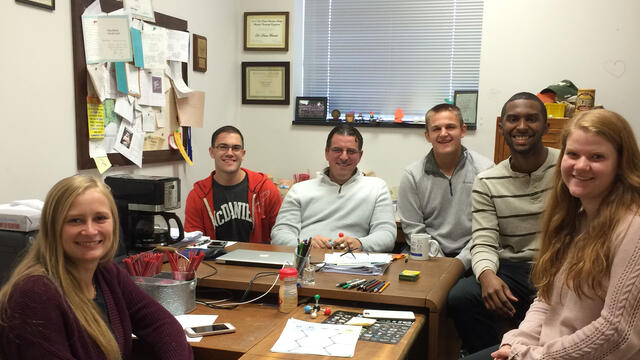 Last summer, when Chemistry professor Dana Ferraris welcomed his research team of a Chemistry-Kinesiology, two Biology and two Chemistry majors, he could not have predicted the awards and friendships that would come from the collaboration.
Yet, these students, all new to research in medicinal chemistry, scored first and second places in their categories at the University of Maryland Baltimore County Research Symposium in the Chemical and Biological Sciences attended by students and professors from 22 colleges and universities, including Yale, Penn and University of Virginia.
Not bad for a group of students who began the summer by almost breaking the costly Nuclear Magnetic Resonance (NMR) instrument and unable to get a single reaction to work. The team of five and their research professor began each day planning experiments and discussing progress over cups of black coffee — well, except Kevin Webster who took some good-natured ribbing all summer about the coffee he added to his three packets of cream and six of sugar.
A senior Biology major, Webster teamed with senior Chemistry-Kinesiology major Megan Quattrone on cancer drug research that took a first place at the symposium.
"One of my favorite parts of doing research was being able to work with four other amazing students," said Webster, an aspiring physician from Upper Marlboro, Md. "We worked hard together, struggled together, laughed together and overall just had a great time together.
"We created bonds with each other that will hold even when we are long gone from McDaniel."
They also did groundbreaking research. Quattrone, a two-sport athlete at McDaniel who plans to become a physician's assistant, found that synthesizing compounds was almost addicting.
"Each compound had potential to be a PARP10 inhibitor, which means it could target tumor regression," said Quattrone of Carlisle, Pa., who is equally at home in classrooms, labs and field hockey and lacrosse fields. "I think it would be awesome if one day this research really takes off and can lead to a drug that can treat or cure cancer."
Junior Chemistry major Katie Holland of Charlotte Hall, Md., and junior Biology major Randy Hilleary of Bonney Lake, Wash., took second place for their research in the design and synthesis of potential antibiotics against gram-negative bacterial infections. The summer research sparked Holland's decision to go on to graduate school.
"There are a lot of other undergraduate students at different schools who don't get the opportunity to do open-ended research like this," she said. "I'm thankful for this experience that has inspired me to further my education once I graduate from McDaniel."
For Hilleary, captain of the Green Terror soccer team, research was a natural extension of the lab work he's always loved. It also clinched his career plans.
"I confirmed that research was something I want to continue to pursue in one way or another and that I can handle figuring out problems on my own that may not necessarily have a known answer," said Hilleary, whose will pursue either an M.D. or an M.D./Ph.D. program after graduation.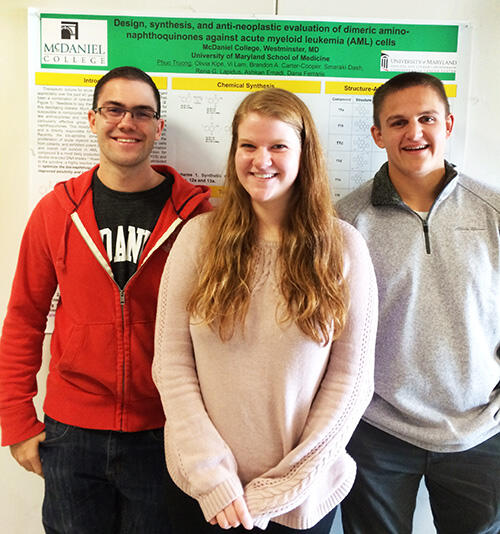 Kris Mason, Katie Holland and Randy Hilleary.
Kris Mason, a senior Chemistry major from Westminster, Md., had an extra demand on his research on the synthetic optimization of MCD-66, a potential drug discovered and synthesized at McDaniel by Phuc Truong '18 to treat acute myeloid leukemia. Mason needed to — and did! — deliver one gram of MCD-66 by the end of the summer for studies in animal cancer models.
Affectionately dubbed "Dad" by the rest of the team, Mason made sure the pumps, rotovap, NMR and other crucial equipment were in top working order after volunteering to set up and assemble everything the group would need.
"Open-ended research like this is a journey that allows you to take many different roads to get to your destination rather than one road that is laid out for you," said Mason, who plans to attend graduate or medical school to focus on neuroscience or endocrinology, most likely neuroendocrinology. "With research, you may have one goal in mind but you come across many tangents that lead to discovering other findings that you wouldn't have thought of originally."
While a bit hesitant at the beginning of the summer, Ferraris relished every moment spent mentoring his team — whether in the lab or over the barbecue grill at McDaniel's Harvey Stone Park.
"On the whole, they became my family," he said, pride evident in his smile. "They also became great friends over the summer and learned how to work together, cover each other, help each other and make each other better.
"It was a pleasure to see this growth."
Presenting at the UMBC symposium was the culmination of their summer research, and now all eyes are on what's next. But there's no doubt as to what the summer meant to the students — a glimpse in Webster's room at home tells all.
"I was so proud of the research and the poster, I had an extra poster made to hang in my room at home."
Chemistry professor Dana Ferraris (third from left) and his student research team (l. to r.) Megan Quattrone, Kris Mason, Ferraris, Randy Hilleary, Kevin Webster and Katie Holland.