Three new trustees join McDaniel Board
William M. Rodgers, III, Karen Bellamy Lamont and Patrick Stokes have joined McDaniel's Board of Trustees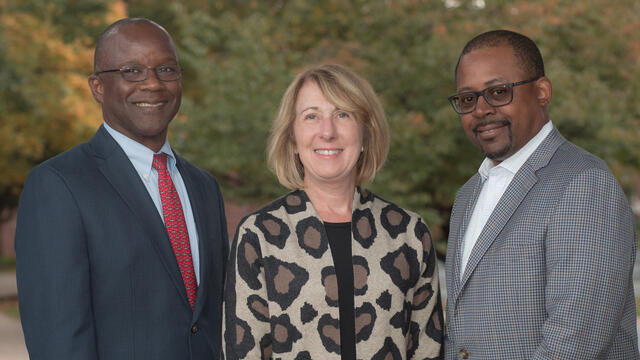 McDaniel College has named three new members to its board of trustees.
Karen Bellamy Lamont of Durham, N.C., is a 1981 alumna of McDaniel (formerly Western Maryland) College with a bachelor's degree in psychology. She helped found Kalos Golf, a luxury tour operator that provides one-of-a-kind golf travel excursions, with her husband, Jim, who is also a 1980 alumnus of the college. As a mother of three adult children, including one with special needs, she was instrumental in the founding of the Trinity School, a private Christian school, and All Saints Church in Durham and Chapel Hill, N.C. She co-chaired the Chapel Hill/Durham Young Life Committee and formerly served as a member of the board of Learning Ally, a nonprofit that supports students with print disabilities, including blindness, visual impairment and dyslexia. Since 2017, she has been on the Advisory Board for the UNC Center for Excellence in Community Mental Health.
William M. Rodgers, III, of Hopewell, N.J., is a professor of public policy at Rutgers University's Edward J. Bloustein School of Planning and Public Policy and chief economist at the Heldrich Center for Workforce Development. He serves as board chair of the National Academy of Social Insurance and as treasurer of the Institute for Women's Policy Research, as well as a non-resident fellow at The Century Foundation and senior fellow at the Schwartz Center for Economic Policy Analysis. He was appointed the chief economist at the U.S. Department of Labor while he was the Frances and Edwin L. Cummings Associate Professor of Economics at the College of William and Mary. He has also served on the National Urban League's Council of Economic Advisors and President Obama's Department of Labor transition team. He is frequently asked to provide expertise to The New York Times, The Wall Street Journal, CNBC, NBC's "Meet the Press" and National Public Radio's "Marketplace," among others. He earned a bachelor's degree from Dartmouth College, master's degree from the University of California, Santa Barbara, and Ph.D. from Harvard University. A former parent visitor to the McDaniel Board of Trustees, his son, William M. "Billy" Rodgers, IV, graduated from McDaniel in May 2019.
Patrick M. Stokes, of Martinsville, N.J., graduated from McDaniel (formerly Western Maryland) College in 1991 with a bachelor's degree in biology and earned his MBA from the University of Pennsylvania's Wharton School of Business. Stokes, who has extensive experience in the telecommunications industry, is president and chief executive officer of Sage Brothers, which specializes in consulting with companies and private equity firms in the telecommunications and technology. He formerly served as senior vice president of sales for North America at Syniverse, senior vice president for Tech Data Mobile Solutions, and president and chief executive officer of Brightstar, a wireless handset distributor. He has also held senior executive roles in sales, distribution and mergers and acquisitions with Verizon and Sprint. Stokes is currently president of the board for the Florence S. Bush Angel Foundation, whose mission is to positively impact the poor and disadvantaged, including by offering college scholarships to high school seniors. He has been honored as a "New Face of Business Executives" by Black Enterprise Magazine and among the "Top 50 Under 50" by Black MBA Magazine.