Top undergraduate and graduate student awards presented at 2021 Commencement
Three top student awards, the Argonaut Award for achieving the highest cumulative grade-point average, the Edith Farr Ridington Writing Award, and the B. Jill Brooks Hodge Professional Development Award, were presented May 22 at McDaniel College's 151st Commencement.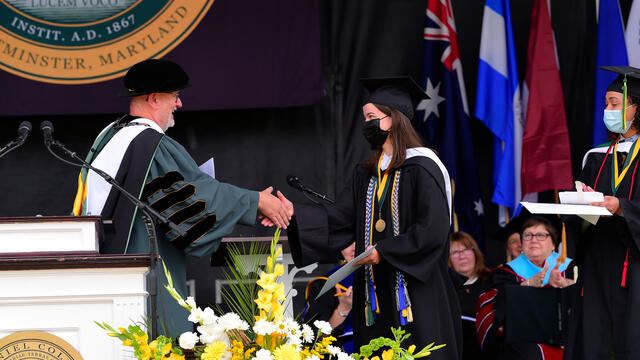 Three top student awards were presented May 22 at McDaniel College's 151st Commencement.
Julia Dunn of Reisterstown, Md., was awarded the Argonaut Award for achieving the highest cumulative grade-point average and one of two Edith Farr Ridington Writing Awards for best senior paper. Mikayla Lee of Columbia, Md., also received an Edith Farr Ridington Writing Award for her senior paper. Pershea Renae Jefferson, graduating today with a master's degree in Deaf Education, received the B. Jill Brooks Hodge Professional Development Award.
Argonaut Award winner Julia Dunn earned one of two Ridington awards for her capstone paper, "Adjusting to College During a Pandemic: The Relationships Between First-Year College Adjustment, Threat Perception of COVID-19, and Parental Attachment." The Psychology major, who graduates summa cum laude and a College Scholar with honors in Psychology, examined the possible connections between adjustment to college during a pandemic and parental attachment relationships.
Psychology professor and Dunn's capstone advisor Jack Arnal said her project stood out from the beginning due to its timeliness, importance, and sophistication of design. "Julia advanced through each level of the research process with the abilities of an advanced graduate student. Not surprisingly, her paper reflected those same abilities," Arnal said. "Very few of these projects reach a publishable quality within the one-year timeframe for the project, but Julia's has certainly reached that level."
Dunn has a reputation among her professors of being among the best students to truly engage with class material.
"Julia's posts in the discussion boards in Behavioral Neuroscience last fall were incredibly insightful and it was clear that she was really thinking about the information and how it related not just to academic interests but also her life outside of academia," said Madeline Rhodes, associate professor and chair of the Psychology department. "This sort of response is what sustains teachers through tough times – including a pandemic!"
Dunn is a Dorsey Scholar and was president of Palabras to Words, the campus organization focused on tutoring Spanish-speaking adults in English. She received The Maria Leonard Senior Book Award, which honors senior(s) with the highest GPAs. After serving a mission for The Church of Jesus Christ of Latter-day Saints in Orem, Utah, for 18 months, Dunn plans to apply to graduate school to get her master's degree in marriage and family therapy.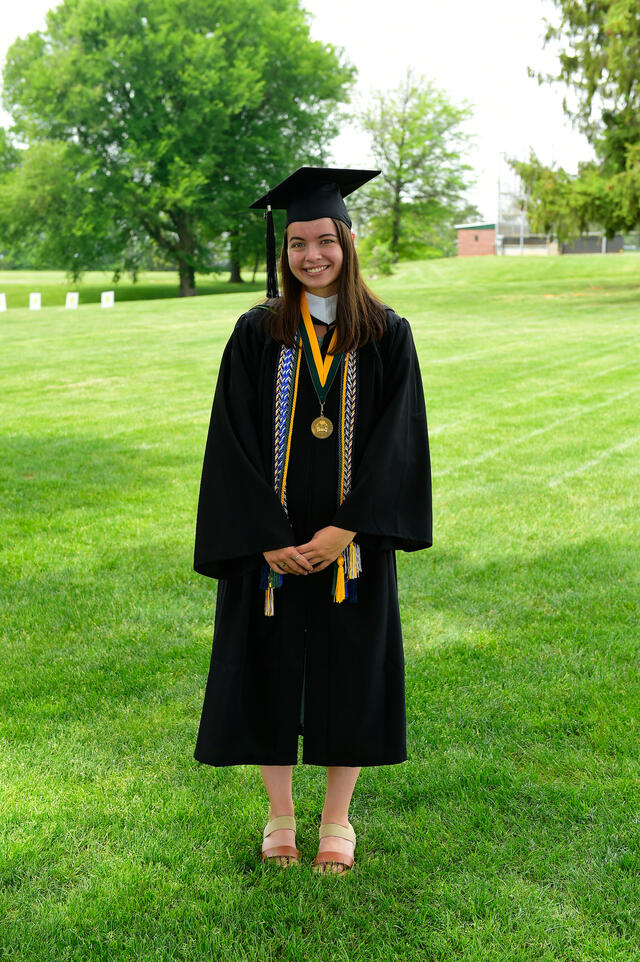 Mikayla Lee, who graduates magna cum laude with honors in English, was awarded one of two Ridington awards for her capstone paper, "People Love Prison: Orange Is the New Black and the Prison Curiosity Complex." The English and Education double major explored both the novel and Netflix series "Orange is the New Black."
Lee tackles timely and provocative questions such as "Is it possible for a nonminority writer to convincingly display and represent minorities to other nonminorities? And is that really representation?" according to her capstone advisor, English professor Robert Kachur.
"Mikayla is a deep and boldly original thinker," Kachur said. "Deftly taking on critical race theorists who claim that white writers – such as 'Orange Is the New Black's' Piper Kerman, Jenji Kohan, and Lauren Morelli – have a duty to create Black characters, Mikayla argues that mainstream media representation of minority groups bears serious further examination.
"Ultimately, she argues that the writers of 'Orange Is the New Black' offer problematic portrayals of marginalized groups and explains how this is related to what she calls the writers' gentrification of the concept of freedom itself – a symbolic message that ultimately contradicts their stated attempt to depict the injustices that incarcerated women face."
After graduation, Lee looks looks forward to walking back into a high school English classroom in Howard County (Md.) public schools to share with her students her passion for reading and writing. She was awarded The Makosky Award for Excellence in English. During her years on the Hill, she was a regular contributor to McDaniel's Contrast Literary Magazine, a peer tutor in the Writing Center, a peer mentor for first-year students, a member of the advisory board for the Peer Mentor program, a member of Black Student Union, and a two-time intramural basketball champion.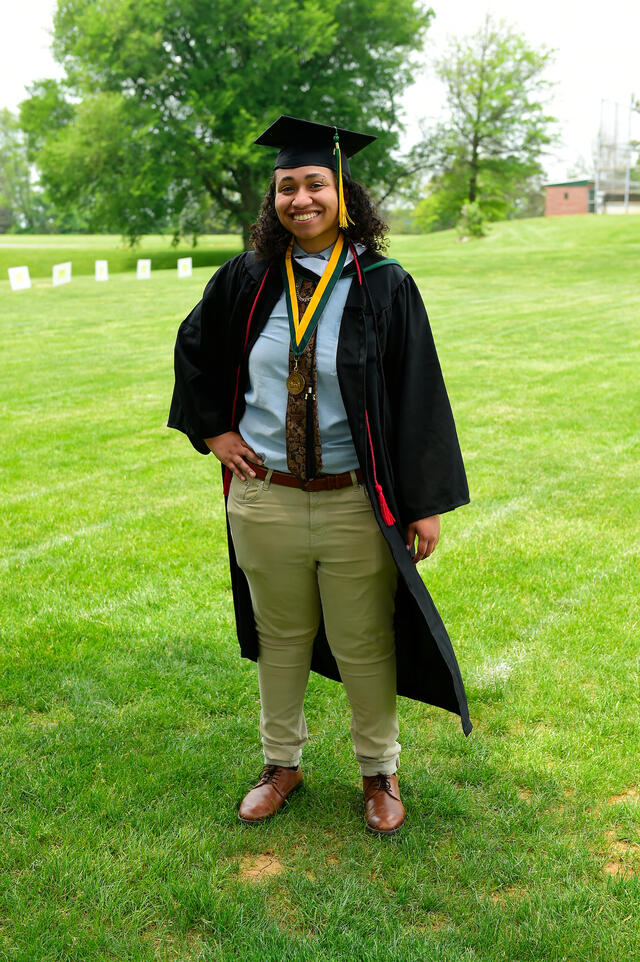 Pershea Renea Jefferson, who is graduating with a master's degree in deaf education, was born to a hearing family and experienced a bilateral hearing loss at 7 years old. Jefferson, originally from Virginia Beach, Va., attended three schools that offered a deaf and hard of hearing program from third through 12th grade before obtaining a bachelor's degree in English from Gallaudet University in Washington, D.C., in 2016. Following graduation, Jefferson was hired as a deaf interpreter and an English instructor at the English Language Institute at Gallaudet University. She then went on to teach English at the Model Secondary School for the Deaf (MSSD) in Washington, D.C., where she has taught language arts skills in varying grades from ninth through 12th since August 2018.
"It has always been my dream to teach deaf and hard of hearing students," Jefferson said. 
Mark Rust, former program coordinator of McDaniel's deaf education graduate program, said Jefferson entered the program while teaching English as a second language to deaf international students at Gallaudet University.
"Her love for bilingual education led her to McDaniel where she has blossomed in her understanding and application of bilingual methodology," Rust said. "She loves teaching English at MSSD while bringing a strong bilingual and multicultural lens into the classroom."