Two outstanding members of the Class of 2021 recognized during virtual ceremony
Jacob E. Fine, a Music major from Lambertville, N.J., and Priscilla Owusu, a Chemistry major from Bowie, Md., were honored as the outstanding male and female members of the Class of 2021 during the May 21 virtual senior awards ceremony for activity and leadership awards.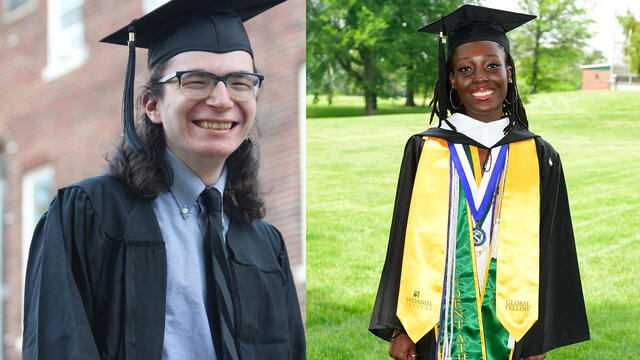 Jacob E. Fine of Lambertville, N.J., who earned a bachelor's degree in Music, was awarded The Bates Prize as the most outstanding male graduating senior. Priscilla Owusu, a Chemistry major from Bowie, Md., was honored with The Mary Ward Lewis Prize as the outstanding woman of the graduating class for the Class of 2021.
Both awards were presented during the virtual senior awards ceremony for activity and leadership awards, which aired May 21 on the McDaniel College YouTube account.
Jacob E. Fine
Fine considers himself a lifelong student, activist, and educator, and "is inspired to amplify others' voices."
During his four years at McDaniel, he was an active participant in the liberal arts experience on campus. Fine was the founder and president of the McDaniel Live Music Club, coordinator and co-president of the Sunrise Movement McDaniel Hub, leadership council member of the Progressive Student Union, and assistant editor of the McDaniel Free Press.
Fine was also a member of the Trumpeters Leadership Honor Society and served as treasurer of the Beta Alpha Chi Music Honor Society. In addition to these leadership roles, he was involved in the Cultural Leadership Council, Jewish Student Union, McDaniel Yoga, Green Life Environmental Club, and the Environmental and Climate Justice Coalition. He also served as past president of both the Music Meditation Club and Danger Sauce.
Priscilla Owusu
Owusu, who also earned The Richard H. Smith Jr. Award for Excellence in Chemistry or Biochemistry during the May 21 virtual senior awards ceremony for academic awards, has consistently been a leader in the Chemistry classroom and lab, as well as McDaniel's campus-at-large.
In the summer of 2020, she was one of five undergraduate students to work with Chemistry Department Chair Dana Ferraris in his medicinal chemistry lab conducting research to help develop a drug to treat COVID-19. She continued her research over Jan Term and submitted a poster to present at the spring national meeting of the American Chemical Society. During Jan Term, she made 25 more compounds, several of which completely inhibited the drug target and will be the basis of a manuscript in the near future.
A native of Ghana, Owusu has been actively involved in McDaniel's Africa's Legacy student organization, which educates the campus on the rich culture of African nations, and is a Global Fellow. She has also served as a peer mentor for international first-year and transfer students.
She was a member of the Phi Beta Kappa national honor society and participated in track and field and the dance team. She was also involved with the Student Alumni Council and served as the student representative on the search committee for McDaniel's provost. She has worked as a student worker in McDaniel's Finance department and as a teaching assistant in McDaniel's organic Chemistry lab.
She is planning to attend medical school after graduation.