Where in the world are Will and Wade?
Wade Bishop and Will Giles, both junior Communication majors, may have set a McDaniel study abroad record — they visited 14 countries while earning 16 credits each last fall studying at McDaniel Europe in Budapest, Hungary.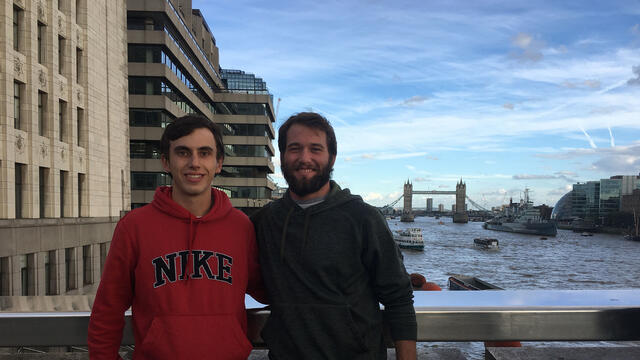 Wade Bishop and Will Giles, both junior Communication majors, may have set a McDaniel study abroad record — they visited 14 countries while earning 16 credits each last fall studying at McDaniel Europe in Budapest, Hungary.
With few exceptions, they planned their own weekend getaways, scouring the internet for bargain flights and Airbnbs. During the week they went to class, learned to cook, played soccer with Hungarian friends and enjoyed evenings in local pubs and eateries — totally immersing in the rich culture of the eastern European nation.
When Friday rolled around, they were packing backpacks for their next adventure exploring a place they had never been and meeting people who more than likely did not speak the same language. Their shoes touched down in Amsterdam, Copenhagen, Dublin, Paris, Vienna, Krakow, Venice and Rome, Prague, London, Istanbul, Slovakia, Slovenia, Croatia and, of course, their home base of Budapest — offering them global perspectives they would not likely find in books.
To save money, the pair looked for friends, friends of friends, friends of family — connections — living or studying abroad who would lend them a sofa for the night. They stayed at Airbnbs and once a youth hostel, where someone in the bunk next to Giles was snoring "as if he were trying to expel a demon from deep within his body."
They laugh as they tell these stories of good Samaritans who gave them directions and helped them with bus and train schedules. While Ireland tops their list of favorite places, London is a close second, a trip which included Giles' bucket-list tickets to see his favorite Tottenham Hotspur take on Manchester City in a Premier League soccer game. In a pub before the game, slightly older new friends kept buying them drinks, explaining "hey, we have jobs."
One of the funniest experiences was on the metro after the game with a bunch of rowdy Englishmen who began poking fun at American words.
"The whole metro car was laughing as they joked about some of our words — 'sidewalk,' 'trash can' and 'seeing eye dog,'" says Bishop, still grinning nearly a month after returning to U.S. soil. "When he said, 'seeing eye dog? What's a seeing eye dog anyway?' we all really cracked up."
The number one topic wherever the pair went was the U.S. presidential election. Everyone wanted to know what they thought of the election, not in a hostile or opinionated way but merely wanting to hear what Bishop from Greensboro, Md., and Giles from Cumberland, Md., think.
"The thing is that we tend to think that the U.S. is the center of the universe," says Giles. "Over there, you realize how big the world is. It's amazing how much they know about us and how little we know about them."
That gap has narrowed considerably for both Giles and Bishop. Their learning curve was steep and personal as they ventured into new cultures and turned dozens of strangers into new friends.
Both talk too about the life skills and self-sufficiency they gained while studying abroad. Airports no longer intimidate them. They've learned to communicate with and appreciate people from different countries who speak different languages. And they learned to cook, often from scratch.
"At first we were surviving, but not thriving as far as meals go," says Giles. "But we started looking up recipes and using 'Google translate' in the grocery store. Then we were thriving not just surviving."
Giles demonstrates how he toasted bread and cut it into squares for croutons, and made his own breadcrumbs for chicken parmesan. Once Bishop face-timed his mother on the Eastern Shore, showing her the ground beef in the pan and asking if it was dark (not pink) enough to eat. They even considered a YouTube channel for "Will and Wade Recipes."
Four months abroad and the only mishap was when they returned to the U.S. and the airline lost Giles' luggage for four days. Their experience is defined instead by what they learned about people, their country, the world and themselves.
"It's true that the U.S. isn't the center of the world but I realized that we do change things for a lot of people. We set so many precedents around the world," Bishop says.
Visits to 14 countries have each of them thinking about seeing a little more of the U.S. — after, that is, a break from the packing up and moving about and some time to reflect.
"The experience made me realize that whether you're my next door neighbor or living on the other side of the planet, we could be best friends," say Giles.
Will Giles and Wade Bishop in front of Tower Bridge in London, England.