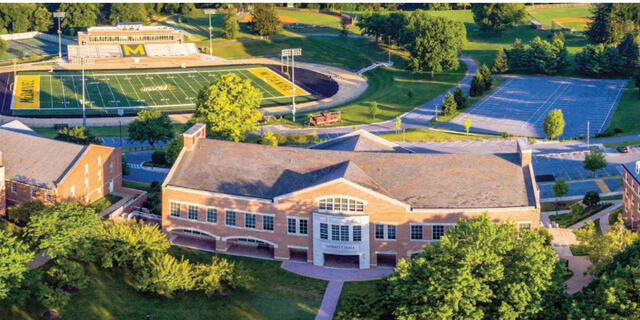 Middle States Accreditation 2023
McDaniel College most recently received renewal of our accreditation by the Middle States Commission on Higher Education (MSCHE) in 2013. Occurring every 10 years, we are due for reaffirmation this spring.
Preparation for reaffirmation began in the fall of 2021 with President Jasken's appointment of a Middle States Steering Committee to lead the self-study process and the formation of nine workgroups. The committee and workgroups comprise faculty, staff, leadership, and members of the Board of Trustees.
These groups are currently diligently working on the self-study, which is expected to be completed in early March. The self-study will be submitted to MSCHE six weeks prior to our scheduled accreditation visit on April 23-26, 2023.
As part of the self-study, McDaniel is charged to consider its educational programs, policies, and services, and evaluate how effectively we meet the eight standards set forth by the commission. The self-study is a reflective process for the college to determined how well these programs and services accomplish strategic plan goals and priorities as we work to fulfill our mission.
We are doing all of this in the spirit of continuous improvement to ensure we are meeting the expectations of MSCHE and the U.S. Department of Education, as well as those of our students, families, alumni, and community.
This website has been developed as a resource for all of McDaniel's constituents as we move through the MSCHE accreditation process.
Purpose of Accreditation
Middle State Commission on Higher Education is McDaniel's accrediting body. Accreditation is a voluntary review process that demonstrates that we are providing an excellent education in accordance with our mission. Maintaining accreditation is necessary for institutions to gain access to Title IV federal financial aid funding. It can also be a factor for students who are seeking acceptance to graduate school, various credentialing exams and professional licensure, and employment opportunities.
MSCHE requires members to complete a self-study process every eight years, concluding in a site visit by a team of higher education peers.
MSCHE Statement on the Purpose of Accreditation
What You Need to Know About the Self-Study and Visit
Site Visit Schedule: April 23-26
The visit will take place from Sunday, April 23 through Wednesday, April 26th.
The entire college community will be provided detailed information about the opportunities to participate in the visit. Other meetings with key constituent groups will also be scheduled. Invitations will be sent directly to those invited to participate in various group meetings.
More information will be posted on the visit schedule when meeting times and rooms are confirmed.
Self-study Report
The Self-study report is currently in the final stages of development and will be available in early March 2023. Stay tuned!
Relevant Institutional Documents