Abbi Wicklein-Bayne '94
Abbi Wicklein-Bayne's '94 passion for history was firmly established during her time as a History major at McDaniel. Post-graduation, she remained in Maryland for graduate school, immersing herself in local history, and found her ideal career as a ranger in the National Park Service.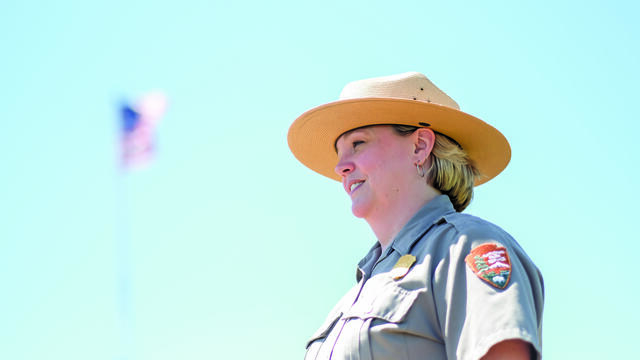 Abbi Wicklein-Bayne had wanted to work in museums since she fell in love with AP American History in high school. On the Hill, she was a History major with a minor in Religious Studies. History professor Con Darcy was the advisor who helped guide her to grad school at George Washington University, where she earned a master's degree in Museum Education. The late Ira Zepp's teachings on liberation theology continue to inform the way she seeks to fully understand the stories of the past from multiple viewpoints. She carries this knowledge into her role as Chief of Interpretation and Education in the National Park Service at the sites of Fort McHenry and Hampton.
"Baltimore has always been a diverse city. Maryland was a slave-holding state, but Baltimore had a large, free African-American population as well. We really strive to tell all of those stories," she says.
At Hampton, a late-18th-century estate, the slave quarters are preserved as well as the Georgian mansion, something Wicklein-Bayne says is one of the "beautiful things" about the national park system. "Because it would be so easy to sweep those ugly details under the rug, pretend they didn't happen, let the buildings fall to dust," she continues. "We want to make sure that when we lead a group of kids through, they understand that the lifestyle of the people on one side of the park wouldn't have been possible without the lifestyle of the people on the other side of the park."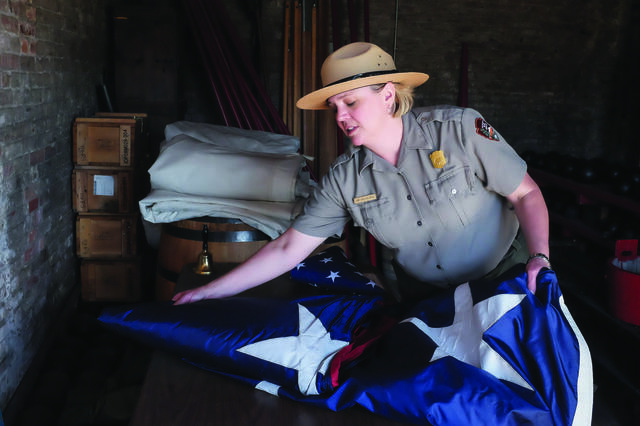 Wicklein-Bayne's first museum job after grad school at the Mount Clare House Museum in the Carroll Park area of Baltimore required her to take a cut in pay from her job as a nanny. But she learned a lot — especially that she loved the work. Her passion for the time period of the War of 1812 was sparked when she worked at the Star-Spangled Banner Flag House near Baltimore's Little Italy. It's where Mary Pickersgill sewed the garrison flag Francis Scott Key spotted flying victoriously after battle. Wicklein-Bayne says her "mission in life" is to make sure everyone knows the flag's creator was Pickersgill, not Betsy Ross. "I would do tours of the Flag House, talk about how Mary was this amazing woman entrepreneur in Baltimore. And at the end they'd say, 'Well, where did Betsy Ross sleep?'"
During her seven years working at the National Park Service Chesapeake Bay office in Annapolis, one of the many projects Wicklein-Bayne developed was the Star-Spangled Banner Trail — "That was my War of 1812 love coming back again," she says. The trail follows 560 miles over land and water, tracing the troop movements through towns and waterways of the Chesapeake Bay region.
In 2016, she landed her dream job overseeing all visitor services and programming at both Fort McHenry and Hampton. She and the full-time rangers she manages handle all special events, ranger talks, the research and development of new programs, and everything else that impacts visitors beyond the physical structures. Wicklein-Bayne recommends that everyone take the time to hear a ranger talk at any of the national parks.
"I think having that personal interaction brings something to your experience that just seeing an exhibit or looking at the scenery can't really do," she says, adding that at Fort McHenry the Flag Talks are a must. That's when the full-sized Star-Spangled Banner flag is unfurled and visitors are invited to touch the 32-by-40-foot replica. Fort McHenry is by far the most popular of her two sites and sees more than 700,000 visitors per year.
Wicklein-Bayne says she is committed to making sure the park is a good community member by developing partnerships with Baltimore City. Through the Every Kid in a Park program funded by the National Park Foundation, she brought in about two-thirds of the fourth-graders in the city's public schools one year. One of her initiatives involved a public-private partnership with Living Classrooms, the National Aquarium, and a private outfitter called Ultimate Watersports to provide kayak programs for kids from the city over the summer. "They get a feel for the Star-Spangled Banner Trail and they're getting that view of the fort from the water that you don't get if you don't have a sailboat or a motorboat," she says, adding that next on her agenda is a paddle program for veterans.
"For a lot of people, we're the green space in the city," she says. "I think the parks are places where people can go to heal, to have fun, to spend time with their families, or just to get a break from the outside world."
Career: Chief of Interpretation and Education, National Park Service at Fort McHenry
Class: 1994
Major: History
Minor: Religious Studies