Class of 2023: Bailey Mullen
In her four years on the Hill, English and Theatre Arts major Bailey Mullen discovered a love for in-depth research. From supporting Professor Paul Zajac with bibliographies for his newest book, to writing and performing in a historical play, Bailey stepped out of her comfort zone and into the spotlight as a student. A record-breaking cross country and track runner, Bailey is crossing the finish line and joining a local law firm as a researcher post-graduation.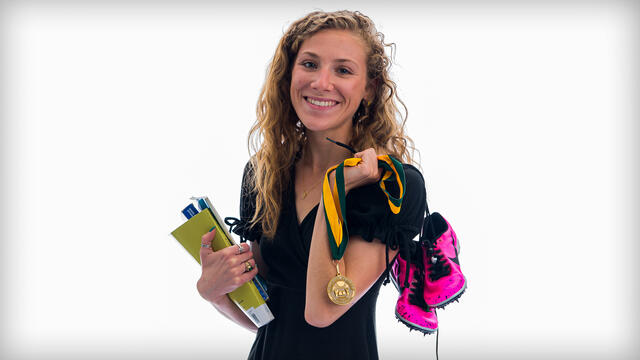 Bailey Mullen is an English and Theatre Arts major from Baltimore.
When I took my first step on the Hill, I was: Actually about 11 or 12 years old. My older brother had come to McDaniel for a high school summer choir camp, so I tagged along with my mom to pick him up and drop him off. I had always enjoyed the feel of the campus, even from that age. So, when I began my college search, McDaniel was on my list due to familiarity. On the day of my official college visit to McDaniel, I remember feeling just as comfortable as I did when I was a child. Feeling this way was one of the defining factors in choosing McDaniel as the place I wanted to spend my next four years.
The me who will ring the Old Main bell on Commencement Day is: Someone who has taken chances and learned the value of trusting in myself. Instead of making choices for other people, I learned to make choices for myself and make the person I want to become proud. Coming into McDaniel, I felt the need to continue doing what made me comfortable. However, I learned to appreciate being uncomfortable. Whether that be taking a class that would challenge me, or joining a new sport, I found who I was through believing that I could handle something new.
Overall, my experiences here have shown me that growing and learning doesn't have to be a linear process. The challenges I've faced, whether it be in the classroom or just in finding myself, work together for a greater outcome.
Real world experiences: One of my favorite research experiences I had was with Dr. Zajac the summer before my senior year. I helped Dr. Zajac research the William Shakespeare portion of his book. This research assistant position helped prepare me immensely for my senior seminar class, where I would work on my capstone paper. Throughout the process, I read "Henry IV" and "King John" and completed detailed annotated bibliographies on sources relating to peace in Shakespeare's works. I also engaged in searching through databases to find modern day translations of Desiderius Erasmus' writings.
I'm so grateful that Dr. Zajac reached out to me and asked me to be his assistant on such an important project, as I was able to learn and grow by working with him. Looking back, I realize how much I was able to accomplish by the end of the summer — I had read two more Shakespeare plays, and practiced research skills that were useful for my research paper I wrote in fall semester!
My aha moment: During my capstone presentation for the English major, I realized that I was a "work in progress" type of student. I reflected on my skill level in the English major during my first year at McDaniel and saw how much I had improved. The projects and assignments I completed during my final year would have been extremely difficult for me as a first-year student. During that final presentation, I realized I had grown significantly since starting my major. What made my capstone the most successful in my opinion wasn't necessarily the content, but the fact that getting to that point hadn't been easy for me. Sometimes, I think the students who might struggle or have a lot to learn often end up becoming the most successful by the end of their educational journey.
Footprints I'm leaving on the Hill: The way I'd like to be remembered on the Hill is someone who stepped out of her comfort zone and embraced the college experience, giving 100% at everything she did. I think it would be wonderful if others remembered me as this vibrant person who loves life, and everything that comes with it. I'm working to accept the ups and downs of my journey and hope others see that and act similarly too.
Faculty or staff member who most influenced who I have become: It would definitely have to be my advisor, Dr. Mary Bendel-Simso. Taking her class Growing Up in America during sophomore year proved to be rather challenging and tested my decision to declare the English major. However, it was with her help and guidance that I decided to continue in the major. I learned from her that there is always more work to be done, and that improvement must come with difficulties.
Since that class, Dr. Mary has been supporting and looking out for me as my advisor and teacher, without me even knowing it. This last year, Dr. Mary has given me wonderful direction during my search in finding a career path, providing me with the courage I need to leave McDaniel. Her immense support, and the knowledge that she has always been in my corner, has made my final stretch at McDaniel easier than I could've imagined. Overall, I've learned from her that when things are difficult, it is much easier to ask for help and try again than push away the things that challenge us the most.
Best class ever: One of my favorite classes that I took during my time at McDaniel was probably Devising for Performance taught by Gené Fouché in the Theatre Arts department. In this class, the goal was to create a play based on a theme and perform it in the spring. After our class found a theme for our play, which ended up being "nostalgia" and the idea of "time," I spent the semester using my research and writing skills to help bring the show to life. Professor Gené connected with me and my dedication to research and served as another wonderful mentor for me during the class. Although the class was creatively challenging, it was an experience that made me realize that I loved researching and wanted to find a career where I could put it to use.
Took me totally by surprise: That if I put my mind to something, I really can achieve anything! My love for running in my last two years here at McDaniel was something that definitely took me by surprise. I started out as a long jumper on the track and field team here my first year, but decided to take up long-distance running during my sophomore year while I took a leave of absence from the team due to COVID-19. I was surprised when Coach Douglas Renner '80 emailed me the summer before my junior year asking me to join cross country. Little did I know that it would be the most fun I'd have during my four years at McDaniel. Because of my own determination and the support from Coach Renner, I improved to become the fifth best 6k runner at McDaniel and broke four program course records during my senior cross country season, after one year of distance running. In short, I surprised myself not only with my improvement, but my decision to take on something completely new and different. This experience taught me that if you take chances, amazing things can happen.
My favorite spot on campus: One of my favorite spots on campus is definitely Caseys' Corner, because I have always been able to focus on my work and get a lot done each time I have a study session. Specifically, during my fall semester of senior year, I spent a lot of hours there working on my capstone. Of course, I can't forget the fact that there is plenty of coffee to go around too!
Most mind-boggling idea I learned at McDaniel: That sometimes, it is perfectly fine to not have everything planned out! As someone who has always been very anxious about their future, I was able to trust the process and relax as my four years at McDaniel progressed. Coming into college, I planned to just major in things that I enjoyed and see where it would take me. By trusting the process, I was able to define a type of career goal for myself during my senior year.
My capstone title: "Indescribably Pathetic Beauty: Female Death and Rossetti's Male Gaze" was my English major capstone. As a double major, my Theatre Arts capstone was also acting as a dramaturg, researching the fall play Radium Girls.
What it's about in plain talk: "Indescribably Pathetic Beauty: Female Death and Rossetti's Male Gaze" is a deep dive into the passivity of female death in Victorian literature. More specifically, I analyzed poet Dante Gabriel Rossetti's two poems, "My Sisters Sleep" and "The Blessed Damozel." Using a feminist critique and the concept of the male gaze, I discussed how women were treated by studying Victorian ideals and other written works like "Annabel Lee," "Goblin Market," and Little Women. I attempted to question why dead women are so endearing to readers and writers alike, concluding that in death, women exist for the sole purpose of being pleasing to the male eye, because of their passivity.
For my Theatre capstone, I completed a research packet and poster display for the historical play Radium Girls. In researching the play, I was able to help those involved onstage and off get a better understanding of the meaning behind the play to advance their performance skills.
Tell us a little about your activities, including sports, during your years at McDaniel: Some of what I was a part of on the Hill included Alpha Psi Omega, the theatre honor society, where I served as president from spring 2022-2023. I was on the Student Athlete Advisory Committee my senior year, was a resident assistant from fall 2020 to spring 2022 for first-year students, and I ran indoor and outdoor track and field and cross country.
What's next: After graduation, I will be doing research for an immigration lawyer on Main Street, right here in Westminster. I'm looking forward to continuing to use my research skills after college, as well as staying close to McDaniel's campus!
If you received financial aid, what did that mean for you and your family? Receiving financial aid was a huge factor in coming to McDaniel, and it meant a lot to me and my family. Without the financial aid that I received, I'm not sure that I would've been able to come to an institution like McDaniel, so I am insanely grateful.
How will you stay connected to McDaniel? I think that working close to McDaniel will definitely help me stay connected to friends and professors! I also certainly plan to support my teammates on the track and field and cross country teams during my spare time.
Majors: English and Theatre Arts
Class of 2023
"Overall, my experiences here have shown me that growing and learning doesn't have to be a linear process. The challenges I've faced, whether it be in the classroom or just in finding myself, work together for a greater outcome."