Class of 2023: Stephani Portillo
Political Science and Self-Designed French major Stephanie Portillo found independence at McDaniel — and abroad during a Jan Term. A National Security Fellow and Global Fellow, Stephani's senior capstone examined the impact of political policies and the MS-13 gang in El Salvador. With mentorship from professors like Christianna Leahy, Gerard Keubeung, and Martine Motard-Noar, she learned to always ask questions and to dream big.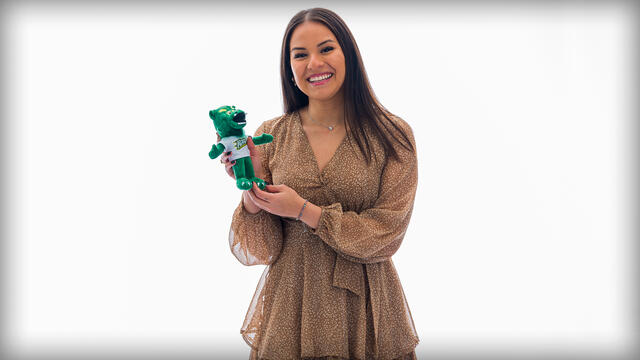 Stephani Portillo is a Self-Designed French major and Political Science major specializing in International Studies, with a minor in European Studies, from Silver Spring, Maryland.
When I took my first step on the Hill, I was: Excited to start a new chapter as a college freshman! I was anxious and scared to face the world on my own without my family next to me, but I was quickly relieved when I made friends the first day!
The me who will ring the Old Main bell on Commencement Day is: Happy, but sad! I am proud of myself for making it this far and making the most of my four years on the Hill. I am sad that I am leaving, but I know that I will always be a part of the Green Terror family!
Real world experiences: I recently did a Jan Term abroad in Ireland and Northern Ireland, and it was the best experience of my life! Studying abroad was a very difficult thing to do for me due to the pandemic, but thankfully I was able to at least go abroad for two weeks with some of my closest friends and my amazing professor!
I have done various things during my time here on the Hill! As a student worker I have worked with the Student Alumni Council, Admissions Office, Center for Experience and Opportunity, and Institutional Advancement. My positions in these offices have allowed me to closely interact with multiple alumni. I have made lifelong relationships with these alumni, and I am truly grateful for all their support and advice!
My aha moment: I learned that I am not as shy as I thought I was! Before coming here, I would have never voluntarily stood in front of hundreds of people to speak or give a presentation, but now I choose to put myself out there to do those things for fun!
Footprints I'm leaving on the Hill: I want people to remember me as the student that never stopped climbing! Even when all the odds were stacked against me, my faith and God kept me going. As college students, we face many obstacles but it's important to remember that once we reach the finish line, it will all be worth it!
Faculty or staff member who most influenced who I have become: First off is my wonderful advisor, Dr. Christianna Leahy, who took me under her wing and has always gone out of her way to help me both in and outside the classroom. Since the first time I sat in on one of her classes on my tour of the college, I instantly knew I wanted to be like her one day.
Also, my amazing French professors Dr. Gerard Keubeung and Dr. Martine Motard-Noar have greatly influenced who I am today. They taught me to believe in myself and to dream big! I will forever appreciate them for pushing me to be the best version of myself!
Best class ever: My Ceramics class! Coming into college, I would have never guessed I would take a college level ceramics class! I signed up for fun but ended up loving it more than I thought! It taught me to be patient and to always think outside the box.
Took me totally by surprise: The great sense of community here at McDaniel! I was pleasantly surprised when I realized that the faculty and staff on campus actually cared about me and my future. I was surprised to find myself getting close to my professors and interacting with them outside the classroom! I am glad to have such a great support system away from home!
My favorite spot on campus: Harvey Stone Pavilion and the little brick wall behind Big Baker which looks out onto the football field. These places always allowed me to have a pretty view of the sunset when I would study and would be a great place to reflect!
Most mind-boggling idea I learned at McDaniel: It is something everyone has heard before but something we must never forget and that is to JUST ASK! Time and time again here at McDaniel, I was reminded to "not be afraid to ask!" Everyone here is trying to see you succeed and see you graduate, so if you ever need anything don't be afraid to ask, because nine times out of 10 someone will help you!
My capstone title: "The Ongoing 'Mara' Crisis in El Salvador: 19 Years of Futile Policy."
What it's about in plain talk: My capstone was a case study on the country of El Salvador and how it has been affected by the notorious MS-13 gang. It analyzed the different policies used from 2003 to the present day in order to identify the main components that were successful and are responsible for the current diminishing crime rates and gang violence rates in El Salvador.
Tell us a little about your activities, including sports, during your years at McDaniel: I was a member of multiple student organizations here on campus. Organizations such as the Pre-Law Society, Palabras to Words, the Hispano-Latinx Alliance, the French Circle, CHAARG, InterVarsity, League of United Latin American Citizens, Student Alumni Council, the college yearbook, Model European Union, and Model United Nations. I am also a Global Fellow and National Security Fellow!
What's next: After graduation I will be working as a full-time paralegal at an immigration law firm in Gaithersburg, Maryland. This job started off as a summer internship in my junior year, which I got through the Pre-Law Society here on the Hill! I will also be studying for the LSAT and will hopefully go off to law school next year!
If you received financial aid, what did that mean for you and your family? Without financial aid I would not have been able to attend college! As a student who does not qualify for federal aid, I solely depended on the colleges I applied to in order to provide me with scholarships and grants. After McDaniel learned about my difficult position, they were willing to help and provided me with the financial assistance I needed in order to attend college. My family and I will eternally be grateful for what the college did for me, and I hope to return the favor to another student in the future!
Are you the first in your immediate family to attend college? What has the experience meant to you? I am the first in my immediate family to go to college here in the United States, so this is kind of a big deal! The process is very different from what they experienced back in our country; my parents did not really know how to help, but they tried their best when it came to the application process and stood next to me every step of the way!
My first experiences were also my family's first experiences, so we were always excited and nervous together. Even if it was a little rough at times, I would not change my experience for anything in the world!
How will you stay connected to McDaniel? I plan to be an active alumna of the college and come to as many events as I can, because I now know how valuable it is to have connections to the alumni of the college. I want to provide students with the same opportunities and advice I was given when I was a student on the Hill!