Cleo Braver '78
Former environmental attorney Cleo Braver '78 made a big career move in 1998 when she and her husband purchased a farm in Easton, Maryland. Since then, she's been focused on providing clean food to her community while protecting the Chesapeake Bay.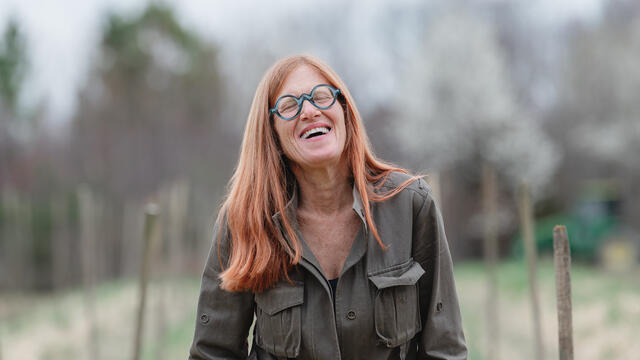 Cleo Braver '78 is probably not who you picture when you think of farmers on the eastern shore of Maryland. Braver's time on the Hill was spent studying Economics, but she went on to law school and became an environmental attorney. "I've always been very much motivated by environmental issues," she says.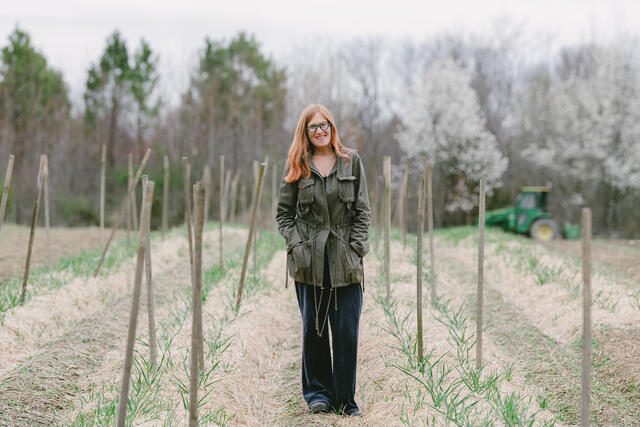 Especially in Chesapeake Bay country, environmentalists and farmers can often be at odds because of farmers' perceptions that they are over-regulated to reduce pollution flowing into the Bay and others' perceptions that they are under-regulated with respect to certain aspects of their practices. When Braver and her husband, Allie Tyler, bought the 156-acre Cottingham Farm in Easton in 1998, she realized she wasn't going to find anyone willing to farm their land in the way they wanted: a clean growing operation that differed greatly from the predominant ag model of confined animal feeding operations and conventional GMO feed for those animals.
"We realized if we were going to have cleaner agriculture on our own farm, we would have to do it ourselves," Braver says. "That's how I became a farmer. Not willingly, and with a very steep learning curve. But I wanted to marry my environmental advocacy with my farming practices."
One of the first steps Braver and Tyler took was implementing buffer strips around the property. For the first five or six years, they were primarily growing vegetables, and feeling proud of the fact that their buffers, which were installed and maintained by Chesapeake Wildlife Heritage, and winter cover crops would decrease nutrients, sediment, and water flowing into the Chesapeake.
In 2010, Cottingham Farm was certified by the USDA as an organic farm — the first organic vegetable grower in Talbot County. Braver gained a reputation for her tomatoes and soon her other vegetables, supplying places like Whole Foods and Mom's Organic Market. But after learning the benefits of rotating animals and vegetables, Braver and Tyler invested in heritage hogs and have been raising pastured hogs and chickens since 2013.
"My top priority for our farm is to provide my community with organic food year-round," she says. "It's been really heartening to hear people's gratitude. That makes the hard days melt away for me."
Ever the activist, Braver knows there is more work to be done. She believes nothing is more basic than having a roof over your head and having access to clean water, clear air, and clean food. And that as individual consumers, we have the ability to increase that access based on the choices we make.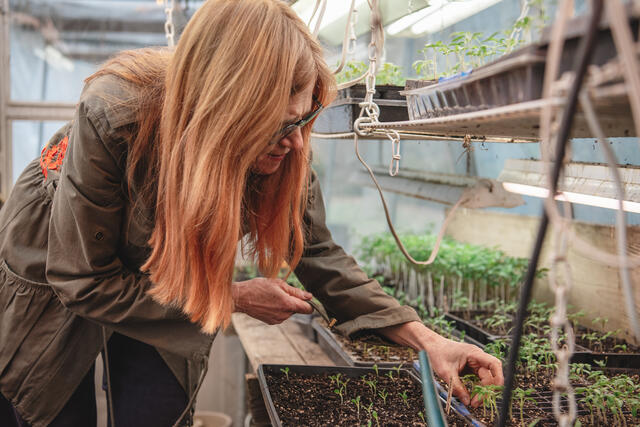 "There seems to be a growing awareness of the need to know how — and not just where — our food is grown," she says. "There's a spectacular opportunity for our region to become a great economic powerhouse for aggregating sustainable output from small farms and creating healthier communities. If we can't get lawmakers to enact public policy that incentivizes the right things, we can act on our own as consumers. Every single human can be an active participant in changing our food systems just by voting with their fork every day."
Career: Farmer and former environmental attorney 
Class: 1978 
Major: Economics