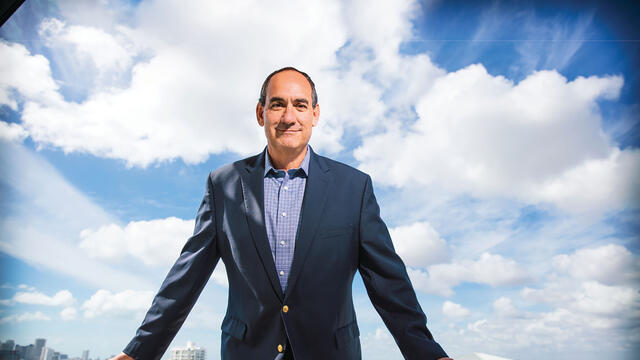 On December 28, 1995, everything David Moskowitz '80 had worked so hard to achieve rocketed through the clouds before finding its orbit 22,200 miles above the Earth. The Echo I satellite had smoothly and successfully deployed from Xichang, China, and a young company known as Dish Network was about to take off.
Only six years earlier, a friend had told Moskowitz about an intriguing opportunity to become the first in-house attorney of a fairly small, private satellite-television company. Moskowitz had long shared a fascination with science and space with his physicist father and his mother, a mathematician who used innovative technologies to teach upper-level high school courses. He still reads at least one physics book every year.
Moskowitz and the founders shared a bold vision: they were certain they could compete against the cable companies if they launched a different kind of satellite using radio waves with a stronger signal, giving viewers access to hundreds of channels they would receive with 18-inch dish antennas mounted directly to their homes. The hurdles were many. Moskowitz describes the experience as stressful, exhilarating and formative both for him and Dish: "I believe calculated risks are important to personal and business growth," he says.
When Moskowitz arrived on campus in the fall of 1976, prime time commercial television was limited to just three networks: ABC, CBS and NBC. "Happy Days," "Laverne and Shirley" and "M*A*S*H" were the top shows. Thinking he would go to law school or enter politics, he majored in Political Science and English. After a year as president of the College's Republican Club, he says, "I decided that law school would be the better choice."
His friend John Spaar '81 was impressed by Moskowitz's negotiating skills when they applied for part-time jobs at what was then a popular local joint, Frisco Pub. As Spaar remembers it, Moskowitz outlined the specific shifts they could work and insisted that they always work together. He also successfully argued for free pizza after their shifts. It was no surprise when the Phi Beta Kappan who graduated summa cum laude was accepted into many of the nation's best law schools. He chose to accept a full academic scholarship at the National Law Center of George Washington University in D.C.
Braving the odds has paid handsome dividends for Dish Network, which has grown from a private business with 300 employees to a public company with almost 30,000 employees and more than $15 billion of revenue per year. Now as a senior advisor and member of the board of directors, Moskowitz has helped position Dish to ride the next wave of change — this time, in mobile communications.
Career: Senior Advisor, Director, Dish Network
Class: 1980
Majors: Political Science, English